2023 Holiday Engagement Ring Trends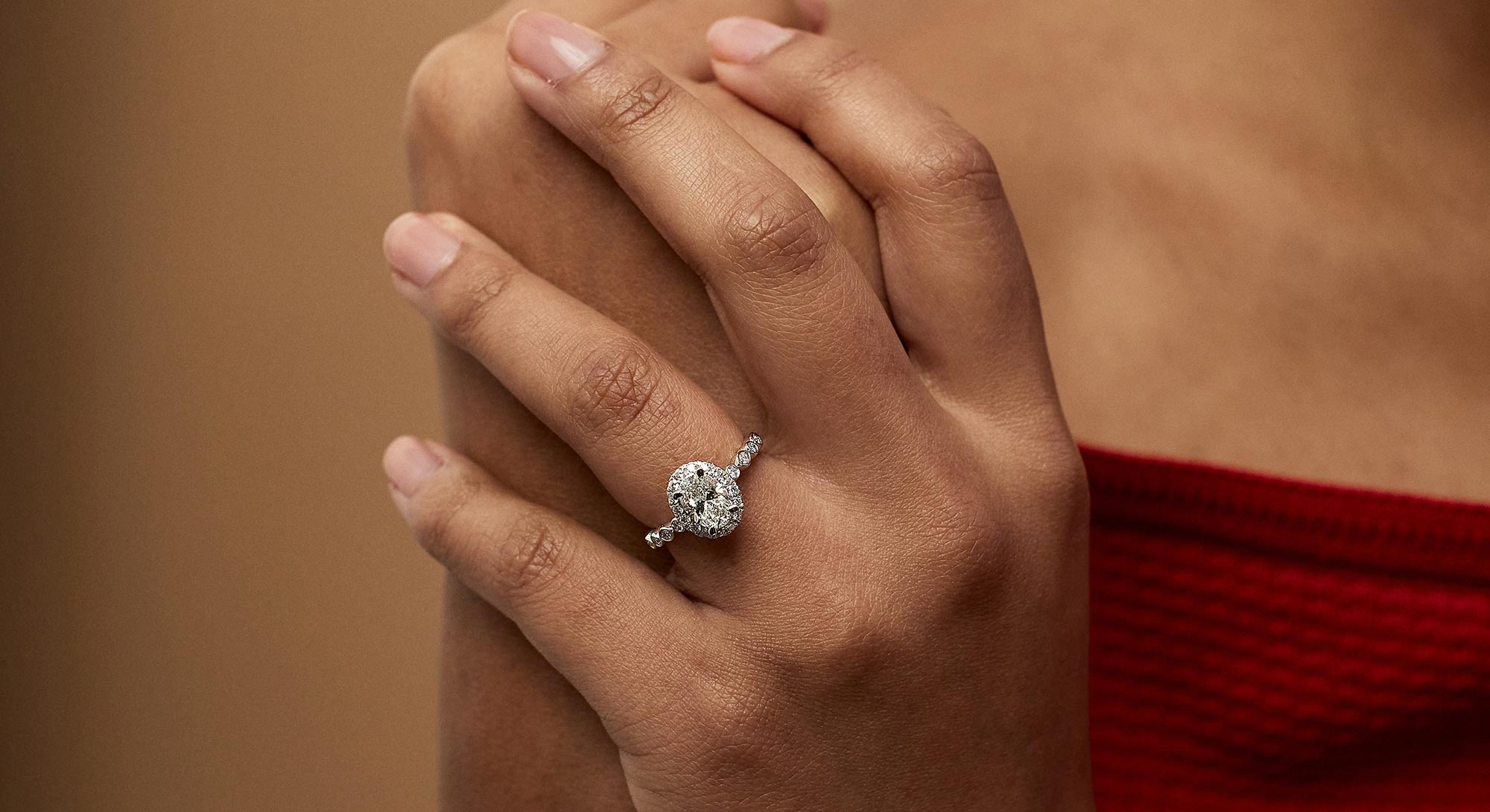 Welcome to engagement season! It's the perfect time of year to get down on one knee and pop the question and gather with friends and family to celebrate your engagement. If you are planning to propose on Christmas Eve, Christmas Day or New Year's Eve, you're not alone. According to Wedding Wire, those are the most popular days to propose. In fact, seven out of ten of the most popular days to propose are in December.
If you are planning a proposal this holiday season, it's now time to find the perfect engagement ring. What engagement rings are trending right now? Our customers are looking for timeless rings with a modern twist. We're seeing a lot of simple settings with larger center stones that really have a "wow" factor. Here are the top six engagement ring trends to inspire your sparkling holiday proposal.
Supersized Style
In the past, engagement rings with one carat center stones were the most popular. This year, think bigger! Couple are now supersizing their rings with double the brilliance by choosing two-carat engagement rings instead. That's more possible than ever before thanks to lab-grown diamonds. When you choose a lab grown diamond engagement ring instead of a mined diamond ring, you can fit twice the carats into your budget. In other words, your dream of having a larger, more dazzling ring can become a reality. At Brilliant Carbon, our customers are choosing two-carat lab grown diamond engagement rings and also upgrading the quality of the certified lab grown diamonds in their rings for engagement rings that shine bright. When you announce your engagement, be prepared for lots of starry eyes emojis in the comments.
Carbon Neutrality
Today's thoughtful couples are thinking hard about every aspect of their engagement rings including the environment and social impact. This symbolic piece of jewelry isn't just about sparkle, but also about what it means. Many couples are looking for lab-grown diamond engagement rings that are ethically and responsibly sourced with a reduced environmental impact. That's why lab grown diamonds from sustainability-rated producers are becoming more popular. At Brilliant Carbon, all our lab-grown diamonds are certified carbon neutral, produced using renewable energy from the sun and the wind. Our clients have researched the environmental and ethical impact of their purchases and want their ring to have the positive energy that comes from transparent and responsible sourcing that gives back to make the world a better place.
Emerald Cut Elegance
Oval engagement rings are still very popular. And now Art Deco jewelry inspiration is also having a moment. That means more and more engagement rings featuring elegant emerald cut diamonds. There's something about those long and luxurious facets that oozes sophistication. It's not surprising that accomplished and powerful women like Beyonce, Amal Clooney, and Jennifer Lawrence have emerald cut engagement rings. This sophisticated diamond cut stands out from the crowd with its icy perfection and dramatic geometry. For a modern twist on the classic, many brides choose a streamlined yellow gold setting. Because this cut really shows off a diamond's icy color and crystalline clarity in larger sizes, many couples are choosing fine quality lab grown diamond emerald cut engagement rings.
One & Only Solitaires
Sometimes simple things are the best of all. That's certainly true of engagement rings. The most popular style, decade after decade is the timeless solitaire engagement ring. Imagine a single, breathtaking diamond, set on a band that gleams with a luster that complements its brilliance. It's the very embodiment of the engagement ring emoji that's become a universal symbol of love and commitment. After years of intricate halo settings, solitaire engagement rings are stronger than ever. The solitaire renaissance is thanks to the popularity of lab-grown diamonds, which have put larger carat-sizes within reach for more couples. When your lab grown diamond is big and beautiful, it doesn't need any decoration to shine brilliantly. Solitaire lab grown diamond engagement rings encapsulate the essence of love and commitment: simple, unadorned, and utterly beautiful.
Fine Vintage
In addition to timeless solitaires, there's also continued demand for designs that look to the past for inspiration. These engagement rings have vintage-inspired adornment that gives them a romantic heirloom feeling. Scalloped galleries and delicate halos make these designs feel like hand embroidery. The inclusion of sparkling pave, a technique involving the setting of small diamonds close together, enhances the overall brilliance of the ring, making it a dazzling symbol of love. These styles are often white gold with white diamonds, like the antique lace of a beautiful wedding gown in jewelry form.
Three's Company
When Prince Harry slipped a three-stone engagement ring onto Meghan Markle's finger, he didn't just make a personal gesture of love, he also single-handedly breathed new life into this romantic and symbolic engagement ring style. This style, deeply rooted in sentiment, represents the past, present, and future of a couple's love story, making it a popular choice for those desiring a ring that carries a profound meaning. Three-stone engagement ring styles are classic and simple yet also dramatic. The three stones provide finger-covering brilliance that is hard to overlook, especially if the center stone is a big beautiful lab grown diamond. If you're considering a three-stone lab grown diamond engagement ring, know that you're choosing a design that is not only gorgeous and timeless, but also symbolizes enduring love.