7 Tips for Choosing the Best Engagement Ring for You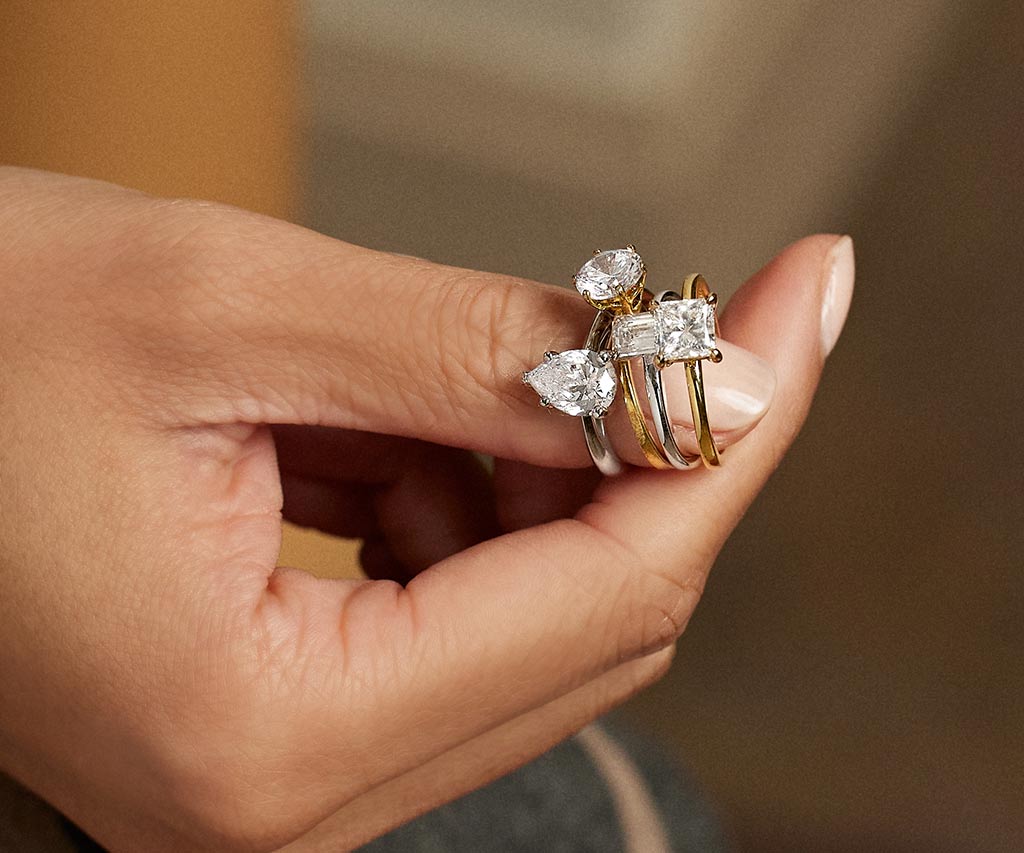 When you fall in love forever, you'll know. Finding the one engagement ring for you isn't always easy (but, trust us, it's out there!) Whether you're shopping for someone you love or choosing your ring together, here's how to find the ring that suits you both and perfectly represents your love story.
1. Start With Your Style
In every survey of brides-to-be, style is mentioned as the most important aspect of a ring by most women. So style is the perfect place to start. Are you a romantic who loves lacy details? Or a minimalist who likes sleek streamlined silhouettes? If you aren't sure, look at your favorite clothing and furniture. Is it classic or modern or antique? This is a good place to start narrowing down your engagement ring options and customizing your engagement ring look to suit your personal style.
2. Learn From the Jewelry You Wear Most

What jewelry pieces do you wear every day? Do you wear the same pair of diamond studs or do you treasure more intricate or colorful pieces? What color of gold feels best to you? What looks best against your skin tone? An engagement ring isn't the best time to experiment, it should feel like you immediately. If you always gravitate to silver, white gold will be best. If you've always been a gold girl, yellow gold will be the best choice for your ring too.
3. Consider Your Lifestyle
Because you'll wear your engagement ring every day, you have to be practical about durability too. If you work with your hands in a field like medicine, art, athletics or food, you might want to choose a ring with a protective setting that won't catch on things, like a low-set stone instead of a cathedral setting with a halo. Make sure that any corners of your gem are protected by a V-shaped prong or bezel. If you know you are hard on your jewelry, a vintage setting probably isn't a good idea. You want to love your ring forever so choosing a style that suits your busy life will keep it sparkling for years.
4. Set the Sparkle Level

The bigger the diamond, the more attention your ring will get. Are you comfortable in the spotlight or are you more understated? The size of the center stone contributes the most to the appearance and the cost of your engagement ring. It's the first thing people will notice about your ring. If you love the look of a larger diamond (and, honestly, who doesn't?) you'll be happy to know that lab-grown diamonds give you the identical sparkle and appearance of mined diamonds at about half the cost. That means you can afford a two-carat lab-created diamond engagement ring for the price of a one-carat mined diamond engagement ring. Another way to dial up the sparkle is to add a halo of small diamonds or a three-stone engagement ring style with side diamonds.
5. Show Some Love for the Earth Too
Ethical and environmentally sound sourcing are big considerations for many people. If these issues are important to you, consider using heirloom or lab grown diamonds. Lab grown diamond engagement rings are the perfect alternative to mined diamond rings because they have all of the same properties as a natural diamond without the additional strain on the environment. We are proud to source our diamonds from a Sustainably Rated Producer, who has been certified net carbon neutral by SCS Global Services.
6. Join the Band
When you are choosing an engagement ring, also think about how it will work with a wedding band. Do you like the look of a matched set or do you prefer something more individual? Couples today are embracing personal style, stacking wedding bands like a curated collection of rings with different colors and textures or even wearing a wedding band on a separate hand. You shouldn't feel constrained by traditional etiquette: this is about how you want to represent your vows. Like your wedding, they should be personal. If you've fallen in love with an engagement ring that doesn't work with a straight band, Brilliant Carbon has designed rings with arched silhouettes that nest around any ring style, like the Gravity Ring, Radiance Band and Supernova Band.
7. Shop Together
If you're planning a surprise proposal, that doesn't mean you have to find a surprise ring. According to a 2020 survey of more than 5,000 engaged couples by The Knot, Engagement ring shopping, 72% of the people who were proposed to said they were involved in the selection of their engagement ring.
You can propose with a ring pop or other temporary ring that will stand in for the ring you'll create together. You can also choose the ring together and propose later. Picking an engagement ring together is romantic and it means that you respect your partner's opinion and want her to participate in all the important decisions you'll make together in the years to come. And designing the ring together is much more fun too, like everything you'll have to look forward to in all the happy years to come.