A Complete Guide to Two Carat Engagement Rings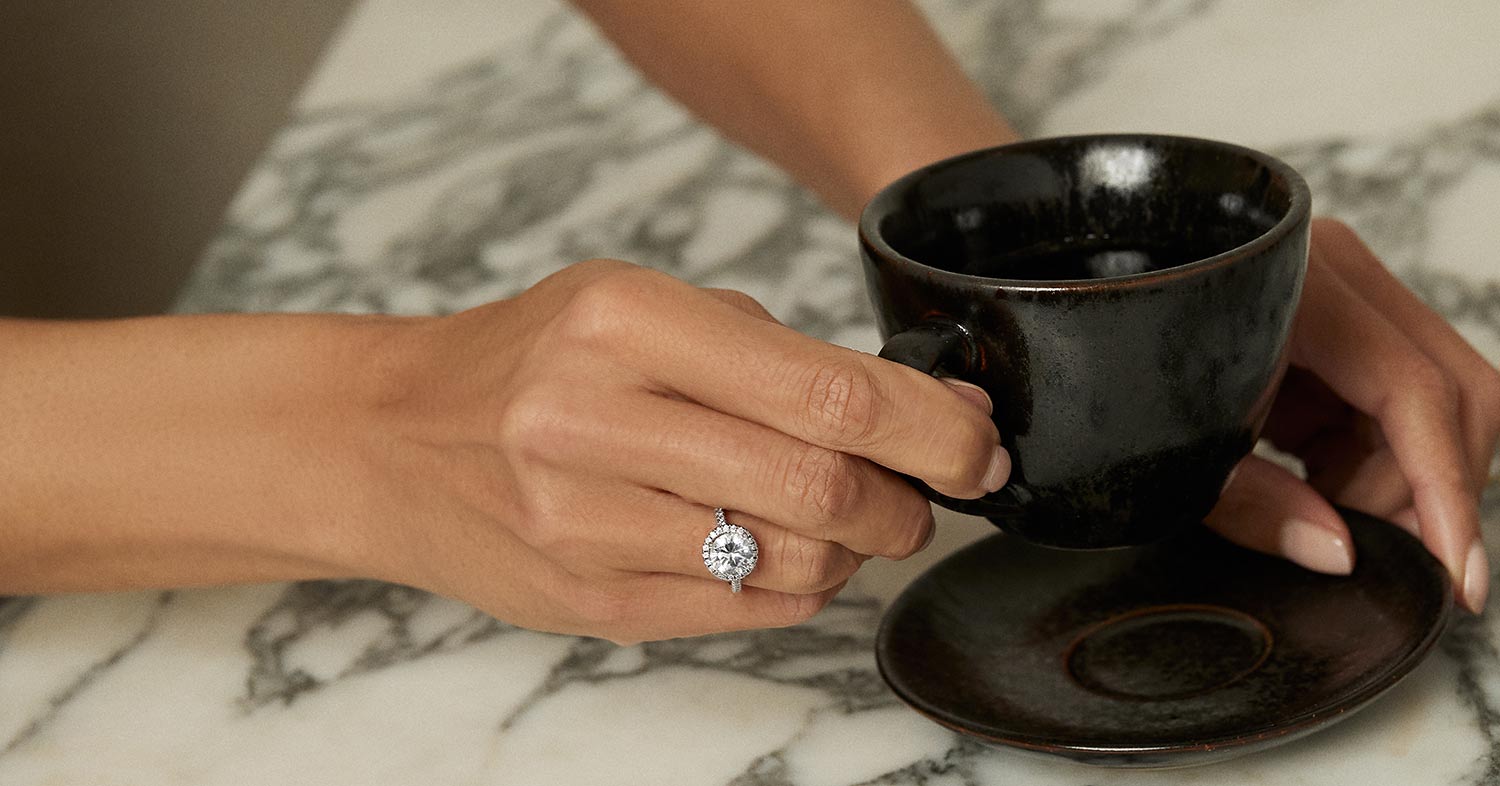 If you spend much time on social media, you may have noticed that the average engagement ring is a lot more impressive than it used to be. It's not your imagination: engagement rings are getting bigger and even more beautiful. According to a recent survey by The Knot, 23% of engagement rings are now two carats or more in size. That's up from 11% in 2017. What's going on? Lab grown diamonds are supersizing the way America says yes.
About one-third of engagement rings are now set with lab grown diamonds and the percentage increases every year. It's easy to see why. Lab grown diamond engagement rings look exactly the same as natural diamond rings of the same quality. Not similar, like diamond simulants. Identical. That's because they are both diamonds, crystals of pure carbon with amazing brilliance and fire. The difference is that one was mined from the Earth and the other crystallized in a laboratory. That means no ethical or environmental worries with your forever.
And there is another big difference between mined and lab grown diamonds: the price tag. A nice two carat mined diamond will cost between $11,500 and $19,000 depending on the shape and clarity you choose. A two carat lab grown diamond will be less than half that price. In fact, two carat lab grown diamond rings are now about the same price as mined one carat diamond engagement rings. Thanks to lab grown diamonds, two carats is the new one carat. That's why more people are choosing two carat diamond engagement rings set with lab grown diamonds rather than smaller traditional diamond engagement rings set with gems mined from the Earth. Two carats are now our most-requested engagement ring size. Here's what you need to know if you're considering choosing a big beautiful two-carat lab grown diamond engagement ring for yourself or someone you love.
The 4Cs of Two Carat Diamond Engagement Rings
If you've ever seen a two carat diamond IRL, either mined or lab grown, you can never forget it. This is definite big rock territory! Not all two carats are exactly the same. Carats are a measure of weight, not dimensions, so the size of a two-carat diamond depends on the cut. Different shapes will have different dimensions. For example, round two carat diamond is about 8.1mm in diameter, compared to 6.4mm for a one carat diamond. Ovals are about 10.5mm in length x 7mm in width so they visually look bigger than a round two carat diamond. More of the weight is visible as surface area. In contrast, a two carat Asscher cut is about 7mm square so it looks smaller than a round.
When it comes to color and clarity, remember that a bigger diamond means that you may be able to see the tint and small clarity characteristics a bit better than with a smaller diamond. Fortunately, lab grown diamonds are available in very high qualities. We recommend F-G-H color, which will look colorless in your engagement ring. Choose SI1 clarity for brilliant cuts like rounds, ovals, and princess cuts where the small size of the facet reflections mean that inclusions are very difficult to see, even close up. You may want to upgrade to VS clarity for emerald cut engagement rings, because the large flashing facet reflections make inclusions a bit easier to see. Make sure that your two carat lab grown diamond is accompanied by an independent grading report from International Gemological Laboratories or the Gemological Institute of America.
Best Two Carat Engagement Ring Styles
All your favorite engagement rings styles look even better with a two carat center lab grown diamond. Whether you're a minimalist who loves the idea of a streamlined solitaire or a detail-loving vintage buff who swoons over a delicate halo design, you'll find a two carat engagement ring design that's exactly your style. And if you choose lab grown diamonds for your two-carat engagement ring, you will discover that the ring of your dreams is within your budget too. Choosing a warmer toned lab grown diamond, especially pretty combined with yellow gold, will make that two-carat lab grown diamond engagement ring even more affordable.
Two Carat Solitaire Engagement Rings
When your engagement ring has a big beautiful two carat lab grown diamond, it really doesn't need anything else. You'll be too busy looking at the rainbows it sends around the room when a beam of sunlight hits that sparkling center stone. That's why simple solitaire engagement rings are the most popular style of two carat engagement rings. The classic and timeless choice is a round lab grown diamond solitaire engagement ring. Round diamonds are the most brilliant of all cuts, perfectly proportioned to reflect back the maximum amount of light as brilliance and fire. The next most popular shape for solitaire is the princess cut. A two carat princess cut lab grown diamond engagement ring has a geometric look that appeals to fans of midcentury modern architecture.
If you are looking for the clean lines of a solitaire but want a bit more sparkle, try a two carat engagement ring with a diamond band. Pave bands are a celebrity favorite, from Hailey Bieber to Simone Biles to Adele to Blake Lively. They are especially luxe when combined with a fancy shape center diamond like a two carat emerald cut lab grown diamond engagement ring or a two carat princess cut lab grown diamond engagement ring.
Two Carat Halo Engagement Rings
If you love vintage embroidery and feminine details, halo engagement rings are a gorgeous way to add extra sparkle to an engagement ring. The pretty ring of diamonds that surround the center stone also make it look bigger and brighter. Pair that enhancing effect with a two carat lab grown diamond center stone and get ready for the wow factor to increase even more. We love a round lab grown diamond halo engagement ring, of course. But we also can't resist the drama of a fancy shape halo engagement ring that gives this style a vintage vibe. An oval halo engagement ring is dramatic yet elegant and sophisticated. A pear-shape halo engagement ring is undeniably stunning. (Cardi B wears one after all.) These unusual shapes give your ring a unique personality that suits you perfectly.
Two Carat Three Stone Engagement Rings
If you are looking for even more brilliance from your two carat engagement ring, add side diamonds for extra sparkle. Three-stone lab grown diamond engagement rings up the carats and make a spectacular statement. Your two carat diamond will look bright and beautiful and the side diamonds extend that brilliance across your ring finger. To get the look you want, make sure that the weight of the center diamond alone is two carats, not the total weight of all three diamonds. Even though the two additional diamonds add a lot to the total carat weight, they don't add as much to the price tag as you might expect. The gorgeous Centuri Engagement Ring, named after the triple star system Alpha Centauri, is a two carat lab grown diamond three stone engagement ring with two 0.36 carat lab diamonds on the sides for a total carat weight of 2.72 carats. And all those carats of sparkle are less than $7500. If you are looking for the three stone look for less, consider a style that has a cluster of accent diamonds on each side like the Zania Engagement Ring which has pretty side detailing too. That blaze of light that grabs your attention from across the room? Yes, that's you and your dazzling two carat three stone engagement ring.
Looking for a style that's completely bespoke? Contact our Custom Concierge and we can create an engagement ring that's your alone. We're happy to find you a center lab grown diamond that's two carats or even larger if you want to channel Beyonce or a Kardashian. You do you and we'll bring the sparkle.