The Best Engagement Rings Under $3000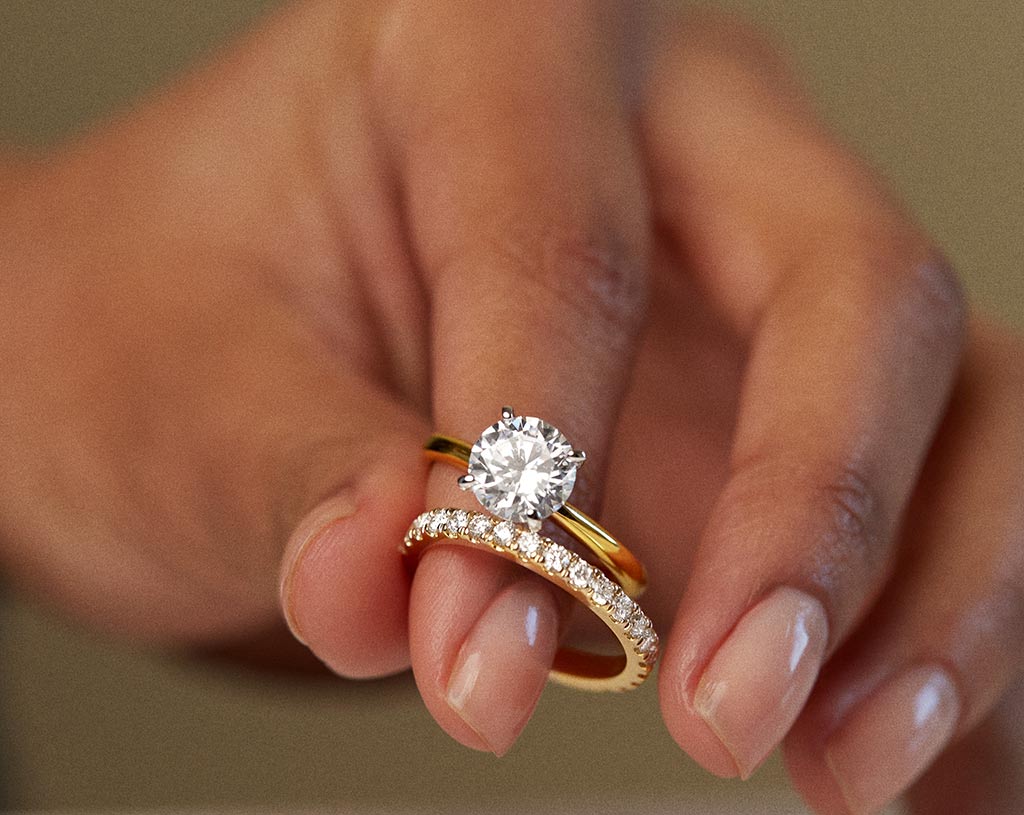 You might hear that the rule for an engagement ring is to spend twice your monthly salary or even three times your monthly salary. What? Surveys by The Knot say that the average cost of an engagement ring was $6000 in 2021. I know we sell engagement rings but that's a lot of money. Honestly? Weddings are expensive. Building your home together is expensive. That's why we think you should spend less on your engagement ring and more on just living.
That's why at Brilliant Carbon we've focused on designing engagement rings that have all the lasting beauty you expect in a designer engagement ring for less than $3000. To bring you all the gorgeousness in that price range, we chose beautifully cut lab-grown diamonds. That's because with our lab grown diamonds, you have the best of both worlds. Our high-quality center lab diamonds are identical to mined diamonds in every way but origin but cost half as much.
That means you can afford a one-carat lab grown diamond engagement ring under $3,000. In fact, for many designs, our one-carat engagement rings are less than $2500! That's a whole lot of heart emojis on Instagram for not very much money. Here are our picks for the very best engagement rings under $3,000 with 1-carat diamonds in all your favorite styles and diamond shapes.
Best Engagement Ring Under $3000 - Solitaire Engagement Rings
There's a reason why solitaire engagement rings have stood the test of time. They are simple and elegant and easy to wear every day, even if you are active or work with your hands. Our pick for the best classic solitaire engagement ring under $3000 is the Sirius Engagement Ring with a 1.25 carat lab-grown diamond. The classic certified round brilliant lab grown diamond is beautifully cut and proportioned and sparkles with lots of brilliance. The color is F-G-H and the clarity is SI, which is better than you'll find at chain jewelers. We love it in 14K yellow gold but if you prefer white or rose gold, it's also available in those colors. It's timeless perfection for less than $3000. Why spend more?
Best Engagement Rings Under $3000 - Pear Style Rings
If you're a fan of Adele's you may be thinking about following her lead and choosing a pear shape engagement ring. Rounded but sharp, classic without being traditional, simple but brilliant, pear shaped engagement rings are perfect for women who aren't afraid to stand out from the crowd. Adele's pear shape engagement ring is massive, of course, and probably 100 times that $3000 budget. But you can get a similar look by choosing a smaller center pear shape lab grown diamond surrounded by a halo of smaller stones that make it look larger and more dramatic. The Pavo Engagement Ring with one-carat pear-shaped lab-grown diamond in the center with a halo and pave band is just $2449. (And it also comes with a 2-carat center for just $6149. Just saying.) We like this style in a great F-G-H SI quality in 14K white gold which helps to blur the boundaries between the halo and center stone making the whole thing really dazzling.
Best Engagement Rings Under $3000 - Square Diamond Rings
If you like modern design and have a flair for the dramatic, you'll love a princess cut engagement ring. This square brilliant cut has four straight sides and four sharp corners giving it a crisp geometric brilliance. We think princess cuts look best in streamlined engagement ring designs without a halo so you can really see the sharp silhouette. (Just make sure the setting protects those corners.) The Lyra Engagement Ring is perfect: a one-carat princess cut lab diamond engagement ring with a pave band for extra brilliance. We love it in yellow gold with the warm color contrasting with the edgy angles. We also love that it's less than $2500! If you prefer a sleek solitaire square lab-created diamond ring, the Sirius Princess Cut Engagement Ring is available with a 1.25-carat lab diamond for less than $3000.
Best Engagement Rings Under $3000 - Emerald Cut Rings
There's nothing like an elegant emerald cut to give an engagement ring sophistication. Just ask Beyonce, Amal Clooney and Angelina Jolie. But emerald cuts have big flashing facets that are unforgiving. You need to make sure you choose a high-clarity diamond to make sure your engagement ring doesn't show any inclusions. That's why we recommend the Europa emerald cut lab diamond engagement ring with a pave band. This one carat emerald engagement ring is set with a high-quality F-G-H VS certified lab-created diamond which is frankly stunning. Set that icy clean one-carat lab diamond engagement ring with 14K white gold to show off its quality!
Best Engagement Rings Under $3000 - Three-Stone Rings
When one diamond isn't enough, try a three-stone engagement ring style. We love the way the diamonds extend across the finger so all you see is brilliance. Of course the two additional side diamonds add to the total carats too! You may think that a three-stone engagement ring style with a one-carat center diamond is out of reach with a $3000 budget but we're here to prove you wrong! The Centauri Three-Stone Engagement Ring has a 1-carat I-J SI quality center and two matching side stones that are 0.36 carat each! That's an amazing 1.72 carats total weight for $2599. (And if you trade up in quality it's only a smidge over $3000. You do you.)
Best Engagement Rings Under $3000 - Oval Rings
One of the biggest trends in engagement rings today is oval shape diamonds. Serena, Simone, Blake, they're all oval fans. Oval diamond rings are famously finger-flattering: they make your hands look long and slim. We like an oval lab diamond engagement ring with a pave band and halo that makes the center stone look larger. The Ellipse Oval Lab Diamond Engagement Ring with a one carat lab created center diamond is lovely in 14K white gold and is only $2549. It has a full carat and a half of lab-grown diamonds for plenty of sparkle.
Best Engagement Rings Under $3000 - Halo Rings
For classic style with a vintage vibe, there's nothing like a halo engagement ring style. Halos also have a secret superpower: they automatically make the center diamond of your engagement ring look larger. A halo around a one-carat diamond makes it look like a two-carat diamond on your finger. For the full illusion, choose a 14K white gold setting so the line between halo and center stone blurs even more. If you love the look of a classic round halo (and who doesn't?) we recommend you add a pave band too so your whole finger sparkles. Our favorite classic halo 1-carat lab diamond engagement ring is the Polaris Engagement Ring because it is raised to stack beautifully with your wedding band. If you love designs that have a center halo with a plain band, the Rigel Engagement Ring is the answer. Both fit comfortably under your $3000 budget with a one-carat center lab grown diamond.