Buying Engagement Rings Online vs In Store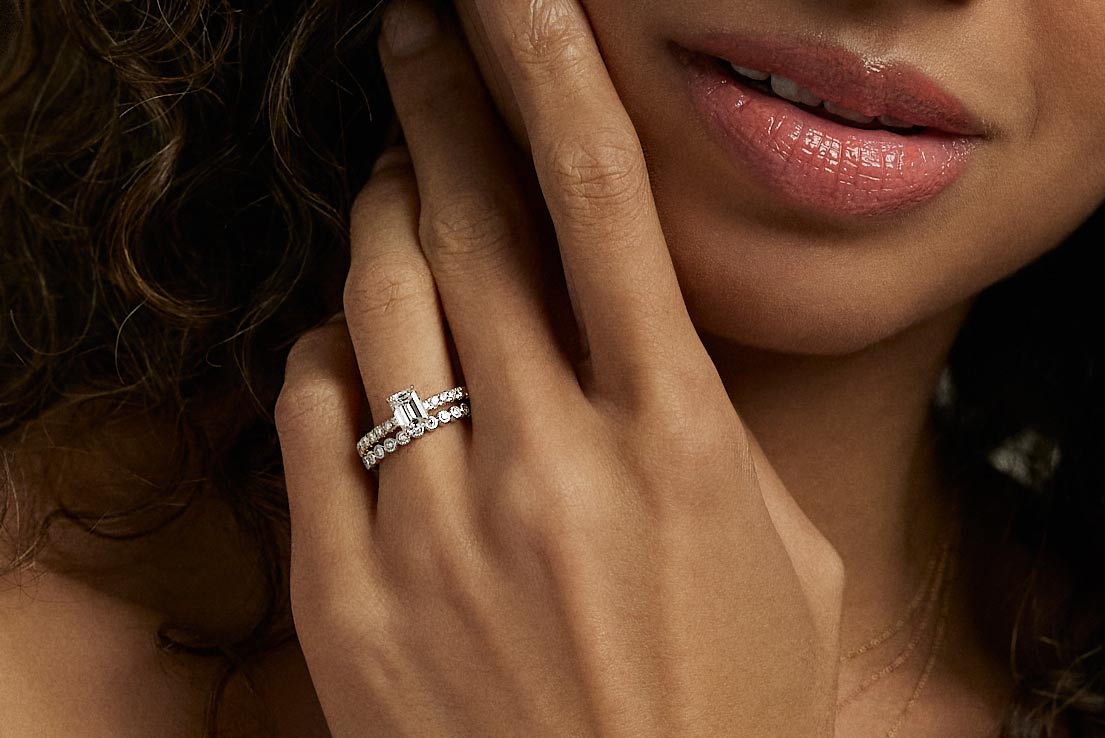 Now that you're ready to take your relationship to the next level, you're probably starting to research where to buy an engagement ring to find the best price for the best quality. The biggest question our customers have is whether it's better buying an engagement ring online or in person at a store.
Here are some tips on how to shop for an engagement ring with what to look for in a retailer and what questions to ask to make sure that you're in the right place. Buying requires a lot of trust so once you find the right retailer, you'll make sure you get the advice you need to find the right engagement ring too.
Shopping for Engagement Rings at Local Jewelry Stores
The local jeweler is the place where many people start their search for an engagement ring. A brick-and-mortar jewelry store is a great place to start because you'll be able to get an idea of what different carat sizes, cuts and shapes, and metal colors look like in person and actually try them on.
Another advantage of shopping at a local jeweler is that many local jewelers do custom design so they may be able to help you reset a family stone if that's what you are looking to do. They can show you options because they often have blank settings that you can set your stone into.
One disadvantage to shopping in a local jewelry store is that they don't have many options in stock. You also may feel a bit pressured and intimidated by salespeople who are often paid on commission so they need to close sales as soon as possible and push up your budget as much as possible too.
Another disadvantage to shopping at local jewelers is that they often have a negative attitude towards lab-grown diamond engagement rings because they cost so much less than mined diamond engagement rings. Jewelry is a traditional business and very slow to change and accept new products and new concepts.
To make sure you are getting unbiased and complete information, make sure you ask about where the diamonds in the local store come from, whether or not they can be traced to their source and how the jeweler can be sure of that information. Just saying that the Kimberley process makes sure there are not conflict diamonds isn't enough, especially if you want to make sure that your diamond isn't from Russia or has been produced in an environmentally sensitive way. Not all lab-grown diamonds are carbon neutral: you need to know more about where they were produced. Make sure you ask if the jeweler doesn't give you the information upfront.
Once you've narrowed your search and you've decided what kind of engagement ring you're looking to buy, you should definitely do some comparison shopping online to make sure that you're not paying too much. Make sure you know the quality of the diamond you are considering so you can compare apples to apples when you shop for engagement rings online. Ask to see the diamond grading report.
Buying an Engagement Ring Online
Today a growing number of engagement rings are sold online. It's convenient and you can compare a lot of rings without feeling pressured by salespeople. When buying an engagement ring online, you can easily look at what's available at dozens of retailers without your partner suspecting.
In particular, online retailers offer a much better selection of lab grown diamonds at surprisingly affordable prices. When you're looking at buying an engagement ring online you'll find lab grown diamonds in fancy shapes as well as rounds, which many local jewelers don't carry. Make sure you look for an online retailer like Brilliant Carbon that sources all its lab-grown diamonds directly from a climate neutral lab that meets the SCS-007 Jewelry Sustainability Standard. That's the only way to ensure that your lab-grown diamond has been created by a climate neutral producer.
You can shop for engagement rings online either from the online sites or large jewelry chains or online-only jewelry retailers. Both offer the convenience of a huge selection and easy comparison shopping. The online websites of brick-and-mortar retailers have the same markups as their stores so make sure you also compare with some online-only retailers which have lower markups. You might be surprised at how much you can save on a fine quality diamond by buying an engagement ring online.
Just as with a local jeweler, you should make sure that you buy a diamond that's certified with a grading report from an independent grading laboratory to make sure that the quality has been confirmed by an independent expert. At Brilliant Carbon, all our diamonds a half-carat or more have grading reports from the International Gemological Institute (IGI).
Buying Engagement Rings Online vs In a Jewelry Store
The main advantages to buying an engagement ring online are selection, price and convenience. When buying an engagement ring online, you'll see the best available price and value on the market for a wide range of diamonds including lab grown diamonds, fancy shape diamonds, and rings in every size and style. In comparison, you'll see many fewer options in a jewelry store.
The price advantage of buying an engagement ring online is also dramatic. Jewelry stores have a lot more overhead, including rent, security and the salaries and commissions of salespeople. That means that brick and mortar stores need greater markups to turn a profit (or even just break even.)
The advantages of buying in store is that you get to see a ring and try it on in person. When you buy an engagement ring online, you have to wait until the item arrives before seeing it in person. If you don't like it, you can return it of course but that takes more time than trying on many items at the same time in a store. It's also easier to confirm your ring size by trying on rings (or having a jeweler secretly measure one of her rings.)
Another advantage to buying in a store is that it's easier to keep a surprise. If you buy online, you'll have to have the package delivered at a time or location when it won't raise questions, which is more difficult if you live with your partner and both work from home.
No one is perfect, which means you may not get the ring size right the first time. No worries! Even if you buy an engagement ring online, you can get the ring resized if you find out you ordered the wrong size. Make sure you both love the ring: there are many engagement rings in the world but you only have one partner. Take the time together to make sure that the engagement ring you choose is the perfect symbol of your love.