Diamond Dilemma: Stud Earrings vs Drop Earrings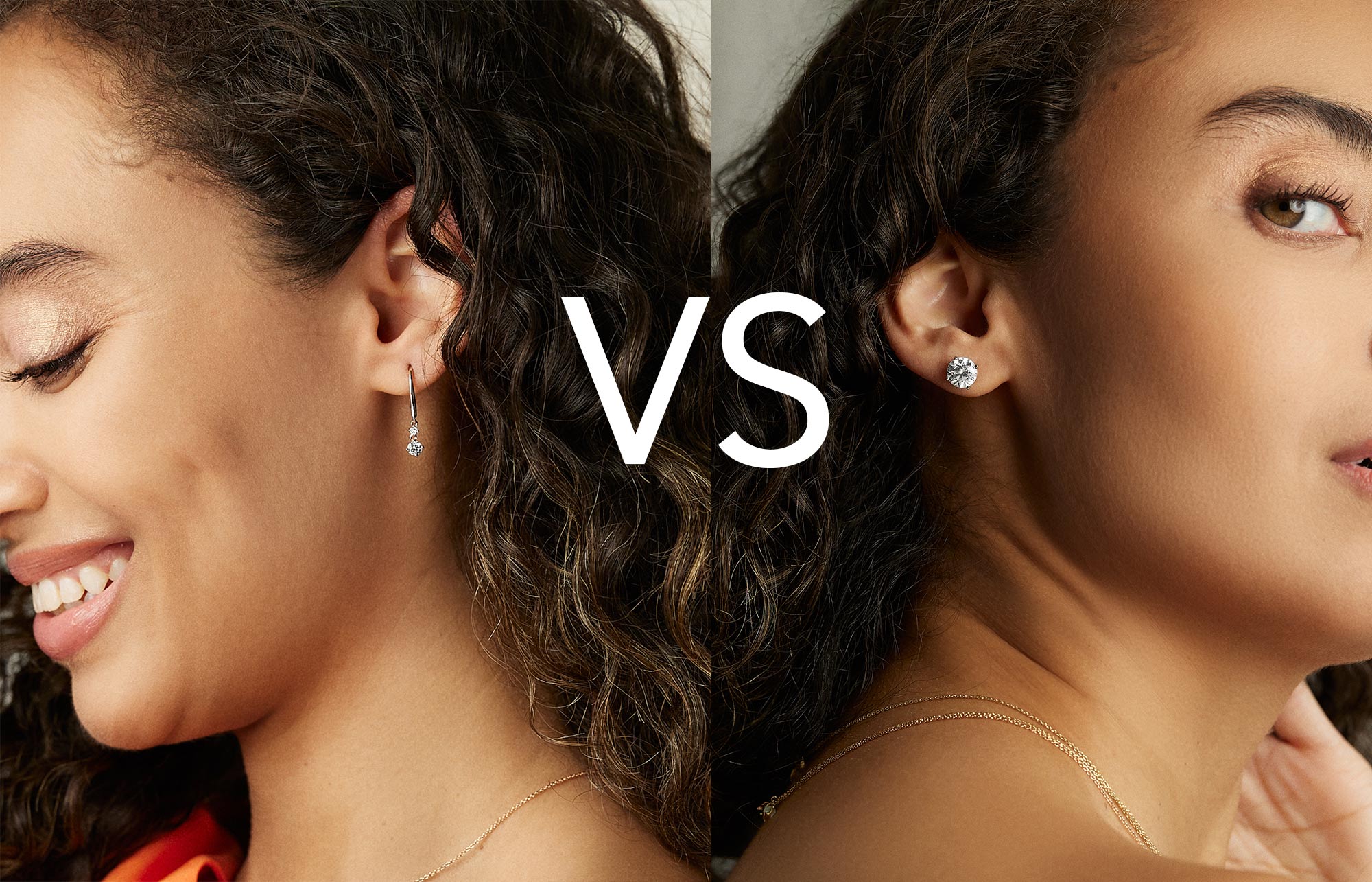 Diamond earrings that you can wear every day are the foundation of a fine jewelry wardrobe. When you are investing in your first pair or giving a memorable jewelry gift you undoubtedly are facing the choice of diamond stud earrings vs diamond drop earrings. Although both studs and drops can be simple or elaborate, in their most popular versions they have a single diamond for each ear, either in a streamlined metal setting or with a frame of smaller diamond pave. Today those diamonds are often lab grown, so they are better quality and cost less. Which diamond earring is the best choice for you? In this guide, we'll give you seven questions to ask to make sure that you are choosing the right diamond earring silhouette for you or your loved one.
What's Your Face Shape?
Most of the guides you'll find on the subject of earring silhouettes focus on face shape. The concept is that you can "correct" the shape of your face by drawing the eye in a different direction with your earrings. For example, if you have a round face, you wear drops to make it look longer or if you have a square face you wear round hoops to soften its angles. In this scenario, you would wear stud earrings only if your face is shaped like a diamond or an oval and drops if you have a round face or a heart shaped face. Do you think Scarlett Johansson, Selena Gomez and Michelle Williams need to wear drop earrings to distract us from their incorrect face shapes? Obviously not, although the "experts" say they have triangular and round faces. We think your face is the perfect shape for you and you don't need to correct it with your earring shape. So we think you should feel free to disregard face shape when choosing your favorite earring silhouette.
Hair Up or Down?
Much more important to the studs vs drops debate than your face shape is how you wear your hair. The pairing of studs with a pixie cut is a classic, looking great on a wide range of women from Audrey Hepburn to Zoe Kravitz, Halle Berry and Princess Diana. And a sleek updo and studs is also a winning combination, perfect for the red carpet or the board room. But if you have long or shoulder length hair that covers your ears, studs may be hard to see. In that case, you might want to choose drop earrings that peek out under your locks and sparkle in the light.
Neck Mess or No?
Another consideration when choosing your earrings is what kind of necklace styles you prefer. If your answer to what necklace do you most often wear is no necklace at all or one delicate pendant, you might think about wearing drop earrings, which tend to be a bit more prominent. But if you love necklaces and often wear a bold necklace or a curated selection of layered necklaces, you might prefer stud earrings, which pair perfectly with most necklace styles, no matter how dramatic.
What's Your Favorite Neckline?
From strapless to cowl, your favorite necklines can influence which earring styles you'll reach for most often. As a general rule of thumb, the lower the neckline, the longer the earring. Turtlenecks, cowls and necklines with lots of collar interest pair beautifully with stud earrings. There's nothing more perfect than a crisp white shirt and icy bright diamond studs! V-Necks and scoop necks look particularly great worn with diamond drops. But sometimes it's fun to play with expectations: try studs with a strapless dress for a minimalist approach that really emphasizes your bare shoulders.
Dressy or Not?
Diamonds always look classic and polished, taking everything you wear from good to great. Although it of course depends on everything else you're wearing, drops look slightly more dressy than studs. What does this mean for you? Are you the kind of person who throws on heels to make your jeans and a t-shirt to the next level? You might prefer diamond drops to studs.
Kate vs Meghan?
Your choice of diamond stud earrings vs diamond drop earrings is all about your personal style. Think of the difference in personal style between Kate Middleton and Meghan Markle: both are always well-dressed and polished. But Princess Kate almost always wears drop earrings, to look a bit more formal and Duchess Meghan almost always chooses stud earrings to look a bit more relaxed and modern. Who is your style inspiration?
Why Not Both?
It isn't easy to choose between diamond studs and diamond drops, that's for sure. So why not choose both? Lab grown diamond earrings are about half the price of mined diamonds and are more kind to the earth too. You can afford to have both lab grown diamond stud earrings and lab grown diamond drop earrings in your wardrobe so you'll always have the perfect earrings for every occasion.