Eight Affordable Lab Grown Diamond Engagement Rings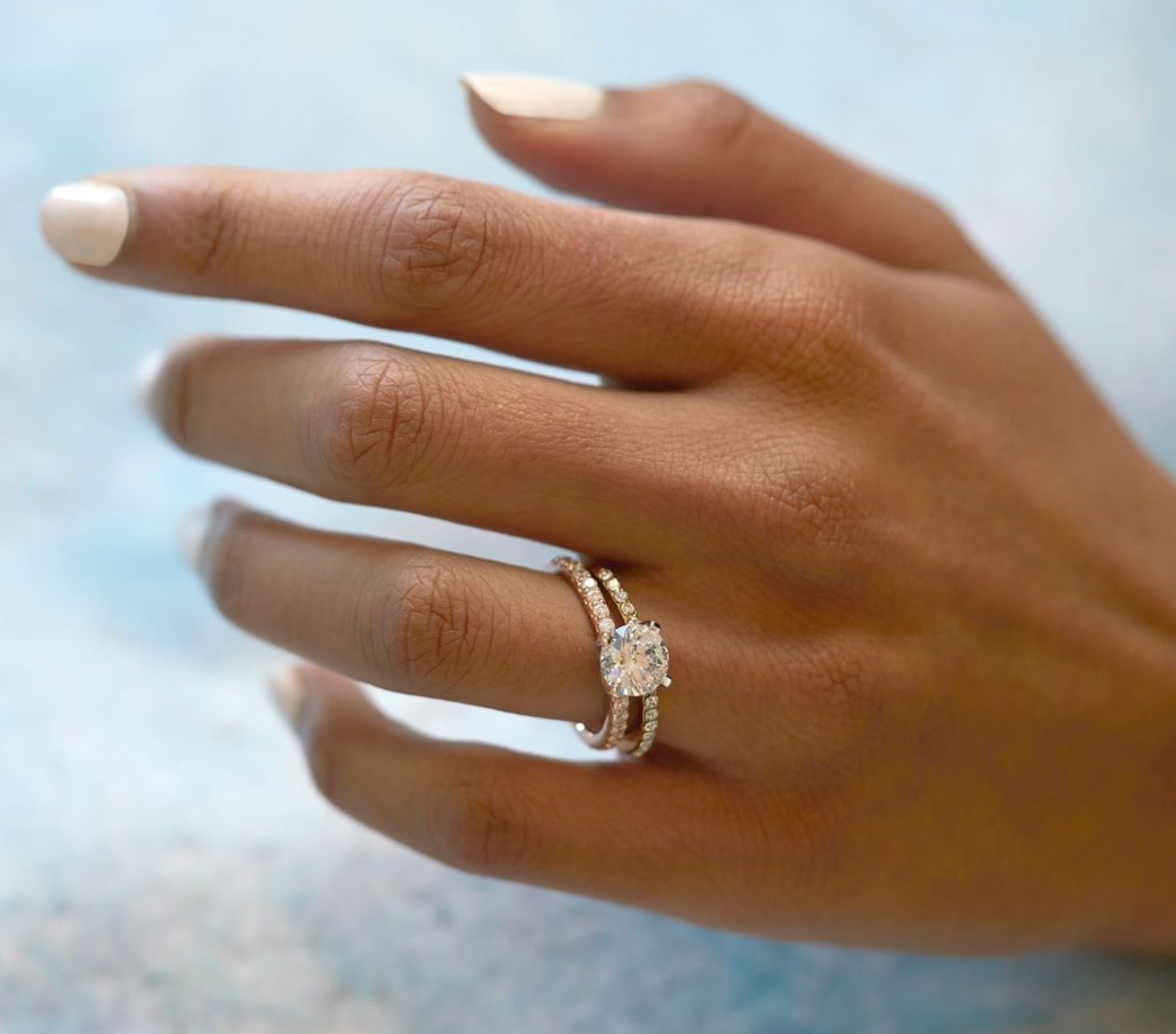 Dreaming of finding the perfect engagement ring but finding all the price tags kind of a nightmare? Although most of the celebrity engagement rings you see in the news are undeniably pricey, it's possible to get the luxe look you love without breaking the bank with an affordable lab grown diamond engagement ring from Brilliant Carbon. 

The first place to start is the diamond. Choosing a lab grown diamond instead of a mined diamond can save you thousands of dollars (and helps to save the earth too.) Because lab grown diamonds are identical to mined diamonds in every way except their origin, no one will know your diamond is lab grown unless you tell them. And the 4Cs of diamond quality are certified with an independent lab report, just like mined diamonds.

We've rounded up eight beautiful affordable engagement rings that just look expensive thanks to fine quality lab grown diamonds. You do not have to give up the luxury look with Brilliant Carbon's ethical and affordable engagement ring styles. We focused on lasting precious materials because you want to make sure these beautiful engagement ring styles under $3000 (and many under $2000) will continue to sparkle just as bright for years to come.
All-Day Pave Engagement Ring

The most popular engagement style for supermodels and actresses alike is a solitaire with a pave band. Because this style puts a lot of emphasis on the diamond, you want to make sure that gem is ready for the spotlight. Choosing a lab grown center diamond means you can get a one-carat center stone without breaking your budget. A fine quality one-carat lab-created diamond in the pretty Altair Engagement Ring pave setting is surprisingly affordable at $2549.
Twice as Nice Affordable Engagement Ring


If you've looked at rings on Instagram at all, you've no doubt noticed that two-stone engagement rings are trending. Solange, Emrata, Arianna, they all chose this major style statement. We love the idea of more diamonds (And tell me who wouldn't?) And we love the romantic symbolism of a representing the two of you in one ring. But here's the thing about the two stone style. It usually costs about twice as much.

In order to keep this style affordable, think negative space. The Binary Ring by Brilliant Carbon has two lab-grown diamonds weighing 1.25 carats that flank your finger on a pretty pave band for $3500. And if you love the idea but are looking for something a little more extra, the Nova Binary Ring supersizes the concept with 2.30 carats of diamonds for $4,799.
Pick a Pear Engagement Ring
If you want drama, you can't beat pear shape diamonds, which are trending for adventurous brides. The asymmetrical shape can be worn two ways: point up or point down. Margot Robbie wears hers point down. Cardi B wears hers point up. Other celebrities with pear shape engagement rings include Paris Hilton, Katherine Heigl, Anna Kournikova, Zoe Saldana, Sophie Turner, Jessica Simpson, and Victoria Beckham. But there's another thing to love about pear-shaped diamonds: they look larger than almost any other diamond shape. The elongated silhouette spreads across more of your finger. You'll find each rear-shape diamond has a slightly different shape as the cutter works to make the most of the rough diamond. The small variations make each pear shape diamond unique, with its own personality. A 0.75-carat pear shape lab grown diamond engagement ring with a halo like the Pavo Engagement Ring makes an unforgettable statement for just $1,699.
Affordable Elegance in an Emerald Cut Engagement Ring
With their icy elegance, it's no surprise that emerald cut engagement rings are the choice of powerful and accomplished women like Beyonce and Amal Clooney. This sophisticated diamond design has long facets and large flashes of brilliance. Because of their streamlined geometry, emerald cut diamonds look great in simple engagement ring designs. While no one would describe Beyonce's 18-carat emerald cut diamond ring as affordable, it is possible to find a one-carat lab grown diamond ring for about $2500. Look at the Europa Engagement Ring from Brilliant Carbon.
You Deserve a Halo Engagement Ring
After you decide the shape of your diamond, the next big decision is to halo or not to halo? The halo is a circle of diamonds that surrounds the center diamond in brilliance. For the past few decades, people have said "absolutely!" to the halo engagement ring question. Halos add a delicate, decorative vintage vibe to your ring. They also make your diamond look bigger and brighter as the brilliance of the halo adds to the sparkle of the center stone. The key to finding an affordable halo engagement ring with the style you want is to choose a center stone that's a little less than a carat. The Polaris Engagement Ring by Brilliant Carbon is just $1849 with a 0.075 carat center lab-grown diamond. (And you can upgrade to 1 carat for just $2599.)


Double that Halo Engagement Ring (But Not the Price)
Take everything we said about the advantages of halo engagement rings times two. A double halo design is even more vintage in feeling and looks even larger than a single halo. The Andromeda Engagement Ring from Brilliant Carbon has another delightful detail: the inner halo is cushion shaped and tucks under the center lab-grown diamond, transforming its outline so it looks like one large cushion cut rather than a round brilliant surrounded by a cushion-shaped halo. That means you get all the brilliance of a round with the vintage appeal of a cushion shape. Set with a 0.75 carat lab grown diamond in the center, it's a fantastic looking affordable engagement ring, priced at just $1,949.


I'll Have an Oval Engagement Ring (But Make It Affordable)
Oval diamonds are having a moment but there are many reasons why this popular diamond shape is perennially popular. The first is that it's classic but slightly different: every one has a slightly different shape so you won't have the exact same one-carat round diamond as everyone you know. The second is that oval shaped engagement rings are famously flattering to your fingers, making them look long and slim. The third is that oval shaped diamonds face up larger than the same size round brilliant because they are a little less deep. The fourth is that they generally cost less per carat than a round brilliant too. So, looks larger, costs less, adds elegance and a unique personality to an engagement ring. Seriously, what's not to love? Just look at the Ellipse Engagement Ring with a center 0.75 carat diamond for $1,799.


A New Twist on Affordable Engagement Rings
One of the things that sets luxe engagement rings apart is the fine little details that delight you every time you look at it. These details also add meaningful symbols to your design that make it a beautiful representation of your vows. Our favorite detail is a two-strand twisted shank that represents two lives becoming one. The Helix Nebula Ring is a beautiful example of an elegant twist and it's actually affordable too. We love it in warm rose gold. It's just $1849 with a 0.75 carat lab grown diamond (and also available with larger center gems too.) Just look at the details: beautiful side accent lab grown diamonds adorn two Celtic Love Knots symbolizing unending love that can never be untied.
Brilliant Carbon has so many affordable lab grown diamond engagement rings that are ethically produced and do not break the bank. If these styles are not for you, browse all of our affordable engagement ring styles today!