Gorgeous Yet Affordable Diamond Bracelets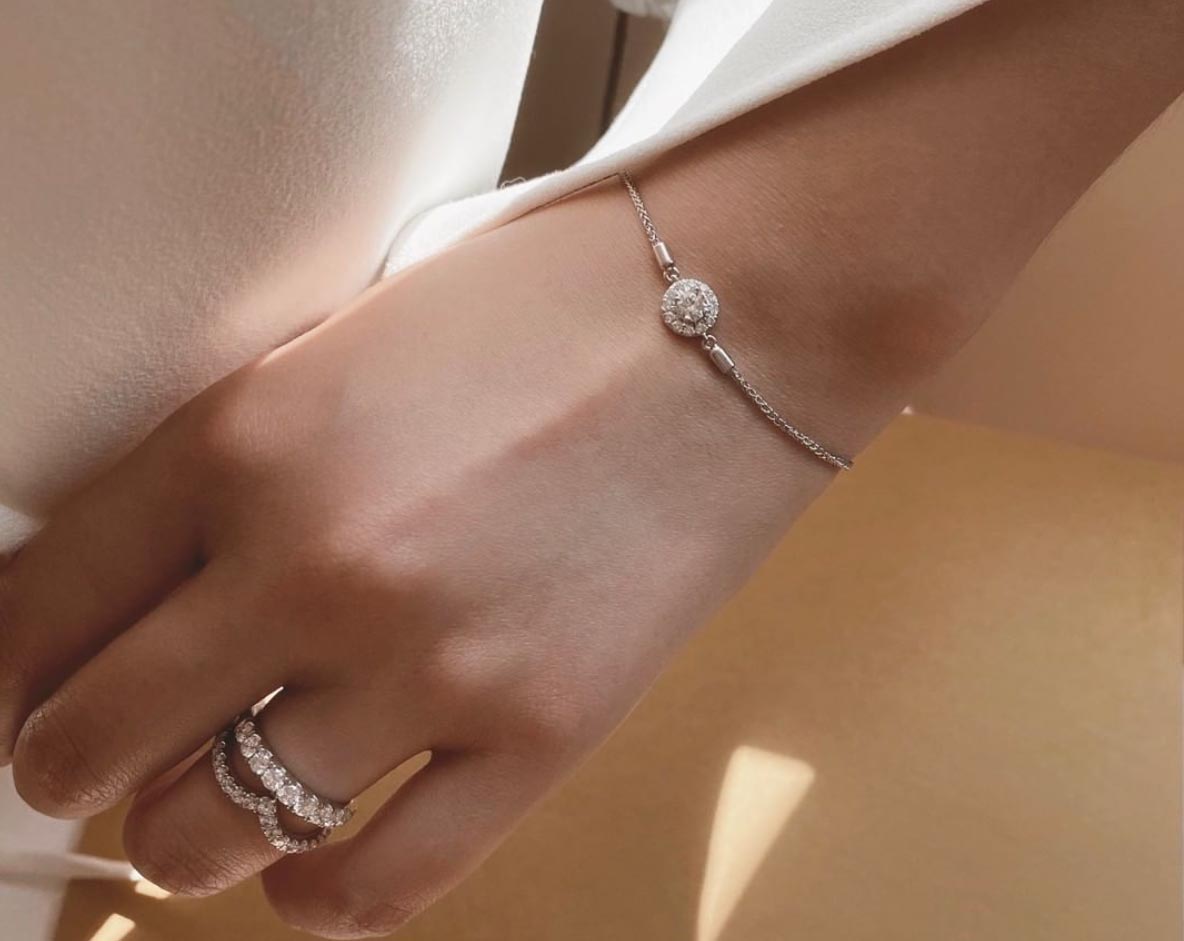 If you are a fan of wearing diamonds (and, tell me, who isn't?) you no doubt have elegant diamond earrings and a sparkling diamond necklace, maybe even a few brilliant diamond rings too. But for many women diamond bracelets, despite their covet-worthy style, are just a little bit out of reach.
Why? It's a question of scale. Diamonds across your finger are one thing. But a wristful of diamonds is a lot of diamonds! And that means a lot of zeroes on the price tag.
Tennis bracelets, the popular straight-line bracelet style, have diamonds all the way around your wrist. Even the smallest tennis bracelet has one or two total carats of diamonds and many have five carats or even more.
If that's out of your budget, you may have considered a delicate diamond solitaire bracelet or bangle. Here's the unfortunate problem with this style that jewelers don't tell you about: the diamond falls to the bottom of your wrist. When you look down, instead of the diamond you just see the clasp. Sigh.
Never fear, here are four affordable diamond bracelets with all the sparkling style you are looking for to suit every budget.
UNDER $1000
A Solitaire Bolo Bracelet
Solving the diamond solitaire bracelet required a new kind of clasp. Enter the Electra Bolo Bracelet: an adjustable bracelet closing that slides to fit your bracelet snugly to your wrist. That perfect fit means that the center lab-grown diamond no longer slips to the bottom! Voila! The perfect solitaire bracelet with sparkle you can always see and enjoy. We were so excited that we added a sparkling halo around the center for even more brilliance.
UNDER $2000
A Brilliant Bar Bracelet
For brilliance that stretches across your wrist, look no further than the diamond bar bracelet. Our River of Light Bracelet has a line of pave lab-grown diamonds. To make sure that band of sparkle stays in place, our adjustable bolo clasp keeps it snugly in place. It's like a brilliant friendship bracelet that's all grown up. And with one of these gorgeous diamond bracelets in your jewelry box, so is your diamond wardrobe.
UNDER $4000
A Better Bangle Bracelet
We asked our designers to create a stylish bangle that wouldn't flip but would show off our beautiful lab grown diamonds. They solved the problem in stunning style! The Binary Bangle has two diamonds that orbit your wrist with open space between them. The bangle balances perfectly on your wrist with the diamonds on top. We love the symbolism of the double diamonds that orbit each other too. It's a beautiful reminder that you are never alone.
UNDER $5000
A Spectacular Statement Bracelet
If you have the budget for a tennis bracelet, we have an even better idea. When you wear a tennis bracelet, you only see less than half of the diamonds at any one time. Why not put all the diamonds where you can see them? Our stunning Pleiades Bolo Bracelet has seven spectacular diamonds across your wrist, all surrounded by halos of brilliance. It's like seven engagement rings at once. Yes, times seven!
Did you not see the perfect bracelet for you? Browse all of our affordable diamond bracelet options form our online store.