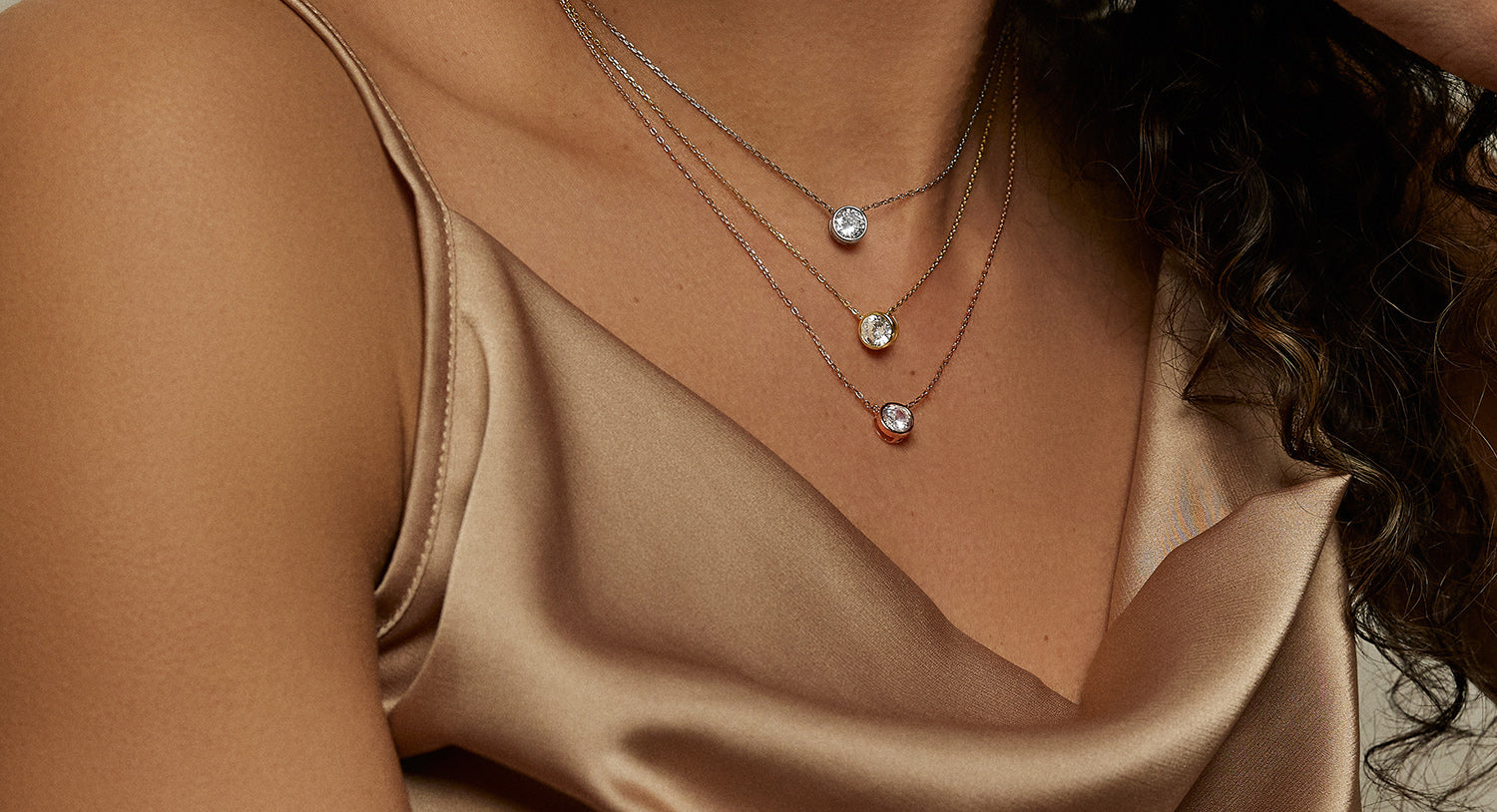 When you were a kid, it was the really big packages that everyone couldn't wait to open. That hefty box might contain a Barbie dream house or a skateboard! Today, everything has changed. Now it's the little packages that make your heart beat a little faster. Let's face it, nothing lights up her eyes and takes her breath away like fine jewelry. No other gift lasts as long and gets enjoyed more. This year has been named the Year of the Lab Grown Diamond, so it's not surprising that the hottest gift of the season is lab grown diamond jewelry. With everyone looking for luxury that's more sustainable, lab grown diamonds grown using renewable energy are the perfect way to spoil the ones you love and leave the planet unspoiled. Here are our picks for the top jewelry gifts of 2023.
Elegant Geometry
WHAT: Sirius Emerald Cut Lab Grown Diamond Necklace
WHO: The Fashionista
PRICE RANGE: Starting at $399
WHY SHE'LL LOVE IT: You can't possibly have too many diamond necklaces. But if you only choose one, this is it. A single emerald-cut lab grown diamond catches the light, its long luxurious facets flashing with brilliance and fire. A sleek streamlined setting puts the gem in the spotlight, suspending it on a delicate chain in her favorite color of gold. It's simultaneously bold and refined. Whether you choose a subtle one-third or half carat of a bold one carat size, she'll wear it with everything, solo or layered with other necklaces.


What a Stud
WHAT: Sirius Princess Cut Diamond Stud Earrings
WHO: The Impossible-to-Please
PRICE RANGE: Starting at $699
WHY SHE'LL LOVE IT: Is there anything more classic than a brilliant pair of stud earrings? For years, you've looked at them longingly and passed them by. Why? Because, with one big beautiful diamond for each ear, traditional stud earrings are the price of two engagement rings! But now, thanks to the invention of lab grown diamonds you can afford better quality and more carats. Not your basic stud, this pair features princess-cut lab grown diamonds with a chic square silhouette. And even your princess-and-the-pea impossible-to-please loved one will appreciate that they are sustainably grown using renewable energy from the sun and wind. Every pair includes a donation to the cause of your choice.
Star Bright
WHAT: Vega Lab Grown Diamond Necklace
WHO: The Elegant Classicist
PRICE RANGE: $799
WHY SHE'LL LOVE IT: This is the kind of gift she will immediately put on when she opens the box. You'll notice how great it looks with pajamas. Or an evening gown. Or a sweatshirt. It's that good. This necklace is a layer that makes everything she wears just a little more polished. And it layers beautifully with other necklaces making them look better too. In fact, she may want more than one. Because the only thing better than one stunning lab grown diamond necklace is two.
Ring in the New Year
WHAT: River of Light Ring
WHO: The Romantic
PRICE RANGE: $799
WHY SHE'LL LOVE IT: There's nothing quite as meaningful as a diamond ring. There's engagement rings and wedding rings, of course, but they are just one of the many ways you can mark a milestone with a diamond ring. Rings can symbolize a child, an achievement, an anniversary, a promise or a recommitment. They can also be a celebration of a love that lasts a lifetime. That's why giving a diamond ring to someone you love is so significant. This slim stackable band can be worn alongside other rings or solo. She'll think of you every time she sees it sparkling on her hand.
Holiday Hoopla
WHAT: Sirius Drop Hoop Earrings
WHO: The Jetsetter
PRICE RANGE: $1099
WHY SHE'LL LOVE IT: She's at home everywhere, from a stadium to a first-class lounge, so she needs jewelry that works and plays just as hard as she does. Enter the versatile drop hoop earring. It's polished enough to sail past the maître-d' to the best table in the restaurant and casual enough for a hike in the mountains. The comfy hoop setting won't catch on scarves or keep her up on the red-eye back from London. And the brilliant half-carat drops make these earrings stand out on the red carpet too.