How America Gets Engaged Today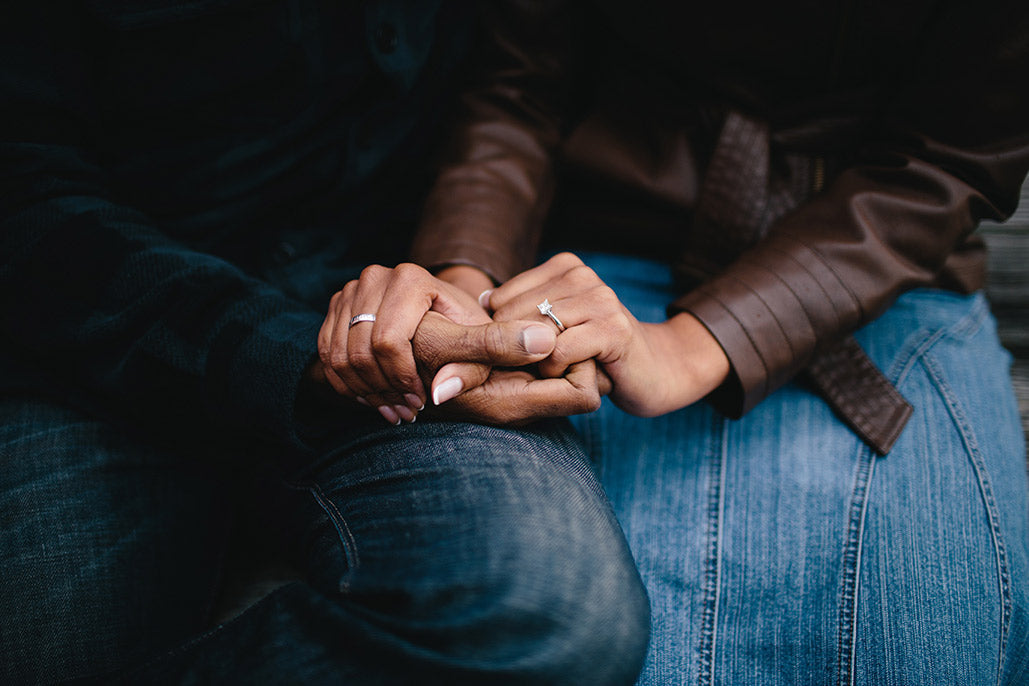 Is an engagement ring in your future this year? According to a recent survey of 2,000 American women in serious relationships by OnePoll, one in three are ready to say yes. If you're getting ready to pop the question, you might be worried about picking the right engagement ring. The pressure to surprise your partner with the ring of her dreams is real.
Thinking of proposing without a ring? That might not be such a great idea. Engaged people surveyed said that the ring is the most important part of the proposal. So important that 56% said a proposal isn't "real" without a ring. How many rings do you have to consider before you'll find the one? Recently engaged people say they looked at an average of eight different rings before choosing one. And 18% looked at more than 10 engagement rings.
Whew. That's a lot of shopping. Probably that means that they aren't sure what ring style their partner wants. This task would be a lot simpler if people thinking about proposals asked their partners for advice. Or better yet, shopped online together. Shopping together doesn't mean that the proposal won't be a surprise. It just means that the ring will be the right ring, whenever you propose with it.
About 60% of women in serious relationships say they would like input on the engagement ring they will wear every day for the rest of their lives. That means it's now the majority. For millennials, the percentage who preferred engagement ring shopping together as a couple is 71%. And 41 percent of women who didn't have a say in the ring selection say they wished they had been consulted.
So don't be afraid to ask about the engagement ring! Ask about diamond shape, ask about ring style, and ask to see if your partner might prefer a lab grown diamond. Lab grown diamond engagement rings offer you more carats and  and better quality for your money. And your partner might prefer a low-impact diamond from a supplier like Brilliant Carbon that sells climate neutral lab-grown diamonds.
That's why it's not surprising that lab grown diamond engagement rings have surged in popularity in the last two years. According to diamond analyst Edahn Golan, half of diamond engagement ring sales are now lab grown diamonds. 
The growth in sales of lab-grown diamond engagement rings has also affected engagement ring style trends, with many couples choosing lab grown diamonds with a larger carat weight in a simple setting rather than a smaller mined diamond surrounded by a halo to make it look larger.
What engagement ring styles are the most popular right now? According to a survey by Ringspo, 33.6% of recently engaged couples chose solitaire engagement rings. The next most popular style is halo engagement rings, the choice of 19.1% of couples. Three-stone engagement rings were the choice of 14.1%. And pave engagement rings were the choice of 9.8%.
Although many couples say they are interested in bucking tradition and shopping for engagement rings together, when it comes to the proposal, couples are much more traditional. About half of people surveyed said that getting down on one knee is important. And 34% say asking their partner's parents for permission is important.
Most people say that personal touches and thoughtfulness are most important. Half said that they prefer a private setting. Only 17% said they preferred a public engagement.
Following the engagement, 40% waited less than 15 minutes before telling the first person the news, while 37% waited more than an hour before sharing. Most people think twice before immediately posting a picture of the ring on Instagram. One in four believe their friends would be offended if they first found out about their engagement through social media.