How to Hint and Get the Engagement Ring You Want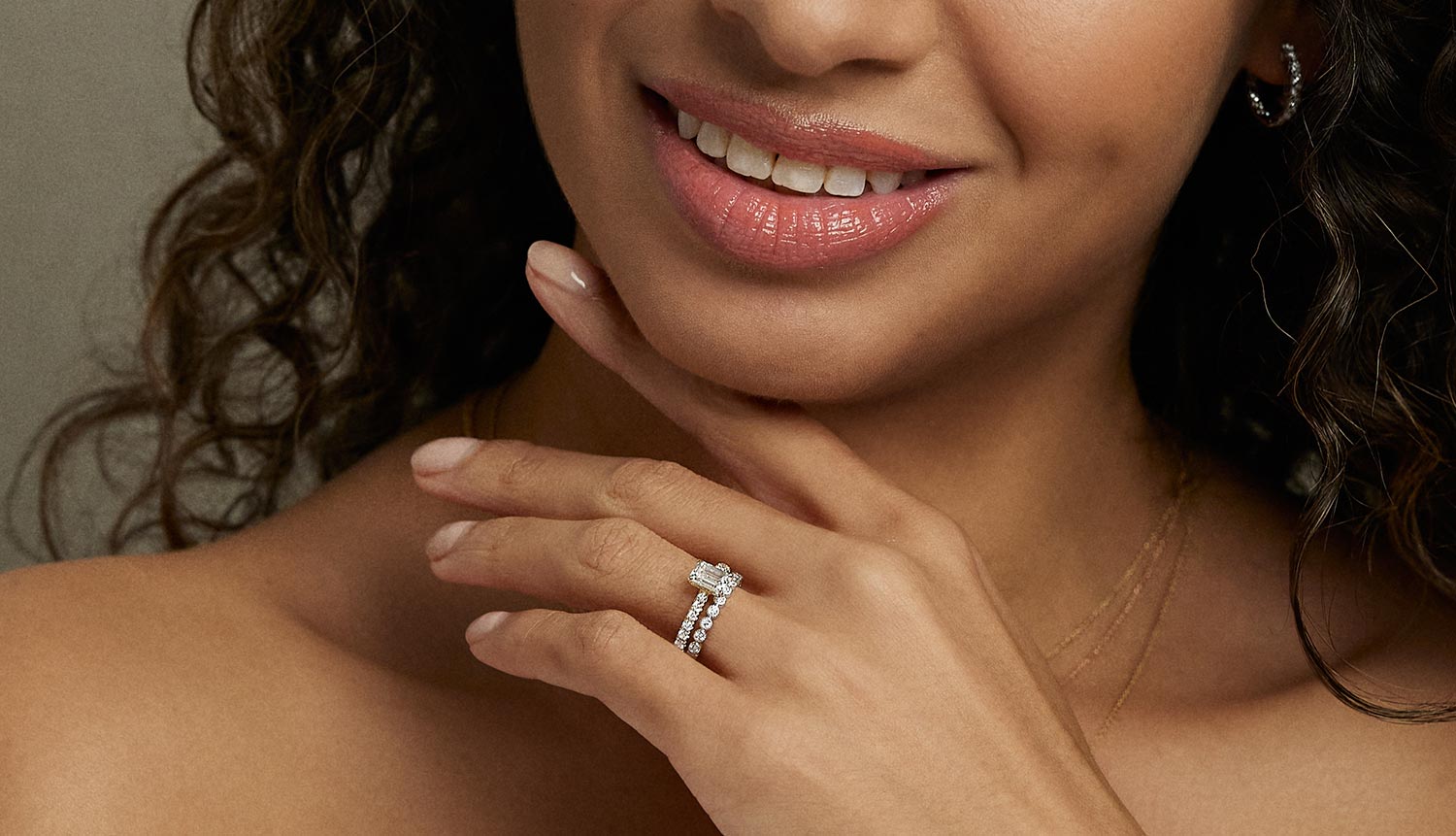 Finding the perfect engagement ring can be overwhelming for both you and your partner. You'll be wearing it every day for, well, forever. So, no pressure! If you have your heart set on a big lab grown diamond pear ring with a halo and your partner picks a modest mined round solitaire, it's hard not to be a teensy bit disappointed. So how do you make sure you'll really love the ring? Of course, you could just say directly what you want. But if you want the proposal to be a surprise (and surveys show most people do) you need to start dropping hints. Hinting is a delicate art but when done correctly it can help you guide your partner in the right direction. Here are the best tips and strategies to hint to make sure you'll receive the engagement ring of your dreams.
Talk the Talk
Whenever engagement rings come up in a movie or reality show, when a friend gets engaged, in an ad or video, or even in a store window, review them. Be specific. "Wow that engagement ring is perfect: oval diamonds are so beautiful in yellow gold" is much more effective than "I like that ring." If you want to make sure your partner knows you prefer lab grown diamonds, watch the movie Blood Diamonds and use it as an opportunity to talk about the advantages of lab grown.
Asking for a Friend
If your partner isn't sure of your preferences, there's probably someone close to you that they will ask, probably your BFF, sister, mom or style guru. Make sure that person knows exactly what you want just in case. You can also make sure your partner knows who to ask for advice by telling them. For example, if they ask what you want for your birthday, tell them to ask your sister for advice. Let your sister know an emerald cut lab grown diamond ring with a pave band in white gold is perfect. Make sure your friends and family know your ring size too.
Get Social
Social media is a great way to start dropping hints about your engagement ring preferences. Like and comment on posts that showcase engagement rings similar to the one you want. Follow accounts that feature engagement rings and save pictures that catch your eye. For a more direct approach, tag your partner on a ring that's exactly like the one you want or share it with your partner, letting them know that someday this would be your dream ring. Think this is too pushy? Remember that you are helping your partner make sure they are choosing a ring that you'll love wearing every day for the rest of your life.
Pin to Win
Pinterest is not only a great source of engagement inspiration, it's an easy way to drop subtle hints about the ring you want. To keep your hints subtle, create a Pinterest board envisioning your future with the house of your dreams, your vacation bucket list and your lifestyle goals. Include pins of engagement rings that match your desired style, cut, and size. Pin to your vision board when you're together so your partner knows about it. If you want to be more direct, create an engagement ring board with images of the exact ring or style you want from different jewelers. You can share the board with your partner or your friends.
Hit the Retarget
Another great way to hint to your partner about your engagement ring preference is through retargeting. In the digital age, we all leave digital footprints. When you search for the engagement rings you like on your favorite websites, ads from those jewelers will follow you everywhere you go on every site you visit. It's a subtle way to show your partner of the engagement ring styles you've been admiring. Once you start getting ads for those rings, you can "accidentally" leave your phone or computer open where your partner can see them. If you share a device, this is even more effective. Want to be less subtle? You can also show them an ad for your favorite ring and tell them how much you like it.
Shop to Drop a Hint
Another way to showcase the ring of your dreams is to shop for it and add it to your cart. This not only saves it for you, but also triggers reminder emails that may show up on your partner's radar. If you want to be surprised, you can select several rings and add them all to your wish list. Share it with your partner and let them know that you would be thrilled with any of the rings on the list. Another not-so-subtle hint is to subscribe your partner to your favorite jewelry newsletter and add items to the wish list or cart for that account so the reminder emails go directly to them.

This is especially important if you want to let your partner know that you'd love a bigger, more affordable lab grown diamond engagement ring. If you don't make that clear, your partner might be hesitant to make that decision for you. As someone who knows exactly what they want, you may have your heart set on a certain diamond size or style that might be too expensive with a mined diamond. If you tell your partner about lab grown diamonds, you can get the ring of your dreams without compromising.