Most-Wished-For Holiday Jewelry Gifts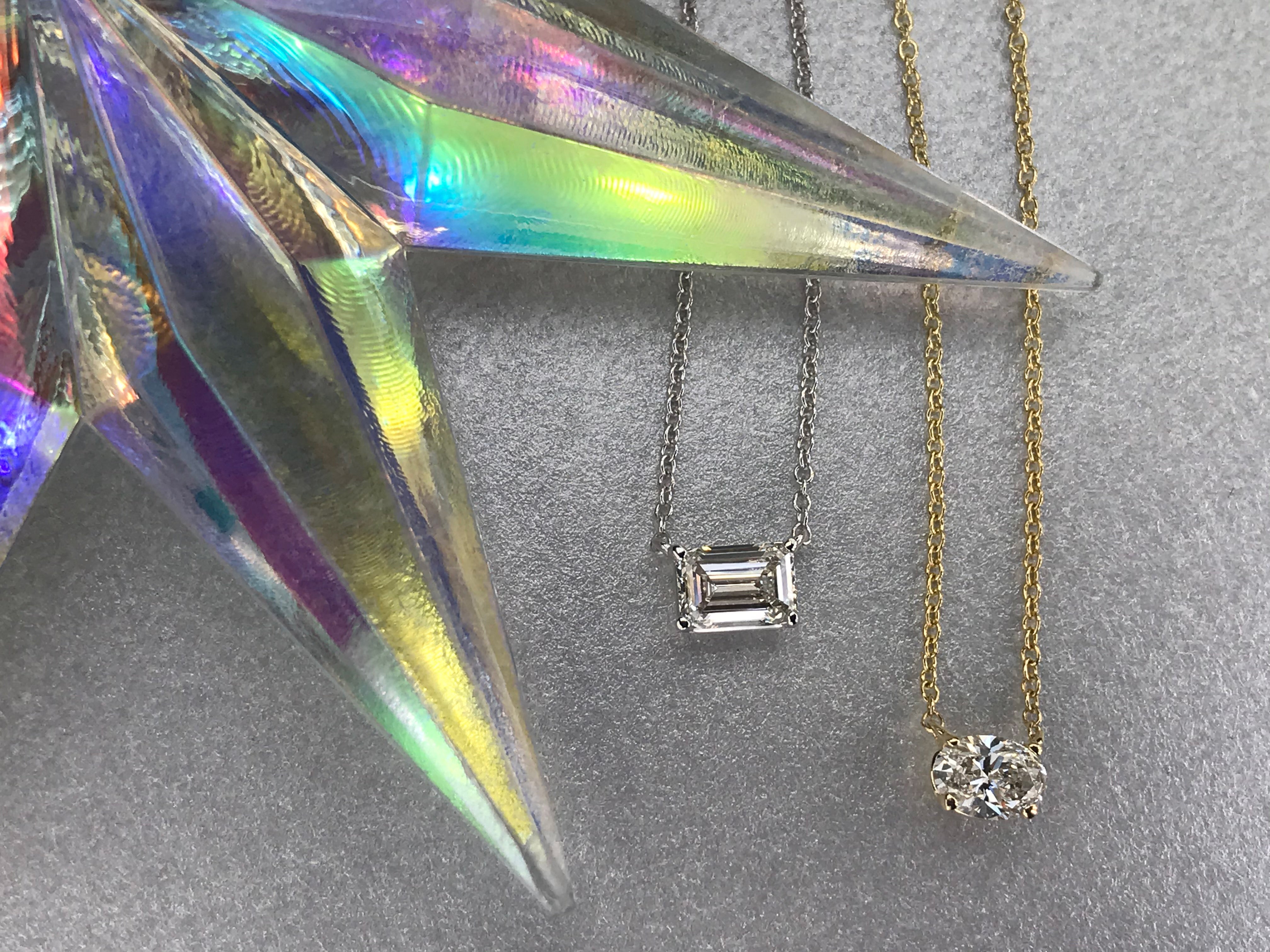 The good tidings of great joy we're all looking for this year sparkle with brilliance! After years of hunkering down with instant pots and air fryers, this Holiday Season it's finally time for gifts that are meaningful and joyous. Nothing is as filled with emotion and celebration as gifts of fine jewelry.
Lab-grown diamonds are the perfect blend of indulgence and sustainability. Investing in fewer better pieces is the opposite of fast fashion: these luxurious timeless styles will last forever and can even be enjoyed for generations to come. There's luxury you can enjoy with a clear conscience. So, you know you want to give some meaningful timeless lab grown diamond jewelry gifts this holiday season. But which lab grown diamond jewelry? No, worries, we've got you. Here are the top ten lab grown diamond jewelry gifts our customers are wishing for this holiday season.
Lab Grown Diamond Stud Earrings
These can't-miss classic earrings should be part of every woman's jewelry wardrobe. And they are fast becoming a wardrobe staple for stylish men as well. Trust us, you can't go wrong with a pair of lab-grown diamond stud earrings. It's because lab grown diamonds aren't just making this popular style more sustainable, they are much more affordable than mined diamonds, bringing this sparkling red-carpet favorite within reach of the rest of us. Whether you have the budget for two carat lab grown diamond studs, which have a carat per ear, or one carat lab grown diamond studs with a half carat per ear, they will evoke a gasp when the box is opened. And if you don't have a pair yet yourself, what are you waiting for? The lab grown studs of your dreams are less than you might imagine.
Emerald Cut Lab Grown Diamond Necklaces
Sophisticated emerald cut diamonds are a trend that's stronger than ever and we're not mad at it. In fact, we love the way this icy diamond cut with large and luxurious flashes of brilliance transforms a simple jewelry style into something that looks bespoke. Our favorite new way to wear emerald cuts is set sideways in an emerald cut lab diamond necklace. It takes a classic silhouette and makes it instantly more chic. If you're looking for a gift for someone with a large jewelry collection and impeccable taste, you know what to do.
Oval Lab Grown Diamond Necklaces
Does she have a romantic side and an oval engagement ring (or dreams of an oval engagement ring?) An oval lab diamond necklace is definitely at the top of her wish list. We especially love this solitaire necklace with the oval set sideways but if you like prefer a vertical oval lab diamond necklace, we've got your back on that. That's why fancy shape solitaires are so great: each one is slightly different so you can have something unique and classic at the same time.
Lab Grown Diamond Bolo Bracelets
Speaking of timeless perfection, let's discuss the tennis bracelet. The classic version has diamonds all the way around your wrist (and a distressing habit of falling off when you least expect it, am I right Chris Evert?) Enter the bolo bracelet. The adjustable clasp on our lab diamond bolo bracelet snugs it close to your wrist so the diamonds stay in place on the top of your wrist not underneath your arm facing the other way. All your carats are right where you can see them, sparkling with brilliance. And the sliding clasp is much more secure than a traditional bracelet clasp so that gorgeous bracelet will stay on your wrist, not go flying onto any tennis courts. It's a win-win. Or should we say love-love? Either way, it's a better way to tennis bracelet.
Lab Grown Diamond Huggies with Drops
Every time we design a new style, we look to see if we can improve on a classic while keeping it timeless. That's how we came up with our latest earring style, the lab grown diamond delicate hoop earrings with dangles. We combined two traditional earrings into one new style that's so wearable, you'll be surprised you haven't seen it before. It's classic delicate lab-grown diamond hoops but with the addition of dangling lab diamonds that drop below the huggies, dancing with brilliance. Effortless and comfortable but also eye-catching and fun. Twice the earring with twice the style. She'll be twice as happy to open your gift too.
One-Carat Lab Diamond Solitaire Necklaces
Sometimes a classic is just that: a design that will no doubt be just as stylish decades from now as it is today. The classic solitaire necklace is the perfect choice for a woman who believes in investment dressing. We love the way the round brilliant floats against the skin in this classic lab-grown diamond necklace style. It's refined and timeless. And, although its available in different sizes, we think the splurge for a one-carat lab grown diamond necklace is totally worth it. Like an engagement ring, it's crafted to last and pass down to the next generation.
Lab Grown Diamond Drop Earrings
f she prefers drops to studs, a pair of classic lab grown diamond drop earrings are the perfect wear-everyday classic. Famously flattering, with a drop that makes your neck look longer and works beautifully with longer hairstyles as well as pixie cuts, diamond drops are a more glamorous version of stud earrings. Drops are especially dramatic in larger carat weights, which can have too much height on the ear but hang beautifully below it, sparkling in the light.
Lab Diamond Celebration Rings
What do you get a woman who has everything? Something glamorous and luxurious that's even better in multiples. Even a duchess needs several slim diamond bands to stack with her other rings. Enter the lab grown diamond celebration band. Wear one, wear two or wear seven or eight. It's all in the mix: thick and thin and a mixture or metals all add character and style to her stack. The Voyager Band has a beautifully detailed vintage look that adds a unique look to any stack. The Many Moons Ring is modern, with larger lab diamonds and negative space that catches the eye. If you're not sure, start with the slim Cygnus Band Ring with nine sparkling lab-grown diamonds. Any of these brilliant bands will make her instantly feel like she is everything to you.
Lab Diamond Balance Necklace
This instant classic design has the sleek lines of a bar necklace with the brilliance of a lab grown diamond solitaire. The Balance Necklace symbolizes how beautifully she juggles everything and keeps your life together balanced brilliantly. It's a lovely way to show your appreciation. And with all the sparkle of a half-carat diamond, it's a gorgeous style statement too.