Seven Brilliant Valentine's Day Gifts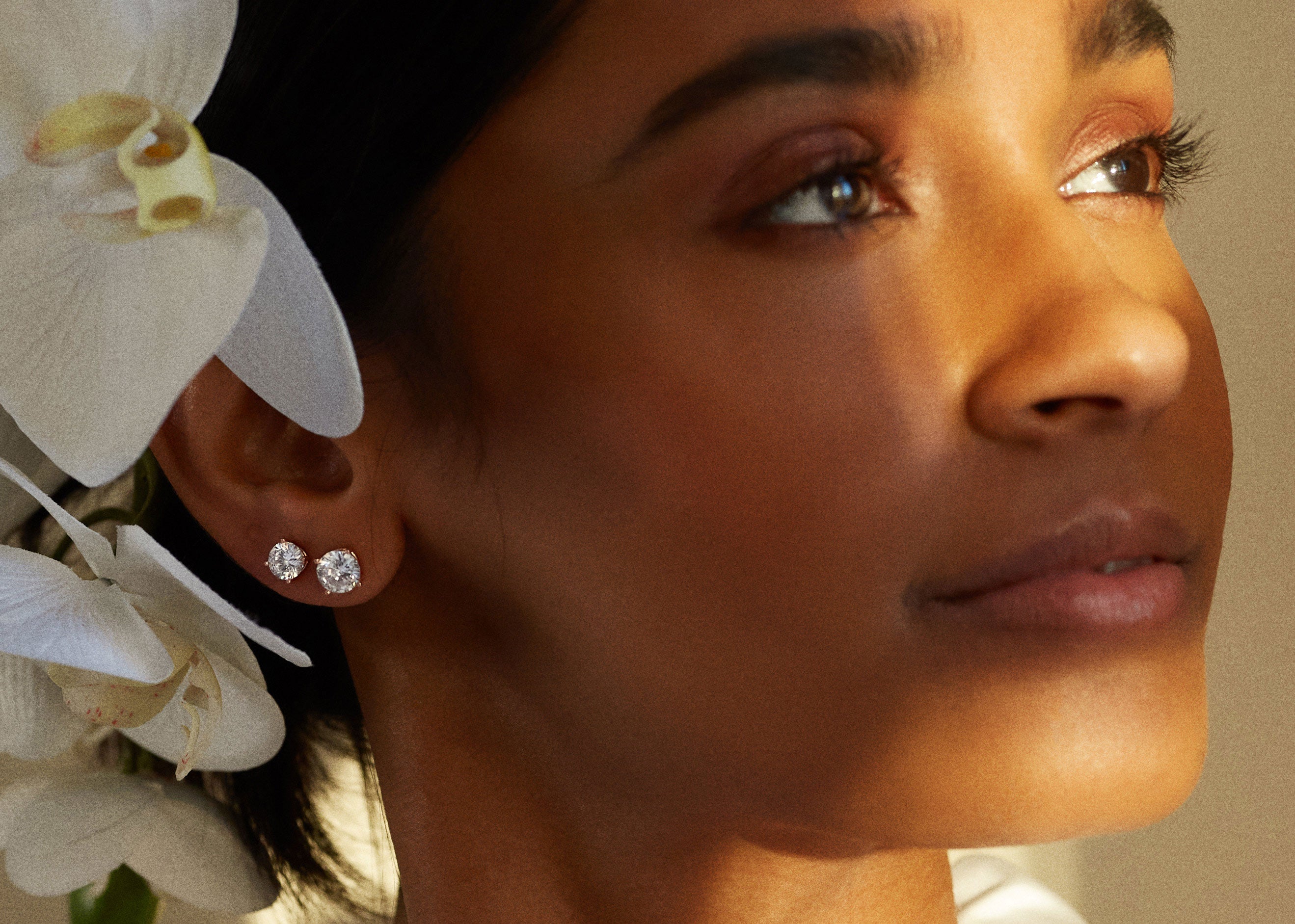 There's no better way to say "Be Mine Forever" than a brilliant diamond Valentine's Day gift. Even if you are celebrating Valentine's day at home this year, a romantic gift makes the day truly memorable. Why a diamond? Beautiful, brilliant and enduring, nothing expresses lasting love like the most precious of gems. And choosing a lab grown diamond rather than a mined diamond also says that you want to keep the earth beautiful too.
What jewelry is best for a Valentine's Day gift? The most popular Valentine's Day jewelry gift is a diamond pendant. Choose a meaningful symbol or a classic diamond solitaire necklace. We especially recommend choosing a fancy shape diamond solitaire, which adds a twist to a timeless silhouette. Diamond stud earrings are another classic Valentine's Day jewelry gift.
And we also have gift ideas for sisters and best friends. Valentine's Day isn't just for couples anymore: let your ride-or-die know how much she means to you with a diamond friendship necklace, bracelet or earrings.
And don't forget that Valentine's Day is a popular day to pop the questions. In fact, according to WeddingWire, Valentine's Day was the most popular day to propose in 2021, topping Christmas Day and New Year's Day for the first time. A diamond engagement ring is the most romantic Valentine's Day gift of all.
Here are our top seven Valentine Day jewelry gift ideas to make your celebration sparkle.
1. An Elegant Emerald Cut Solitaire Necklace
This is a best-selling solitaire necklace for a reason. It's the perfect combination of classic and fashionable. We love Art Deco architecture: our Rockefeller Center neighborhood in New York City is endlessly inspiring with its geometry and elegance. Emerald cut diamonds are the most Art Deco of fancy shape diamonds. In fact, this diamond cut was developed during the 1920s and was featured in many of the era's most inspiring jewelry designs. There's something so sophisticated about its icy brilliance and signature hall of mirrors reflections. A simple solitaire necklace design is the perfect way to highlight its streamlined geometry. We especially love the emerald cut set sideways for an unexpected twist. The Sirius Emerald Cut Necklace is the perfect gift for a woman with exquisite taste.
2. A Brilliant Heart Necklace
What could be a more perfect Valentine than a heart traced out in diamonds? Our Brilliant Heart Necklace tells your beloved what's in your heart. The use of this double-lobed shape as a symbol of love dates back to the Middle Ages. Until the fourteenth century, the heart was usually depicted upside down. This shifted in the fifteenth century, as the heart symbol evolved into the shape we know today and became a suit on playing cards. Hearts became a popular gift for Valentine's Day during Victorian times. Today, everyone instantly knows that a diamond heart is a gift of love.
3. Sparkling Diamond Stud Earrings
Jewelry trends come and go but diamond stud earrings are timeless classics. The tradition of wearing stud earrings was even popular in ancient Egypt. Modern diamond stud earrings made their appearance in the 19th century and they've been a jewelry wardrobe essential ever since. Queen Victoria, the jewelry trendsetter of her day, created the first diamond studs in 1870, when she had a pair of loose diamonds turned into noticeably large diamond studs. Luckily you know longer need to be royalty to enjoy diamond studs. Lab grown diamonds have brought the diamond studs she's always wanted within reach. Sparkling lab diamond stud earrings are a Valentine's Day gift she can wear forever.
4. A Classic Bezel-Set Solitaire Necklace
One timeless round brilliant diamond nestled in the hollow of her throat. Ever since Elizabeth Taylor wore a single diamond on a chain in Cat on a Hot Tin Roof, this necklace has been an icon of style. Simple yet sexy, with a setting that suspends it almost invisibly, the Vega Diamond Solitaire Necklace is jewelry refined into art. Just as appropriate with a t-shirt and jeans at the game as it is with a strapless ballgown on the red carpet, the classic solitaire necklace is the one necklace she can wear everywhere, thinking of you every time she does.
5. A Flower That Will Never Fade
Flowers may be a traditional Valentine's Day gift but they fade almost immediately and are forgotten soon after. Why not give her a flower that lasts forever instead? Our Bloom Necklace has a classic solitaire silhouette with the added detail of lab-grown diamond "petals." And because smaller diamonds cost less per carat, this beautiful necklace in 14k gold she'll enjoy for decades and pass down to the next generation is just $289. How can roses compete?
6. A Lucky Charm
Luck and love go together. To give her the gift of brilliant luck for Valentine's Day, choose our Horseshoe Necklace. It makes a statement that the future looks bright. Give it to say that you're wishing for everything to go her way this year and that you'll be there by her side when it does.
7. A Valentine's Engagement
If you know she's the one for you, Valentine's Day is the perfect day to pop the question. Do it in style with the Altair Engagement Ring. Its simple silhouette and brilliant pave band are refined and timeless. This style is a celebrity favorite for a reason: it turns heads in an engagement selfie too. The brilliant quality certified lab-grown diamond is beautiful inside and out. That's why this lab diamond engagement ring feels as good as it looks.