Why We Love Princess Cut Lab Grown Diamonds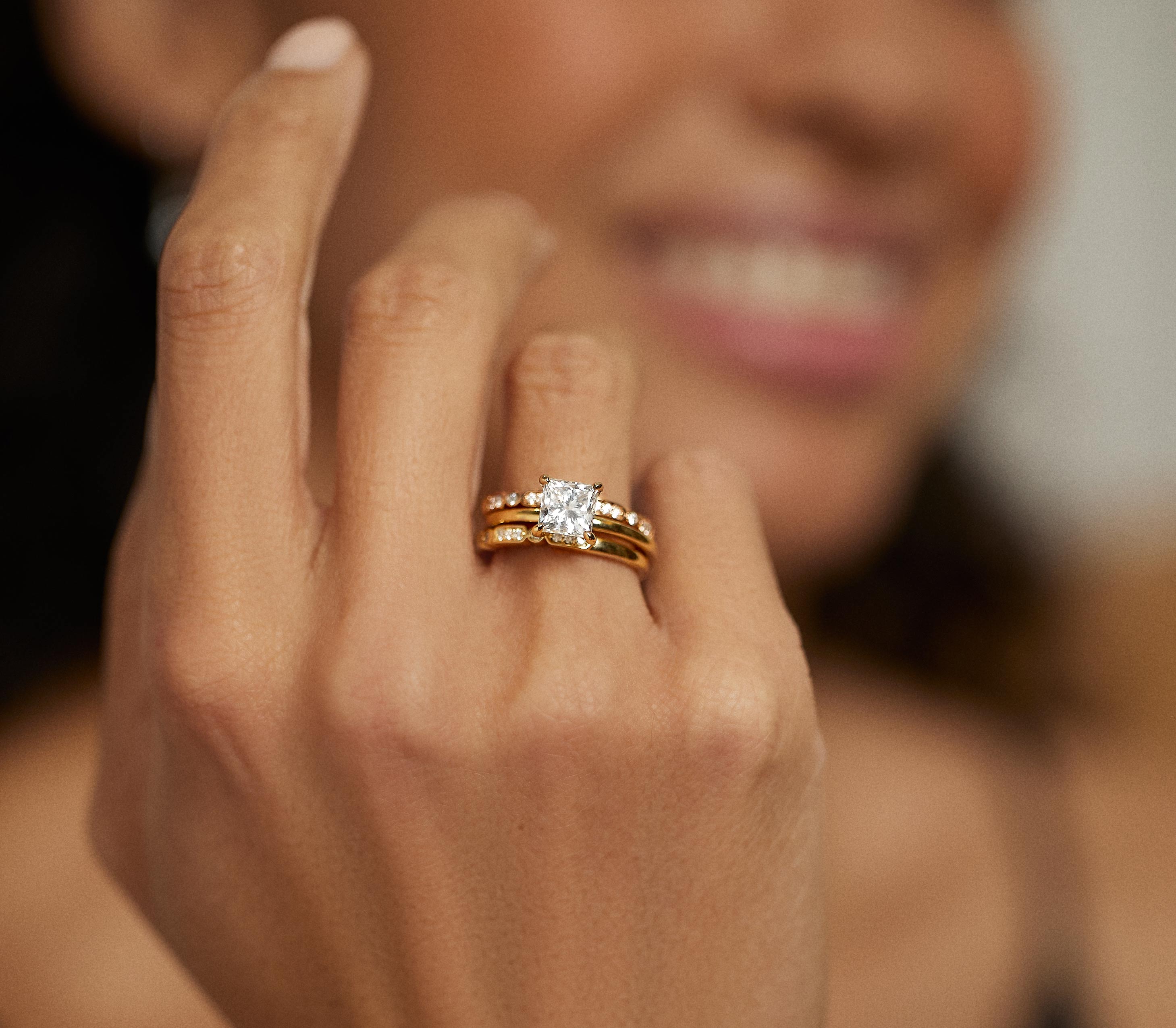 Fair and square, princess cut diamonds make a dramatic statement. The choice of confident women who like its crisp geometric lines, princess cut diamond engagement rings are a popular choice. That is as true for princess cut lab grown diamonds as it is for princess cut natural diamonds. And princess cut lab diamonds are half the price of natural ones, so you can afford more carats and better quality for more sparkle.
Princess cut lab grown diamonds are also a popular alternative to round brilliant lab grown diamonds in studs and solitaire necklaces. This square modified brilliant cut can be easily recognized by its four sides, inverted pyramid profile and distinctive X pattern of brilliance in the center.
We love lots of things about princess cuts but there is one thing we don't love. The sharp edges and points of this diamond cut are more prone to chipping than more rounded shapes like rounds and ovals. This is particularly true for princess cuts set in rings, which receive more wear than other types of jewelry. But you can protect the points of your princess cut diamond with a ring setting that protects the corners, like V-shaped prongs, a halo or a bezel.
Curious about the difference between princess cut lab grown diamonds, princess lab created diamonds and princess shape lab diamonds? Don't be: these terms are interchangeable. But the diamond industry uses princess cut diamonds, not princess shape diamonds.
No matter what you call them, there's a lot to love about princess lab grown diamonds. Here are six reasons why we love them. Any one of them might be why you'll love them too.
Princess Cuts Square the Circle
The princess cut is the second most popular diamond cut after the round brilliant and the most popular fancy shape diamond. Why is the princess so popular? It's because its square shape is so versatile. It works so well in classic designs but is just a little unexpected. Princess cut lab grown diamond stud earrings, solitaire rings or solitaire necklaces have a designer look. If you love the versatility and timeless quality of classic jewelry styles but want something that stands out from the crowd, replacing a round brilliant with a princess cut will update a simple style to something new.
Princess Cuts Are Extra Brilliant
Lab grown princess diamonds have a lot of brilliance when properly proportioned. It's much more brilliant with more sparkle than other fancy shapes. (You're also not likely to see inclusions amidst the sparkle either so you can save money on clarity.) If a brilliant princess cut diamond is what you're looking for, make sure you choose a square and symmetrical shape with a length to width ratio between 1.00 and 1.02. You can find the length to width ratio on the grading report. (At Brilliant Carbon all our lab grown diamonds above 0.50 carat come with a grading report from the independent International Gemological Institute so you can be sure of the quality.) A square shape will ensure your princess cut lab grown diamond has the four-fold symmetry that results in maximum brightness and reflection.
Princess Cuts Have Star Quality
As you might expect from a cut with strong lines, princess cut diamonds are worn by many strong successful women. Hilary Duff, Kate Bosworth, Emily Ratajkowski and Jaime Pressly are just a few of the celebrities who wear princess cut diamonds in their engagement rings. If you pay attention at awards show and premieres, you'll often see princess cut stud earrings, stack rings, tennis bracelets and tennis necklaces featuring princess cuts on the red carpet. Princess cuts make a statement whether large or small.
Princess Cuts Ace Geometry
There's something so crisp and modern about the straight edges of a princess cut. It has excellent fire and brilliance. The facet patterns create dramatic corner-to-corner lines that emphasize the square shape. The square shape works well in custom lab grown diamond jewelry designs as well as classic jewelry. You'll sometimes see princess cut lab created diamonds set on point, with the corners pointing to the compass directions like a baseball diamond. This gives you two ways to design with a princess cut lab grown diamond in your custom engagement ting or bespoke piece of lab grown diamond jewelry.
Princess Cuts Channel the Seventies
The princess cut is the most modern of the popular diamond shapes. Based on the square French cut, which has an X facet pattern but many fewer facets, the princess cut diamond evolved from cuts developed in the 1970s. Today's modern princess cut combines the table facets of a round brilliant cut with unique chevron shaped pavilion facets that give the cut its distinctive X shaped pattern. Although the 58-facet version is classic, you'll sometimes see larger sizes of princess cuts with additional chevron facets, giving this shape as many as 76 facets. The geometry of the princess cut is often associated with the bold gold jewelry designs of the 1960s and 1970s, when modern streamlines styles first came to the forefront. That's why princess cut diamond jewelry designs often have the sexy sophistication of the seventies.
Our Princess Cuts Are Sustainably Grown
Like all Brilliant Carbon lab-grown diamonds, our princess cut lab grown diamonds are sustainably grown by a lab that has been rated as climate neutral by SCS Global Services, the company that created the USDA Organic Certification. SCS Certified Sustainability Rated Diamonds are audited for origin traceability, ethical stewardship, verified climate neutrality, sustainable production practices, and sustainability investments, establishing unprecedented benchmarks of performance and transparency. By choosing Brilliant Carbon princess cut lab grown diamonds, you are making a positive contribution to a more brilliant future. That means your Brilliant Carbon princess cut lab diamond is beautiful inside and out.