The 10 Most Romantic Places to Propose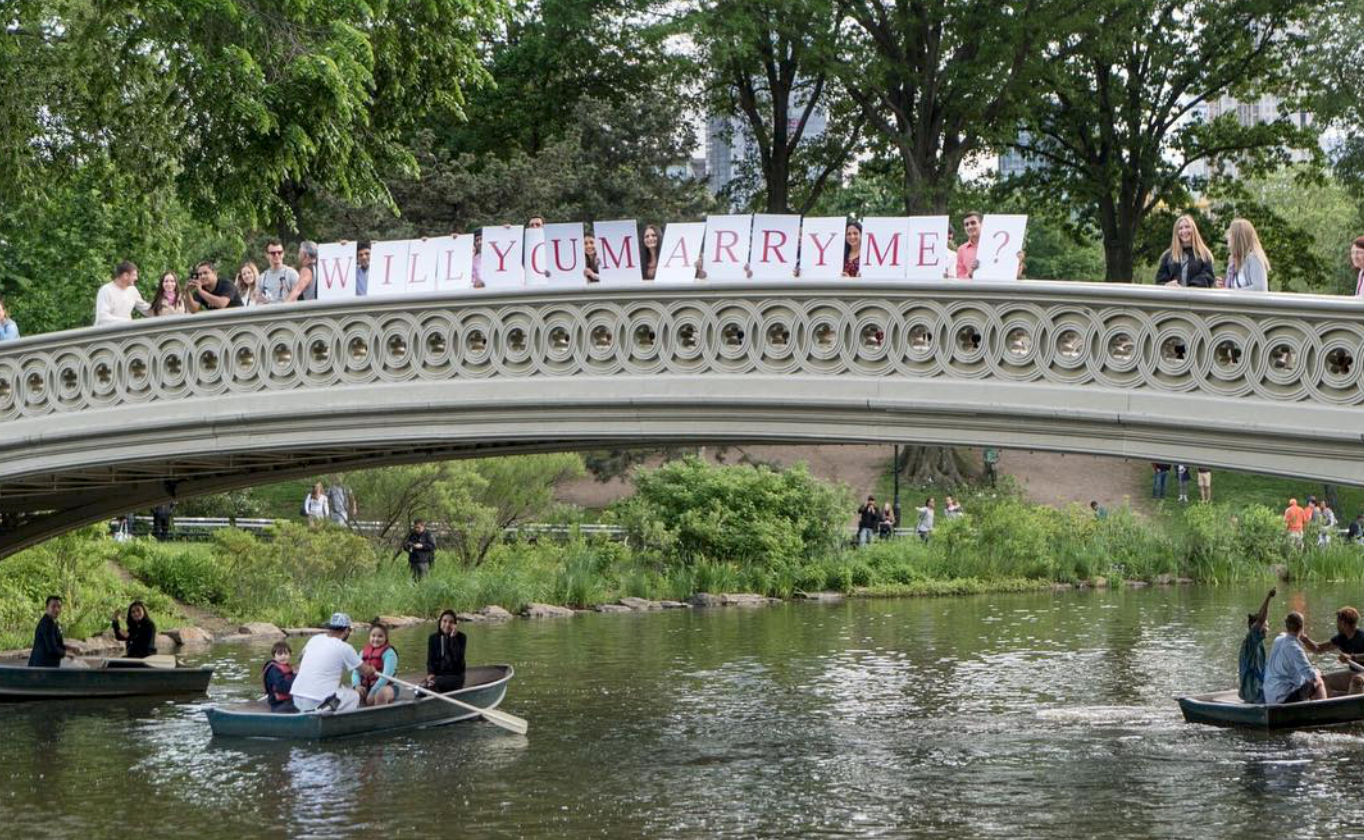 Now that you've found a brilliant lab-grown diamond engagement ring, it's time to plan the perfect proposal. What makes a proposal memorable? According to a recent survey by OnePoll of 2000 people in serious relationships, 56% say a proposal should be a surprise. And 49% say they would rather get engaged in private: only 17% said they prefer a public proposal. What makes a proposal particularly romantic is a personal touch. The thought is what counts. In fact, 52% of the couples say that a personal proposal is important, even more important than the ring. The good news is that you don't need to be on a gondola in Venice or at a moonlit Taj Mahal for a proposal to be romantic. In fact, many of the best places to pop the question are close to home. Here are the ten most romantic places to propose.
Where Your Love Story Began
There's nothing more personal than choosing a place to propose that represents your romance. Maybe it's the place you first locked eyes across the room and felt that electricity. Or the tennis court where she beat you in straight sets. Or the hiking trail where you knew you were meant for each other. For Machine Gun Kelly and Megan Fox, it was a special banyan tree that they visited at the beginning of their relationship to "ask for magic." Chances are you have a place that's meaningful to your love story. "Your place" is a candidate for a place to propose, especially if it can be private enough to plan a surprise moment with just you two. If that place overlaps with any one of the other suggestions on this list, you have a sure winner.
Home Where the Heart Is
Although proposals in movies spotlight proposals in public, from stadium jumbotrons to fancy restaurants, the most popular place to propose is actually at home. You'll both be comfortable and have plenty of privacy to say what's in your hearts. Proposing at home can be special and memorable too: you can decorate a ceiling with glow in the dark letters spelling out "marry me," fill a room with flowers or rose petals, tie the ring to a pet's collar, or hide the ring someplace surprising. Many of your favorite celebrities popped the question at home. Ben Affleck proposed to Jennifer Lopez while she was taking a bubble bath. George Clooney asked Amal to open a drawer where the ring was hidden while he was cooking dinner.
A Weekend Getaway
If it's tough to plan a surprise at home, a weekend getaway is a great opportunity for a romantic proposal. You can choose a luxurious hotel or a cozy Airbnb. A cabin in the woods can be magical with candles and flowers. Wait for the perfect spontaneous moment or plan ahead with the concierge or host to decorate the room and chill the champagne. The best part is that you'll have the whole weekend to make memories. You'll also have the perfect place to celebrate one of your anniversaries to come!
A View From the Top
There's nothing like a beautiful vista to make your heart sing. That's why viewpoints and mountaintops and towers are such great places to propose marriage. And the photos will be stunning too! Whether you drive, climb or hike to the top of the world, don't forget to bring champagne or hot chocolate so you can make the moment last. If the area is remote, you can decorate it ahead of time. A friend with a drone camera can even capture video of the moment from on high.
Life's a Beach
If you both love the beach, it's a perfect place to propose, especially at sunrise or sunset when the light just glows and you can be alone together. Sand is a canvas for your romantic message to your partner. Whether you choose a spot spontaneously or choose a quiet cove to decorate ahead of time, your photos of the happy moment will be amazing.
Cross that Bridge
According to Instagram hashtags like #shesaidyes, #hesaidyes, #proposal and #engaged, the most popular place in the world to propose isn't Venice or Paris. It's Bow Bridge in Central Park in New York City. It's a picturesque little bridge with boaters going by and the skyline in the distance. The walkway on the Brooklyn Bridge in New York City is #3 on the list, right after the Eiffel Tower and ahead of the Grand Canyon. Bridges are a perfect symbol of crossing into a new life together to become a family.
Sky's the Limit
No matter where you live, there's a beautiful view for your proposal from the skies above. An airplane, helicopter or hot air balloon ride is an exhilarating way to propose. A hot air balloon is particularly romantic because it's so quiet that it's easy for your partner to hear the emotion in your voice. An airplane or helicopter can fly further away, maybe even setting down someplace special for you to pop the question. For example, you can take a helicopter from Las Vegas to the Grand Canyon or from New Jersey to fly over the New York skyline. Your spirits will soar along with your hearts as soon as you leave the ground.
Floating on the Water
Another romantic setting for your proposal is to be out on the water. Rent a rowboat, kayak, or sailboat or take a sunset or whale watching cruise. You can even float on an inner tube or paddleboard. Just make sure that the ring is tightly tied to your hand: don't drop it overboard! Sunset is a wonderfully atmospheric time with beautiful reflections on the water that you'll remember forever.
Back to Nature
There's nothing as beautiful as being out in the wild. A local park, forest, field of flowers, or desert landscape is a lovely backdrop for your proposal. Add lights or flowers and it can be truly magical. Think of a place where you can be alone together to enjoy the moment when your adventure together begins.
Come Fly Away with Me
If you want something truly memorable, you can take a trip to someplace special to propose. The world is your oyster. You can go to a romantic city like Paris, Venice San Francisco or New York. For many people Paris is the city of love and a proposal at the top of the Eiffel Tower can be a very special experience. With its narrow canals, Gothic architecture and dreamy lampposts lighting up the streets at twilight, Venice is a dream. You can propose on a gondola ride or in St. Mark's Square outside the Basilica. A beach resort with sun and sand is another great backdrop for a romantic proposal. If you love nature, the Grand Canyon, Yosemite, or Yellowstone never disappoint. If you're flying, make sure you keep the ring tucked in your carry-on bag so you don't have to take it out of your pocket at security (and to prevent a proposal disaster never ever check it!)