The 5 Best Ways to Wear April's Birthstone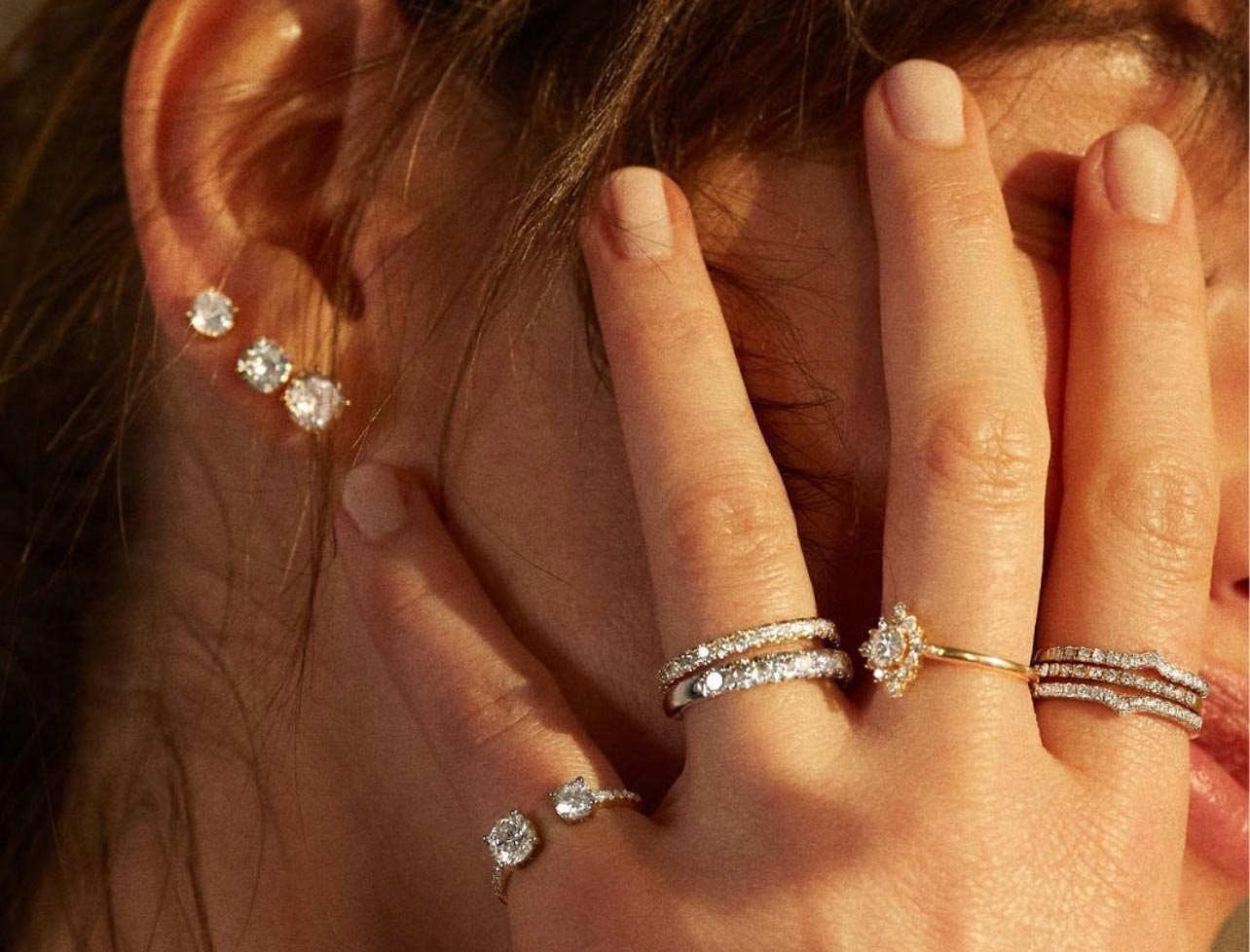 There are birthstones and there are birthstones. Let's face facts: if you were born in April, you hit the jackpot, birthstone-wise: diamond! Diamond is a symbol of strength and clarity as well as love for others and yourself. Whether you're a fiery Aries or strong Taurus, diamonds suit you perfectly.
Of course, everyone covets your brilliant birthstone and wears diamond jewelry even though they aren't lucky enough to have your special connection with its sparkly gems. In fact, there are so many beautiful jewelry styles featuring your birthstone that it's hard to choose just one. You might assume that diamond jewelry is too pricey to splurge on all the styles you really want. Fortunately, now there are lab grown diamonds, which have all the beauty of real diamonds at a much more affordable cost. That means that April babies can sparkle the way they were born to! Here are the top five brilliant ways to wear April's birthstone.
1. Lab Grown Diamond Stud Earrings
Diamond stud earrings are the foundation of a fine jewelry wardrobe, your wear-everywhere everyday luxury. Forget those diamond chips you had in high school. Now you can afford the stud earrings of your dreams. It's time for one-carat lab grown diamond studs (or maybe even stunning two carat lab diamond studs.) This is the perfect birthday gift from you to you. You'll tank yourself every time you put them on, which will be almost every day from now on.
2. Lab Created Diamond Solitaire Necklace
Looking put together every day can be truly effortless: just wear a gorgeous diamond solitaire necklace and take a simple t-shirt to polished perfection. We love a classic traditional round brilliant lab diamond necklace. But what really takes this timeless style to the next level is swapping out the classic round for your favorite fancy shape. Try a graceful teardrop pear shape lab grown diamond necklace. An elegant oval shape lab grown diamond necklace is unexpectedly sophisticated. Turn that oval sideways in an east-west oval solitaire necklace and it's even more surprising. Our favorite of all is an emerald cut lab grown diamond necklace with Art Deco flair. Our best-selling style is an east-west emerald cut lab grown diamond necklace, which has icy geometry and an unexpected twist.
3. Lab Grown Diamond Stack Rings
Unlike many other birthstones, diamonds are available in a wide variety of ring styles. Diamonds are very durable and scratch resistant so work just as well in band rings as in solitaires. That means you can stack a finger full of lab grown diamond stack rings. Celebrate a special birthday, a promotion or anniversary, or just being your own sweet self with a diamond birthstone stack ring. Your stack will look especially good if you mix different lab grown diamond ring designs and express your own individual style.
4. Lab Grown Diamond Bracelet
A cool girl staple, a casual lab grown diamond bracelet is just the thing to take your style to the next level. Although a full tennis bracelet is lovely, of course, and definitely a great look for dressed up glamor, a bolo chain bracelet with diamonds is easier to wear every day because it snugs to your wrist. The diamonds stay in place where you can see them and you don't have to worry about the clasp staying fastened. It also layers nicely with a watch or with other bracelets. A diamond bolo bracelet is elegant and relaxed at the same time. Because you can dress it up or down, it's a great addition to your jewelry wardrobe. Consider it a birthstone friendship bracelet for yourself.
5. Lab Diamond Hoop Earrings
If you are just not a stud person or already have your dream pair of studs, consider a delicate pair of lab grown diamond hoops. They are perfect for everyday and have that same dress up or down versatility as studs with a bit more of an edge. We think a small delicate pave hoop with a dangling diamond drop like the Orbit Drop Earrings checks all the boxes, with a flattering silhouette that won't slow you down. And the dangling lab grown diamond is a reminder of your birthright: an ideal way to celebrate you.