The Best Celebrity Engagement Rings of 2022 (So Far)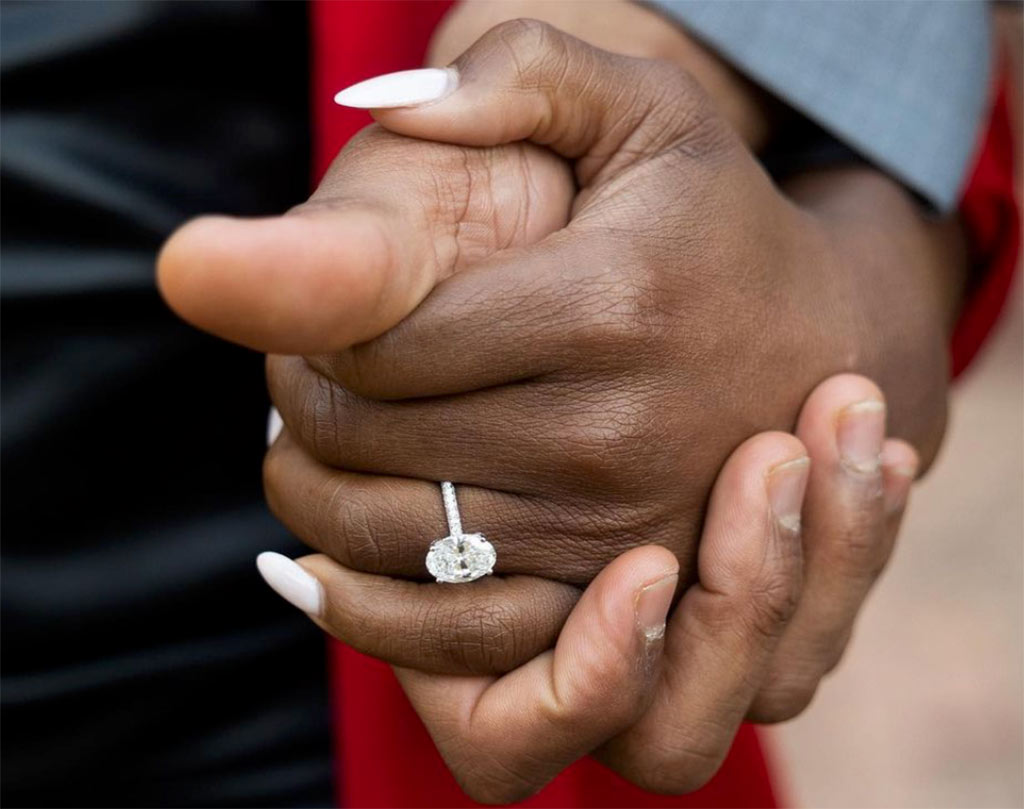 Forecasters have already projected a record number of engagements and weddings in 2022, with more couples deciding to tie the knot after spending so much time together during the pandemic. Celebrities are among the lovebirds making their quarantine pods permanent. Of course, they are doing it in style, with one spectacular engagement ring after another.
Here are our favorite engagement rings of 2022 so far and one we're looking forward to seeing soon.
Adele's Engagement Ring
At this year's Brit Awards, Adele won several awards. But that's not what has everyone talking. It was pretty hard to miss the enormous pear shape diamond solitaire on the third finger of her left hand. There's no official confirmation yet but it seems like Adele is engaged to sports agent Rich Paul.

Not only did she show off the ring on the red carpet, she also kept it on during her performance, despite a costume change and different jewelry. And she also wore the ring during an appearance on "The Graham Norton Show" the following Thursday but wouldn't confirm or deny that it was an engagement ring.

Even if Adele isn't engaged, we'd want to talk about the ring. It's a beautiful pear shape around 7-10 carats in size on a very slender diamond pave band. In short, it's absolutely perfect and probably costs more than $500,000.

If that's not in your price range, you might consider a two-carat pear-shape lab-grown diamond ring in a similar style that's under $5,000.
Simone Biles' Engagement Ring
The greatest gymnast of all time is now engaged to NFL star Jonathan Owens. Her ring has a beautiful 7-9 carat oval diamond on a pave band. Simone said that it's now her most valuable possession, ranking above all those gold medals.

We love oval diamonds. And oval shape engagement rings are trending right now too. Kourtney Kardashian's oval engagement ring led to an immediate surge in Google searches for oval diamond rings. And the pave-band solitaire style is the most popular setting style too, making Simone's ring doubly fashionable.

Simone's gorgeous ring is estimated to be worth about $325,000. If you are looking for an oval with a couple fewer zeroes on the price tag, you can find a similar two-carat oval lab-created diamond engagement ring style for around $5,000.

Megan Fox's Engagement Ring
The engagement ring that has received the most attention so far this year is the unique custom ring that Machine Gun Kelly designed for Megan Fox. That's because it isn't one ring but two, each with a pear shape gem. The two rings stack together magnetically to become a heart. One pear shape is a diamond, MGK's birthstone, and the other is an emerald, Megan's birthstone. It's striking and unconventional and romantic, perfectly representing the couple.

For the record, the thorn design of the band only "hurts" symbolically when you take the ring off, not actually physically, despite the tabloid headlines about the ring. But headlines are definitely not something this couple worries about.

Jennifer Holland's Engagement Ring
Peacemaker or Matchmaker? No one would describe HBO's Suicide Squad spinoff  as a romance but its director James Gunn just proposed to actress Jennifer Holland, who stars in the show. The couple has been dating since 2015 but the quality time they had during filming Peacemaker led to their engagement. Jennifer's engagement ring features a stunning icy emerald cut diamond. Get the look with a two-carat emerald-cut lab-grown diamond ring for about $6100.
Lana Condor's Engagement Ring
To All the Boys I've Loved Before star Lana Condor is now engaged to her boyfriend of six years Anthony De La Torre. Her engagement ring features a stunning oval diamond with pear-shape diamonds on the side. Oval diamonds are already shaping up to be the trend of the year.
Abigail Breslin's Engagement Ring
Little Miss Sunshine is all grown up! Abigail Breslin recently announced she is engaged to Ira Kunyansky. Her engagement ring is a two carat round diamond on a pave band. Get the look with a two carat lab grown diamond ring for just $6749.
Most Anticipated: Taylor Swift's Engagement Ring
The most anticipated engagement ring of the year is Taylor Swift's. But it hasn't happened yet. Or has it? The rumors are flying again that Taylor is secretly engaged to Joe Alwyn. We're waiting for confirmation and, of course, a glimpse of the ring. Because maybe this time it's going to be forever.