The Best Diamond Jewelry Gifts Under $400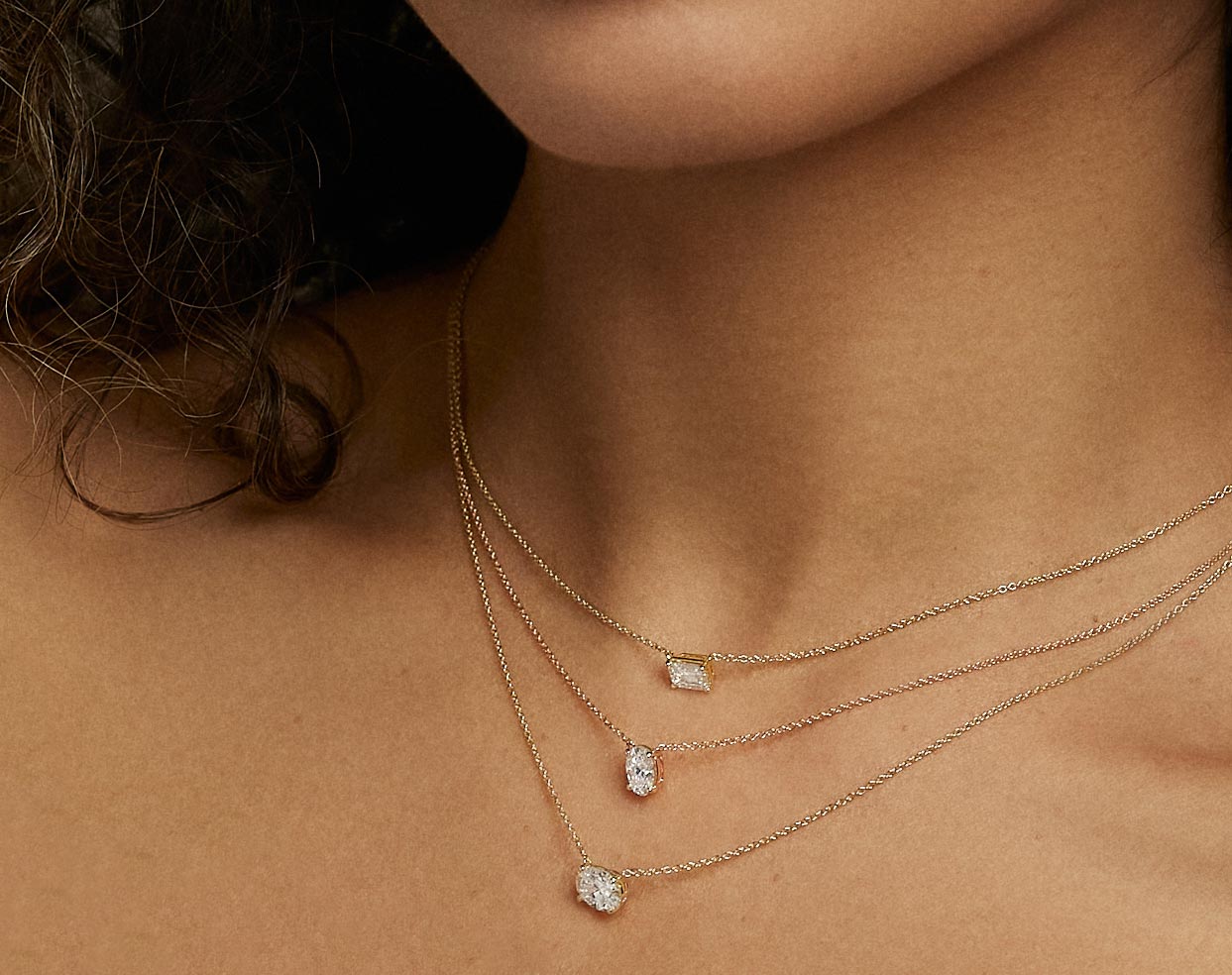 Everything is getting more expensive lately. If you've been worrying that you won't be able to afford to spoil someone you love with luxurious gifts like diamond jewelry this holiday season, we have some really good news. Thanks to sustainable and affordable lab grown diamonds, gorgeous fine jewelry costs less this holiday season, not more! You can afford better quality and more carats for jewelry gifts that really sparkle for everyone on your list (including you.) Here are our ten favorite lab grown diamond jewelry gifts that are less than $400. Fine jewelry set in real 14K gold starting at less than $200? Yes, please.
Lab Diamond Stud Earrings, $399 or $409
Stud earrings are at the top of our list of the Ten Most-Wished for Jewelry Gifts this season for good reason. There isn't anyone who wouldn't be delighted to wear this most classic of earring styles. But did you know that half-carat lab grown diamond studs set in 14k gold are just $409? In fact, at Brilliant Carbon, for that budget you have the choice of three-prong half carat lab grown diamond studs or four prong half carat lab grown diamond studs, each in your choice of 14k white, yellow or rose gold.
Lab Grown Diamond Illusion Stud Earrings, $199 or $349
Looking for a stocking stuffer or the look of classic diamond studs for less? These illusion-set lab-grown diamond earrings have the look of classic one-carat total weight studs but instead of one larger diamond, they have nine smaller diamonds clustered together for one big look. Because smaller lab diamonds are less per carat, you get a big look for less. How much less? The Medium Illusion Earrings in 10k gold are just $349. We even have small lab diamond illusion earrings for just $199!
Lab Grown Diamond Horseshoe Necklace, $399
No one can ever have too much luck. Make this a lucky holiday season for someone special with a lab-grown diamond horseshoe necklace. The horseshoe is pointed up to catch all the luck and hold it for when you need it. A Victorian good luck charm revived by Carrie in Sex and the City, the diamond horseshoe necklace is as much an icon of style as a good luck charm. We love the extra good vibes that sustainable lab-grown diamonds bring to this fashion find.
A Brilliant Band, $249 or $349
Is there any ring stack that wouldn't be improved with a gorgeous skinny lab grown diamond band? Celebration rings are used to mark life's milestones, like weddings, anniversaries, birth of a child, promotions, birthdays, and holidays. Make this moment sparkle forever with a brilliant band like the Vega Band that celebrates everything you conquered this year and expresses hope for a bright year to come. Or choose the stylish Many Moons Ring with larger lab grown diamonds spaced across the finger, catching the light.
Oval or Emerald Cut Lab Grown Diamond Necklace, $399
These brilliant necklaces are our most popular because they are timeless with a twist. Instead of the expected round brilliant center stone, these solitaire necklaces have fancy-shaped emerald cut or oval lab diamonds set horizontally, not vertically. This subtle shift in perspective catches the eye with a fresh modern take on the classic. That's why they are the perfect gift for someone with sophisticated style: they have that extra elegance that the discerning eye can appreciate. The lab diamond Emerald Cut Sirius Solitaire Necklace has an icy Art Deco sophistication. The lab grown diamond Oval Sirius Solitaire Necklace has a refined elegance. It's hard to believe that both start at just $399 in 14k gold.
Illusion Solitaire Necklace, $349
Double your brilliance! The clever Illusion Solitaire Necklace makes 0.20 carats of lab grown diamonds look like 0.50 carats. How does the magic happen? Instead on a single diamond, the necklace is set with seven. Because seven smaller diamonds are less deep than a single half-carat diamond, they cover the same area with less carat weight. Even though it looks like a single diamond from farther away, we love the way the cluster looks like a flower close up. It's like a secret detail just for the wearer.
Circle Necklace, $399
A potent symbol of forever, a circle traced in sparkling lab grown diamonds is as meaningful as it is beautiful. It layers beautifully with other necklaces too. A diamond circle necklaces have a pure geometry that makes it an instant classic. Our Apogee Necklace has a subtle graduation in the size of the lab grown diamonds, like a satellite in orbit around the earth that is more of a style statement.