The Best First Anniversary Gifts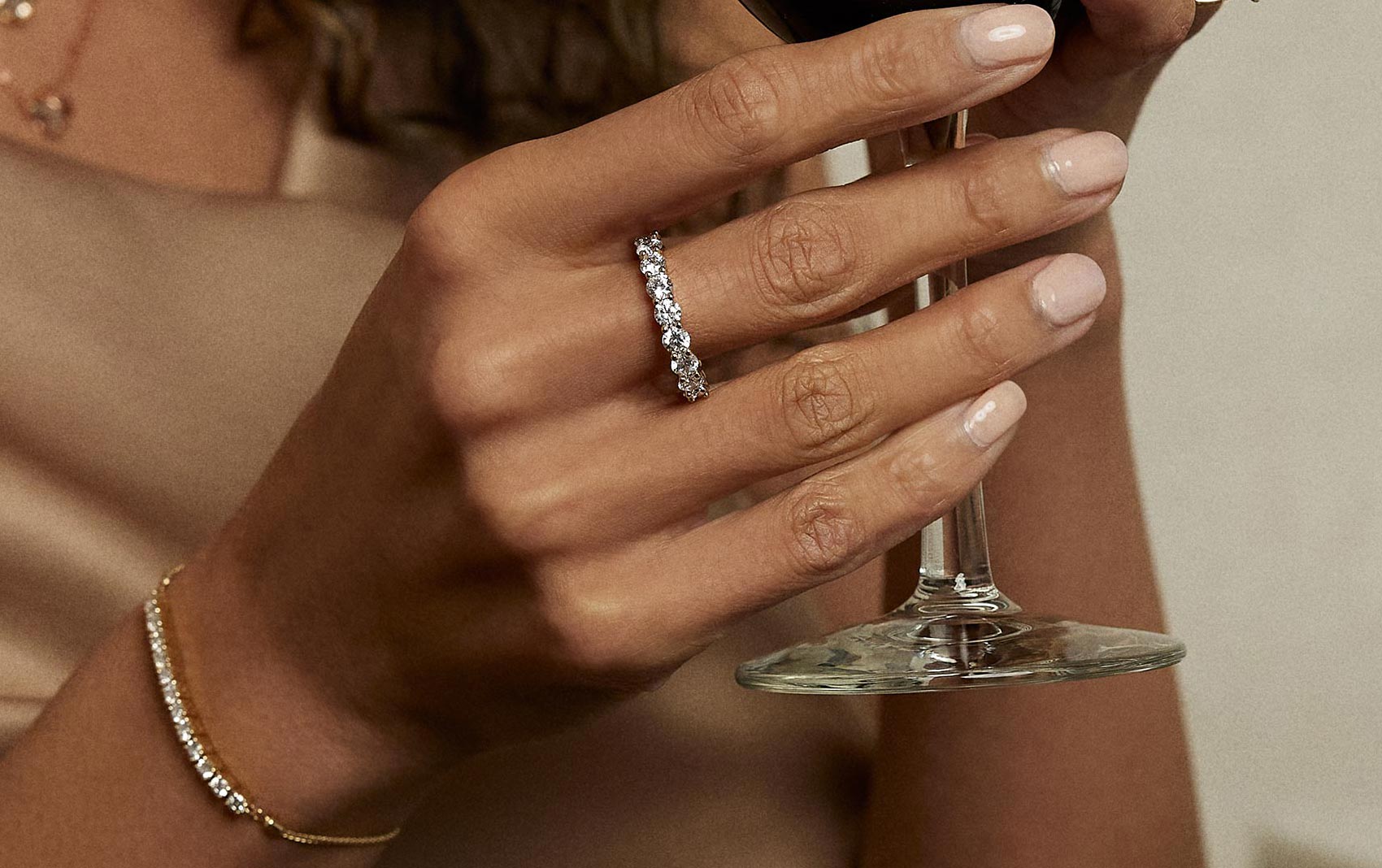 The tradition of celebrating each anniversary of your wedding dates all the way back to ancient Greece and Rome. Your wedding anniversary is an annual opportunity to press pause on the day-to-day tasks of life, from washing dishes or pumping gas, to reconnect and express how much you appreciate your partner.
Your first anniversary as a married couple is something you'll always remember. A whole year has passed since you exchanged vows in front of the people who matter the most to you, you've settled into married life, and yet it may also feel like you tied the knot just yesterday.
As a symbol of eternal love, diamonds are the perfect way to express what's in your heart without saying a word. That's why we offer diamonds on bended knee and exchange diamonds when we say "I do." But now that you're married, you're more in love than ever, right? That's why anniversaries are so important. Unlike birthdays, which celebrate one person, anniversaries celebrate your love. That's why every anniversary is a diamond anniversary, whether it's your first or your fiftieth.
According to the traditional list, paper is the gift for the first anniversary so be sure to wrap your present in beautiful paper. According to the jewelry anniversary gift list, the traditional gift for the first anniversary is gold, so make sure your diamond jewelry gift has a gold setting.
Choose Brilliant Carbon's climate neutral lab-grown diamonds to protect the Earth for the next generation. Your lab-grown diamond jewelry will be an heirloom that the next generation can be proud of as well. We think anniversaries should be an occasion to look forward to a long and brilliant future together as well as a celebration of the year that's gone by.
Here are the five best lab grown diamond gifts for your first anniversary.
Band Together
The most popular anniversary gifts are anniversary bands: slim stackable diamond rings that can be worn alone, stacked with an engagement ring and wedding band, or stacked with other celebration bands. We love the way these bands can represent your memories of life's milestones, tangible reminders of people, places and achievements you can hold close. We love rings that add a bit of texture to a stack, like the Voyager Ring, with a beautiful pattern inspired by the golden record of Earth's sounds and music that the Voyager spacecraft carried out of our solar system, the closest humans have reached towards the stars. The Many Moons Ring has brilliant lab-grown diamonds that orbit around the ring, like bright moments shine in your memories. For even more brilliance, the River of Light Band covers the finger in a blaze of lab-grown diamonds.
One Year, One Diamond
One brilliant year deserves one brilliant milestone. Give her a sparkling lab grown diamond to wear around her neck with a lab-grown diamond necklace. There are so many options, you can choose a design that's just her style. You can choose yellow gold to represent the first anniversary or match the color of her engagement ring. Match the shape of the diamond to her engagement ring or choose a lab grown diamond shape that suits her personality. If you prefer a round diamond, try a minimalist style with a sleek bezel or a vintage inspired design with a delicate halo. We especially love fancy shape diamond necklaces. An emerald cut necklace has an elegance about it. An lab grown diamond oval necklace is graceful too, especially set east west. The classic drop shape of a pear lab diamond necklace adds extra drama. No matter which style you choose, this necklace is perfect to wear every day as a constant reminder of your love.
Double the Love
Diamond studs are a timeless everyday classic that will last a lifetime. They've been in style since the Victorian era and are just as covetable today. The only drawback to studs is that they are about twice as expensive as a solitaire necklace (because there are two diamonds instead of one.) Thanks to the affordability of lab-grown diamonds, studs have never been more affordable. That means that you can make earring dreams come true with the gift of one carat earrings or even two carat lab grown diamond studs, which have a one carat lab grown diamond stud on each ear. Match the gold color and carat size to your spouse's engagement ring and you'll send the message that your love doubles every year.
Armed and Glamorous
Imagine if every time you looked down at your wrist while texting or writing emails, you saw a brilliant reminder of how much you were loved. That's the beauty of a diamond bracelet: you don't need a mirror to admire its sparkle. Worn alone or layered with a watch or other bracelets, it's a versatile accent to every outfit. Our Brilliant Carbon adjustable bolo lab grown diamond bracelets snug comfortably to the wrist so you can wear them running or playing tennis as well as out in the evening. Any of them will be welcomed with open arms.
Hoop Dreams
What's just as classic as studs but a bit more fashion forward? Diamond hoops have a timeless appeal while still feeling fresh and young. We especially love a delicate small hoop with a dangle, either the pave Orbit Hoops or the Sirius Drop Huggie Earrings. Small hoops are endlessly wearable, looking sporty or chic with ease. And the way the dangle catches the light adds a touch of glamor that can't be missed. Like your wedding rings, hoops are unending circles that beautifully symbolize your unending love, making them a romantic anniversary gift.