The Best Jewelry to Wear with Every Engagement Ring Style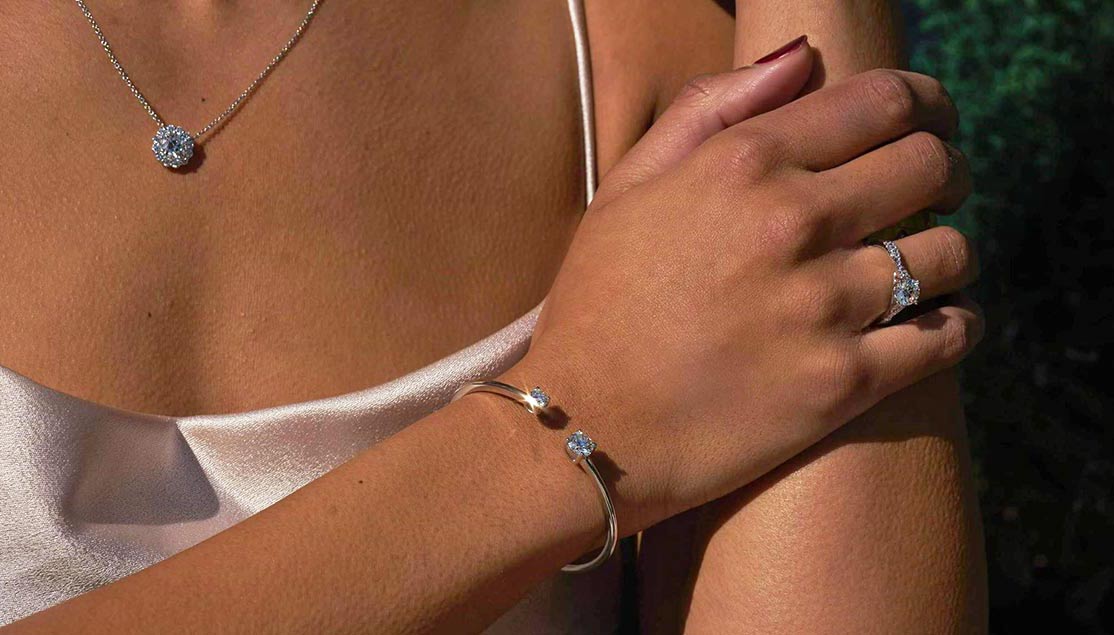 It's the first thing you put on each morning and the last thing you take off each night. Your engagement ring is the one constant in everything you wear. So when you are adding to your diamond wardrobe, the first thing to consider is how that jewelry piece complements your engagement ring. We're not saying that every piece of jewelry you wear has to match, of course. But it makes sense to consider how your classic investment pieces work with your engagement ring since you'll obviously always be wearing them together. So which jewelry styles go best with your engagement ring style? Classic diamond jewelry styles are as timeless as your engagement ring and they're now much more affordable and sustainable thanks to the availability of lab-grown diamonds. Here are our top jewelry picks to wear with the most popular engagement ring silhouettes and tips on how to make your earrings, necklaces, bracelets and other rings complement your engagement ring.
Best Jewelry to Wear with Solitaire Engagement Rings
Solitaire diamond rings are pure brilliance: one sparkling stone on a gleaming metal band. Solitaire engagement rings might be simple but they are never boring. That's because the focus is clearly on your center stone. Because the ring is so streamlined, it works with many jewelry styles. The styles that work best though have a similar aesthetic: clean lines and a strong silhouette. One possibility is to pair your solitaire engagement ring with other solitaire styles, like diamond stud earrings and a diamond solitaire necklace. Thanks to the affordability of lab grown diamond jewelry, sizable lab grown diamond stud earrings and a lab grown diamond solitaire necklace are more affordable than you might think. Although you will be tempted to match the diamond shape, diamond size and gold color, sometimes this can look a little too coordinated. We recommend adding another element into the mix. For example, if you have a white gold solitaire, stack it with a yellow gold diamond band. That will allow you to layer and mix metals in your other jewelry too. Or mix your round solitaire engagement ring with an emerald cut solitaire necklace. The combination of shapes adds a sophisticated twist to everything you wear and makes it easier to mix in other styles from your jewelry box that aren't solitaires or gemstones in other colors.
The Best Jewelry to Wear with Halo Engagement Rings
Halo engagement rings are extra brilliant thanks to the frame of diamonds that surround the center diamond. That extra ring of small diamonds gives halo engagement rings a subtle vintage vibe, even in a modern setting. The extra detailing of the halo is like the lace embroidery on a wedding dress, adding extra adornment. To complement this aesthetic, look for other jewelry styles that have intricate details. Instead of basic studs, look for halo stud earrings or a pave drop earring. A halo diamond necklace is the perfect complement. The delicate look of your engagement ring is enhanced by a halo solitaire bracelet with a delicate feminine chain. You can pair your halo engagement ring with other rings that have pave and texture. With all these styles, you'll probably want to match the metal color of your engagement ring to keep everything from looking too busy.
The Best Jewelry to Wear with Fancy Shape Engagement Rings
Fancy shape diamond engagement rings have a lot of personality. Oval engagement rings are elegant, emerald cut engagement rings are sophisticated, princess cut engagement rings are bold and pear shape engagement rings are dramatic. If you chose a fancy shape for your engagement ring, you are probably confident in your jewelry taste and don't mind standing out in a crowd. To complement a fancy shape engagement ring, resist the urge to match the shape in all your other investment pieces. Matchy-matchy is not your style. Instead, mix shapes. With an oval engagement ring, try princess cut diamond stud earrings. With an emerald cut ring, mix it up with a pear shape diamond necklace. With every additional style, your jewelry statement will just get stronger.
The Best Jewelry to Wear with Three Stone Engagement Rings
A century ago in France, the most romantic jewelry statement was a medal that, translated, said "more than yesterday, less than tomorrow." Today that message of love growing stronger forever makes the three stone engagement ring a statement of true devotion. The three stones symbolize "Past, Present, Future," an enduring promise spelled out in diamonds. To complement a three-stone engagement ring, think simple brilliance that celebrates this moment, rather than matching the three-stone ring. Pairing lab grown diamond stud earrings with a lab grown diamond solitaire necklace recreates the three-fold symbolism of your engagement ring when combined together, without imitating its style. Stack your three stone engagement ring with a pave band with much smaller diamonds that don't detract from the brilliance of your larger diamonds. Keep the metal color the same to help all that brilliance blaze together.
The Best Jewelry to Wear with Pave Band Engagement Rings
A celebrity favorite, pave band engagement rings are solitaires plus: a single center diamond with a diamond-covered band. It's like having your cake and eating it too: you get the streamlined style of a solitaire with the extra brilliance of a halo. Pave band engagement rings are more modern in feel than halo engagement tings but more decorative than solitaires. They pair well with other pave jewelry styles as well as solitaire styles. We'd pair a pave band engagement ring with Delicate pave hoops with a dangling diamond like the Orbit Hoop Earrings. Modern Tennis bracelets like the River of Light Bracelet are the perfect foil for a pave band ring too. For necklaces, you can go either way. Choose a sleek diamond solitaire necklace or a sparkling pave diamond necklace like a diamond horseshoe necklace. When it comes to rings, rather than matching the exact size and spacing of your band, switch it up a bit with a larger or smaller size pave. You can even swap out the color of the gold to make it easy to mix and match different shades of gold in your wardrobe.
The Best Jewelry to Wear with Vintage Engagement Rings
For lovers of vintage jewelry and its craftsmanship, there's nothing better than a vintage inspired engagement ring that combines modern lab-grown diamonds with the intricate details that make it unique. The best thing about an engagement ring that looks like an heirloom is that you don't have to try to match it with any of your other jewelry. All you have to do is choose pieces that have a similar vibe, which are probably the pieces you would gravitate to anyway! Pick intricate drop earrings with a lever back like these pave drop earrings that have an antique cushion-shaped pave frame that makes them look like they are ready to be worn in a ballroom. Halo detailing like these halo diamond drop earrings or halo diamond necklace also pair beautifully with a vintage inspired engagement ring. We recommend matching the metal color of your engagement ring to keep everything harmonious.
The Best Jewelry to Make Your Engagement Ring Your Own
If you like your engagement ring (of course you do!) but you want to make it more your style, you can use the other jewelry pieces you wear to make your jewelry all work together to reflect you better. For example, if you adore halo settings but you have a sleek solitaire engagement ring, you can stack it with wrap rings like the Supernova Band Rings and voila, you have all the details you love in a halo while still enjoying your solitaire engagement ring. If your ring is more elaborate than your usual style, wearing it with a sleek bezel set diamond necklace and earrings will help modernize your whole look. Combining different diamond shapes, different colors of gold and different silhouettes are how you customize your jewelry look. Opposites attract in love and also in jewelry. Combining unlikely styles can be the way to make every piece you wear more you.