The Best One Carat Engagement Rings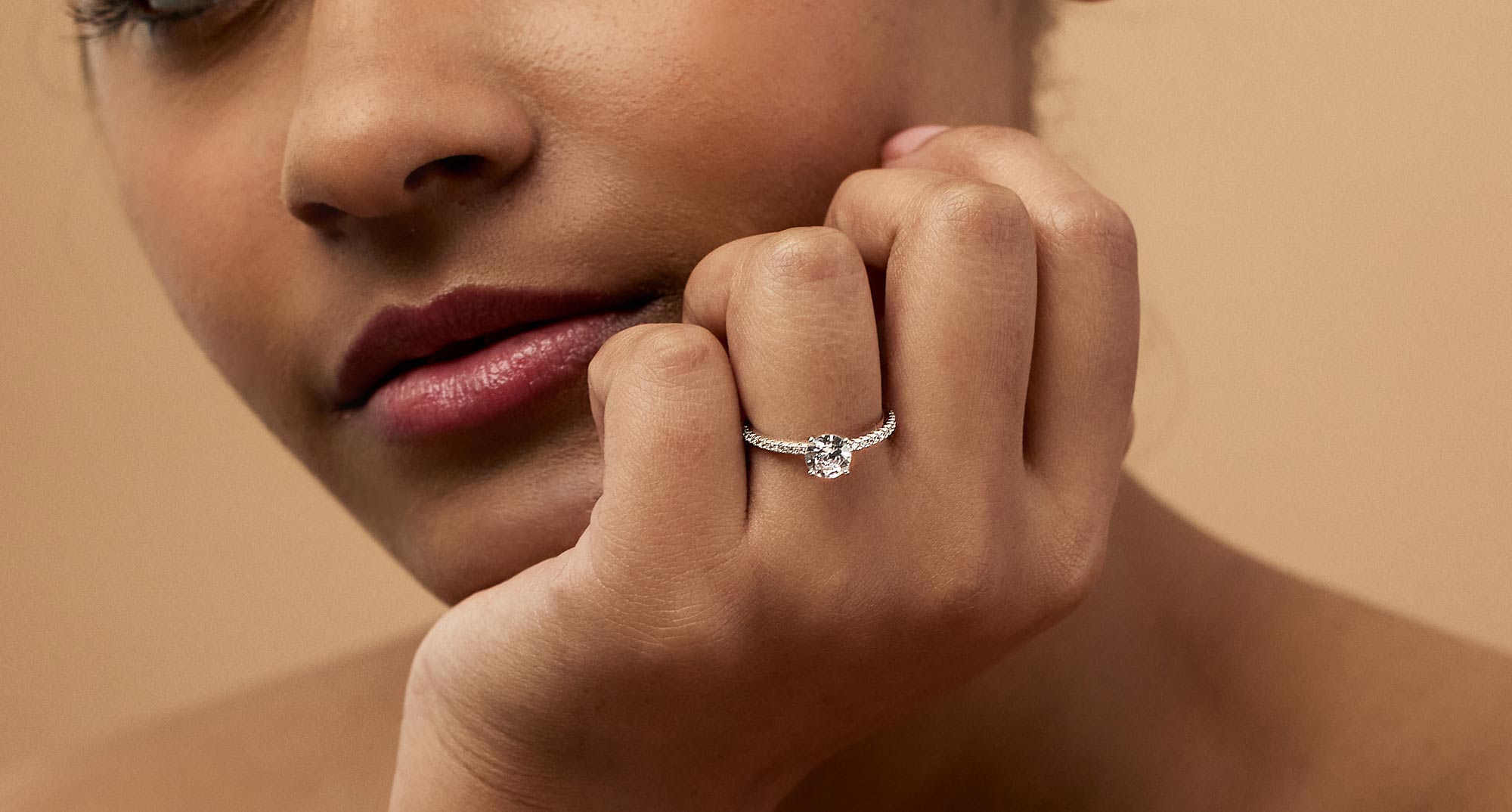 Close your eyes and imaging a diamond engagement ring. You're probably imagining a one-carat diamond engagement ring. The one-carat engagement ring has long been the classic choice. It's the Goldilocks choice: not too big and not too small. The traditional engagement ring has long been priced about at the median US income for one month: $6000 today.
Of course, you can pay more. Just go to Tiffany & Co and you'll pay $16,000 for a one-carat engagement ring. But you won't get better diamond quality. That Tiffany ring is set with a below average color: I color and VS1 clarity. What if you want to pay less than the average price for a one-carat engagement ring? Today you have that option too. You can opt for a one carat sustainably grown lab created diamond engagement ring from Brilliant Carbon for half of that mined diamond ring and one-fifth of the Tiffany ring. Your lab grown diamond will be even more beautiful than the diamond in that Tiffany engagement ring. And you can be confident that it was produced in a climate-neutral laboratory, without requiring miners to move 250 tons of earth to find one mined carat of diamond.
And you have lots of design options to make a one-carat engagement ring uniquely yours. Here are our seven favorite one-carat engagement ring designs. All seven have a F-G-H SI1 one carat center lab grown diamond: some also have additional side diamonds, pave bands and halos so the total weight of these stunning rings ranges from one carat to 1.72 carats. They start at just $2300 and none is more than $3100. So you can afford the engagement ring of your dreams (and your honeymoon too.)
Best One Carat Round Engagement Rings
The round brilliant is the most popular diamond shape and the most popular choice for a one-carat engagement ring. With its 58 facets, pointed culet, and refined proportions, the round brilliant is the result of hundreds of years of the art of diamond cutting. Its symmetry and proportions create optimum reflection, refraction, and scintillation. Round brilliant diamonds in the sunlight sparkle like nothing else on earth. Round engagement rings are worn by Michelle Obama, Natalie Portman, Amy Adams, Emily Blunt, Mary-Kate Olsen, Allison Williams, Mila Kunis, and Kate Mara. The most popular round engagement ring style is a one-carat round solitaire engagement ring. It's the real-life version of the diamond ring emoji: the ring you picture in your mind when someone says "diamond ring." It's the perfect choice for classicists and minimalists. Because it's so simple, every detail counts. Look for a solitaire engagement ring like the Sirius Engagement Ring that's carefully crafted to allow in maximum light for optimal sparkle. Also popular is a one-carat round halo engagement ring. Make sure you choose a style with a one-carat center diamond (not the total carat weight or "cttw" which includes the weight of the smaller diamonds set in the halo and band.) The one-carat Carina Engagement Ring has a beautiful raised cathedral setting so you can stack it with a classic diamond wedding band.
Best One Carat Princess Cut Engagement Rings
If you zig when others zag, you'll probably prefer a fancy cut in your one-carat engagement ring. A square princess cut diamond adds sharp edges and corners to a classic engagement ring design, transforming it into something unusual. Modern and geometric, the princess cut diamond makes a bold statement. Princess cuts are chosen by confident leaders who blaze their own trail. Because princess cuts have sharp corners, make sure your engagement ring design has protective V-shaped prongs that protect the pointy parts. Although one-carat princess cut solitaire engagement rings are striking and contemporary, we especially love a princess engagement ring with a pave band that gives it a bit of extra glamor. The Lyra Engagement Ring is the perfect combination of delicate and dramatic. It has a hidden accent diamond on the profile that's a secret detail for the wearer that you can admire when you look down at your hand.
Best One Carat Oval Engagement Rings
Elegant and enchanting, oval shape diamonds combine the sophistication of an elongated silhouette with the brilliance of a round diamond. As timeless as the round but just different enough to give a simple ring stellar style, the oval shape's elongated silhouette makes your fingers look longer and slimmer. Oval diamonds are relatively shallow, so a one-carat oval looks larger than a one-carat round brilliant. You've probably noticed that oval engagement rings adorn the fingers of many of your favorite celebrities too, including Blake Lively, Hailey Baldwin, Simone Biles, Salma Hayek, and Serena Williams. The difference between a round and an oval can be subtle in smaller sizes so we especially like one-carat oval engagement ring designs that exaggerate its shape, like halo styles. The Ellipse Engagement Ring is a oval halo engagement ring that makes the most of this cut. It's a great one carat oval engagement ring (but of course even better in a two carat size.)
Best One Carat Pear Engagement Rings
The elongated silhouette of a pear-shaped engagement ring makes your fingers look long and elegant. Pear shape engagement rings can be worn two ways: with the point facing up or the point facing down. Either way, you'll enjoy the fact that one carat pear diamonds look larger than almost any other diamond cut. Like ovals, pear shape engagement rings are a celebrity favorite. You can admire them on Adele, Margot Robbie, Zoe Saldana, Paris Hilton, Megan Fox, Cardi B, Sophie Turner, and Princess Charlene of Monaco. If you'd like to pick a pear, make sure the pointed end is protected by the setting. We especially love one-carat pear engagement rings with halos that emphasize the unique silhouette and makes its shape easier to see. The one carat pear shape Pavo Engagement Ring is named after the peacock constellation because it is impossible not to notice how it stands out in a crowd.
Best One Carat Emerald Cut Engagement Rings
Sophisticated and strong, emerald cut engagement rings are a favorite of accomplished women. The long rectangular facets of an emerald cut diamond return fewer larger light reflections back to your eyes: it's a different optical effect than the smaller but more numerous reflections in a round diamond. The optical effect in an emerald cut is called the hall of mirrors effect: the facets reflect each other across the pavilion of the stone. When you turn the diamond, you'll see the entire gem flash with light. You've probably admired the emerald cut engagement rings worn by some of the world's most beautiful women: Beyonce, Amal Clooney, Angelina Jolie, Jennifer Lawrence, Grace Kelly, Elizabeth Taylor, Jada Pinkett Smith, and Anne Hathaway. They express your confidence and success. Because emerald cuts naturally have clean Art-Deco inspired lines, we love a simple engagement ring design. The Europa Engagement Ring is a solitaire with a pave band: simply perfect with a one-carat emerald cut lab grown diamond.
Best One Carat Three Stone Engagement Rings
If you are looking for more brilliance, more sparkle and more diamonds in your one-carat engagement ring, you'll probably fall in love with a three-stone engagement ring design. The one carat diamond in the center of this ring is flanked by two additional diamonds that extend the brilliance across more of your ring finger. Even though the two additional diamonds add a lot to the total carat weight, because they are less than a carat, they don't add as much as you might expect. For example, the gorgeous Centuri Engagement Ring, named after the triple star system Alpha Centauri, has a one carat lab grown diamond in the center and two 0.36 carat lab diamonds on the sides for a total carat weight of 1.72 carats. And all those carats of sparkle are just $3099. When shopping for a one carat three stone engagement ring, make sure that the weight of the center diamond alone is one carat, not the total weight of all three to get the look you want. Your one carat diamond will look bright and beautiful with all that complementing sparkle.