The Five Best Graduation Gifts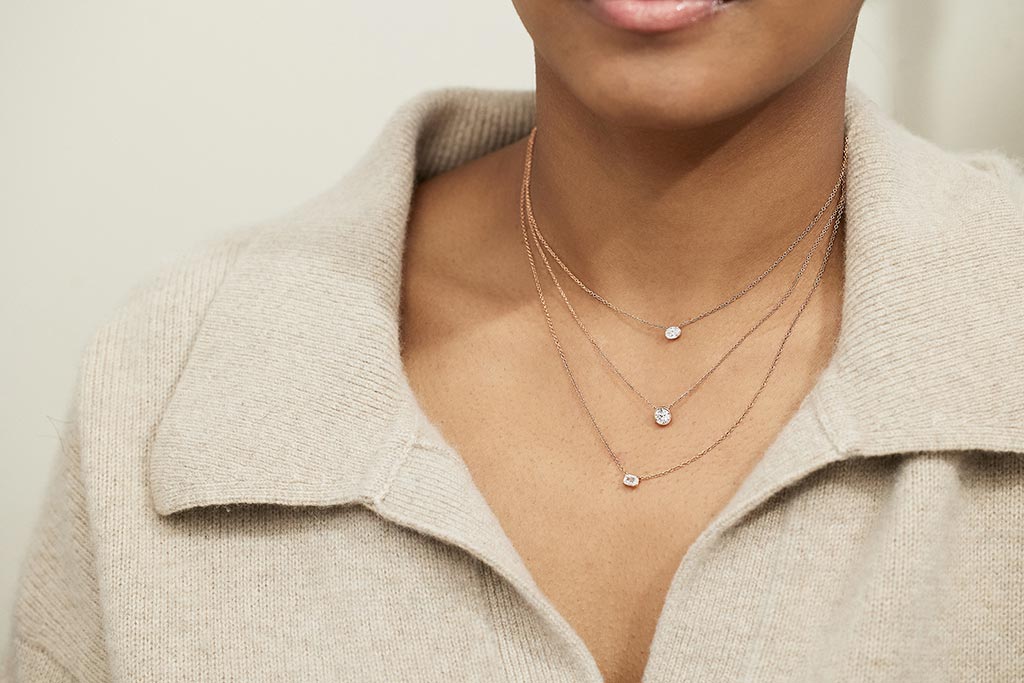 Whether it's from college, high school, graduate school, graduation is an achievement to remember. Celebrate your graduate's accomplishment and inspire a bright future with a meaningful gift that will endure, reminding them of your love and pride in their hard work. What better way to mark this occasion and the transition to life's next chapter than diamond jewelry? These best-in-class lab grown diamond jewelry pieces are as bright as their future, sustainably grown to make sure that the earth's future shines too. Here are five unforgettable lab grown diamond jewelry pieces that will keep your graduate sparkling through the brilliant decades to come.
Forever Stud Earrings
Stud Earrings are the traditional graduation gift. Why? They are the foundation of a fine jewelry wardrobe and the perfect earring to wear every day. They will help your graduate feel confident and polished at that interview for the perfect job. Then they'll take her down the aisle in style. And someday she'll pass them along to the next generation, telling the story of how you gave them to her for a graduation gift. Updating the gems to lab-grown diamonds in Brilliant Carbon's best-selling Sirius Stud Earrings means that not only will the gems be sustainably-grown and climate neutral, they are also much more affordable than conventional diamonds. You can afford to give your graduate one-carat or two carat stud earrings she'll cherish her whole life.
A Timeless Diamond Solitaire Necklace
Another timeless investment jewelry style is a classic diamond solitaire necklace. Your graduate can layer it in an artful neck mess today and wear it in the boardroom or courtroom tomorrow. And, best of all, you can tailor it to her style, choosing metal color and diamond shape to make it her own. Choose the eternal round solitaire necklace in a sleek bezel setting or a more dramatic pear diamond necklace. We especially love the unexpected charm of an east west emerald cut necklace or east west oval necklace: just different enough to catch the eye while still remaining simple and streamlined. This is the kind of jewelry style that will become her signature. Reminding her every day that you are with her, even when you are miles and miles away.
Classic Diamond Drop Earrings
Where does she fall in the great Diamond Studs vs Drops debate? If she's Team Drop, that doesn't mean she can't also enjoy a classic diamond earring that will take her everywhere she wants to go for decades to come. Meet the timeless diamond drop stud: diamonds that drop off your lobes with a lever-back or huggie hoop. You can wear them everywhere you go just like studs. In fact, you can argue that they are even more comfortable, since they shift easily out of the way when you wear headphones or a mask. The extra length seems to extend your neck and adds a bit of drama to bare shoulders or an updo. And the best part? You can wear larger carat size diamonds more comfortably. So go ahead and splurge for the one carat size! You'll be glad you did for decades to come.
A Modern Tennis Bracelet
If she's always worn friendship bracelets and loves a good bracelet stack, the life of her arm party will be a stunning diamond tennis bracelet. At Brilliant Carbon, we've taken the tennis bracelet and made it young and modern with a sliding bolo clasp. Its adjustable length makes it ultra-versatile. She can wear it snugly to play sports or wear it looser to layer with her Apple Watch or other bracelets. And it's always appropriate: from the tennis club to the office to the red carpet and beyond.
Delicate Diamond Hoops
Does she already have studs? The next must-have staple in her fine jewelry wardrobe is a pair of delicate diamond hoops. With a slight rebel edge, hoops always look chic. In a delicate scale, they are wearable every day everywhere too. Hoops are always in fashion. We especially love hoops that sparkle with brilliant pave. We love them even more with the addition of dangling lab-grown diamond drops.
A New Lucky Charm
It's traditional to wish a graduate the best of luck in her future endeavors. What better way to do this than with a sparkling lab-grown diamond horseshoe necklace? It's a brilliant statement that she'll make her own luck and that her brilliance means that she'll be able to achieve her dreams. The lab grown diamonds are a statement that we can all work to make better more sustainable choice to make the future bright for everyone and that she can be a part of making that future sparkle.

All of these brilliant graduation gift ideas are enduring gifts that she'll treasure forever and pass on to the next generation. In an era where so many things are disposable, choosing fewer better things will make sure the future remains a place of brilliant possibilities. Your Brilliant Carbon also includes a 1% donation to safeguard the environment, protect wildlife, fund education or contribute to the cause of your choice. Together we can help make the world a better place for the next generation.