The Five Best Push Presents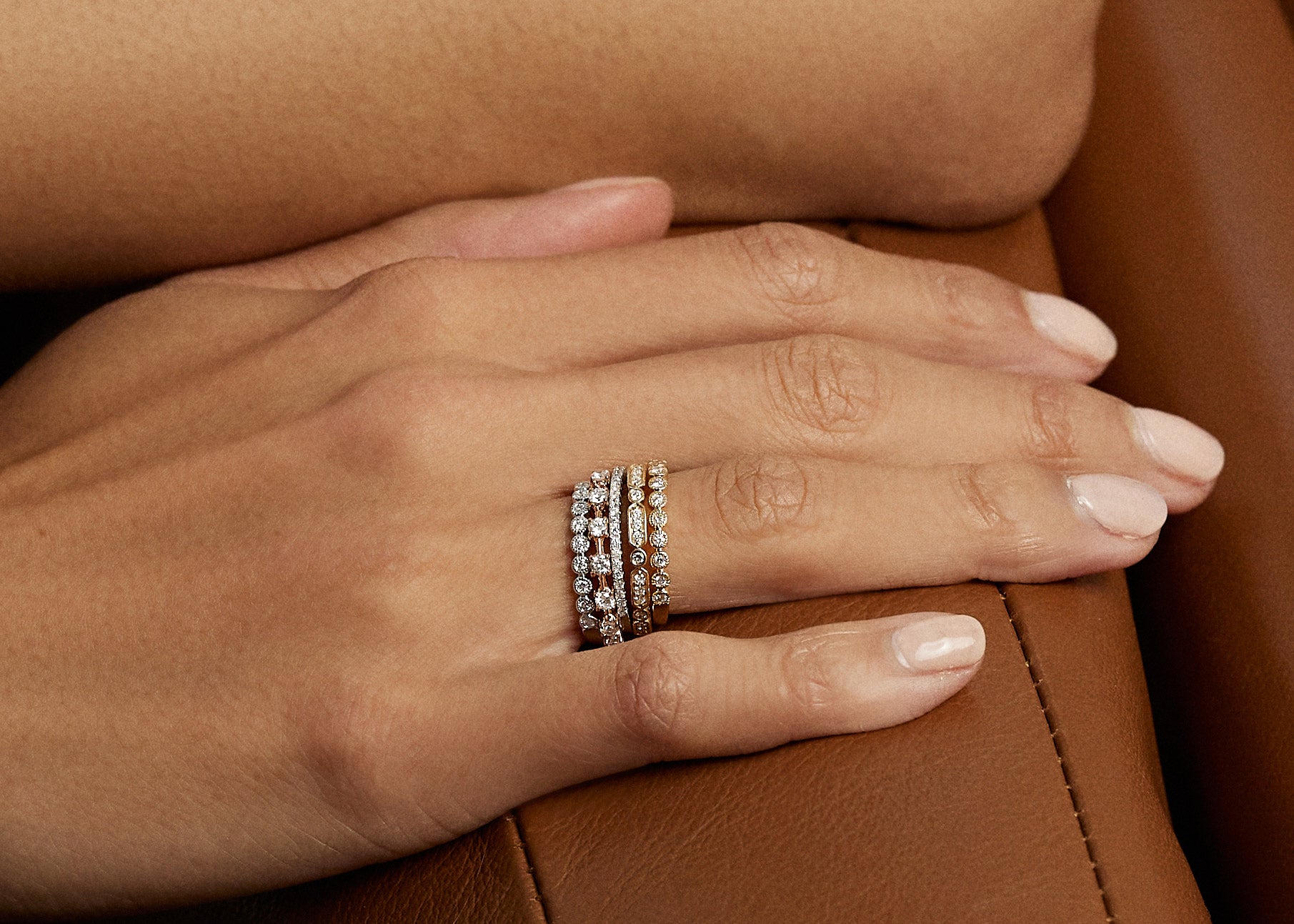 Just like your marriage, when two become one, the birth of a child is a momentous milestone in life. That means it's the perfect occasion for diamonds, a meaningful symbol of the moments that matter most. In recent years, more and more people have marked the birth of a child with a "push present." Unlike the shower or birthday gifts that are focused on practical items for the baby, a push present  is a gift for the mother, not the child. That's why diamond jewelry, as enduring as a mother's love, is the most popular choice for a push present. But unlike a diamond engagement ring or wedding band, there's no one style of diamond jewelry that's traditional as a push present. What that means is that you can choose a gift that fits your own style instead.

And because this sentimental jewel also represents the next generation, you'll want to make sure that it's sustainable too. Show your belief in a better future for your child by choosing sustainably grown diamonds that are made in a lab, not mined. Identical in appearance, durability and brilliance to diamonds mined from the earth, lab grown diamonds are also a more affordable choice. They don't cost the Earth, in any sense. Sparkling and deeply symbolic of love and commitment, classic lab grown diamond jewelry is the perfect way to mark the milestone of the birth of a child. Here are the five best jewelry push presents. One is sure to speak to you.
Lab-Grown Diamond Celebration Band
The most popular diamond jewelry push present is a celebration ring: a slim diamond band that represents a child joining your family. You can wear this ring stacked with your engagement ring and wedding band or on your right hand: it's up to you. Many women wear it on the other side of their engagement ring for the first child and then move it to the right hand and add another ring to the stack with the birth of a second child. You can add anniversary rings and rings for other milestones to create a unique stack that tells your personal story. That's why we recommend not matching your wedding ring exactly. A stack that's a mix of styles, stone sizes, and even colors of gold has an individual personality. To stack with an engagement ring, try the chevron shape of the Gravity Ring set with lab-grown diamonds, the perfect crown to any stack. For a versatile band that you can stack many ways, the Cygnus Ring has a classic look and plenty of brilliance.
Lab-Grown Diamond Solitaire Necklace
Simply perfect, the brilliance of a lab diamond solitaire necklace becomes part of you. You can wear it every day, either alone or layered with other necklaces. Its timeless style makes it the perfect symbol of a milestone you want to remember forever. Like a celebration ring, you can continue the tradition and add another necklace for each child, curating the perfect combination of gem shapes, sizes and colors of gold. Each is individual but they belong together, like a family. Try mixing fancy shape gems for each of necklace to make sure that your children know which one is theirs. Their necklace can become a heirloom for the next generation.
Lab-Grown Diamond Two-Stone Necklace
The two sparkling diamonds in a two stone lab grown diamond necklace are symbolic of mother and child, connected forever. This classic style has all the timeless simplicity of a solitaire necklace with an added meaning that makes this necklace a treasured heirloom you can pass down to future generations. Napoleon gave a two-stone engagement ring to Josephine launching a trend that continues to this day. Two diamond jewelry styles are sometimes called "Toi et Moi" designs after the French words for you and me. A two stone diamond necklace can become a "Mommy and me" necklace.
Lab-Grown Diamond Stud Earrings
You might think of diamond stud earrings as a popular wedding day gift because they are the perfect reminder of a joyous occasion. The fact that many people already have diamond stud earrings from their wedding day makes them less usual as a push present. But if you don't have the studs of your dreams yet, this is a perfect time to add them to your jewelry wardrobe. All the things that make them an ideal wedding present also make them a brilliant push present. And now that you have the options of lab-grown diamond stud earrings, you can afford the studs you always wanted: two carat lab grown diamond studs or even red-carpet ready three-carat lab created diamond studs. They also become an heirloom that you can pass down. Meghan Markle's engagement ring from Prince Harry is set with diamonds from a pair of Princess Diana's stud earrings. Stud earrings have been fashionable since the nineteenth century: they are sure to be just as desirable for centuries to come.
Lab-Grown Diamond Two-Stone Ring
If your taste is more modern than classic, you might prefer a fashionable two stone ring rather than a classic diamond jewelry design. You may have admired the two-stone rings worn by influencers like Solange, Ariana Grande and Emily Ratajkowski. We created the Binary Ring with two lab-grown diamonds, one large and one small, connected with a band of sparkling pave but also separated with space between them. We think it's a lovely symbol of a mother and child, how they are connected but also independent. It's also a ring that expresses your personal style, now and forever.