The Five Best Wedding Earrings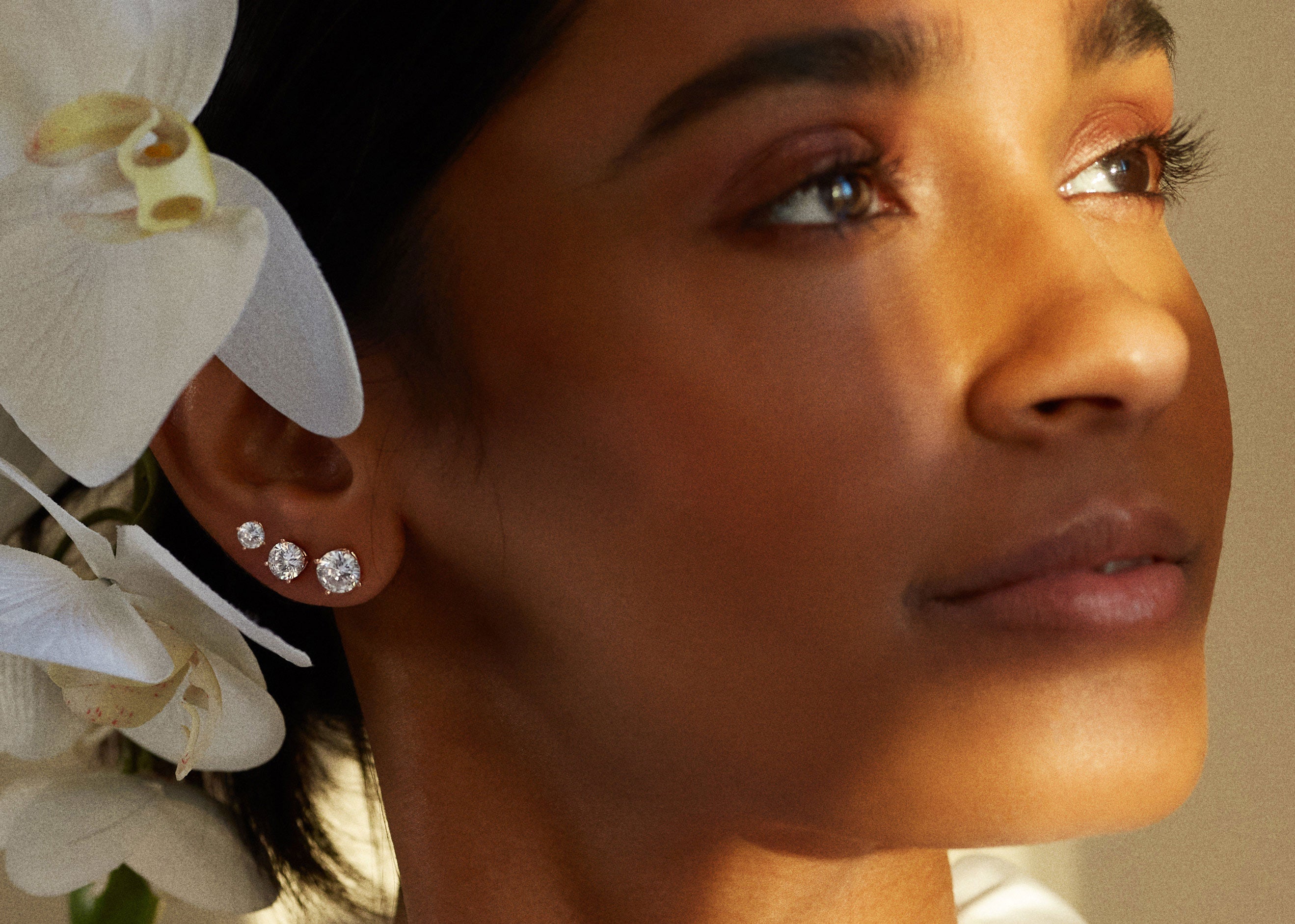 When you walk down the aisle, every detail should be just right. You've found a gorgeous dress, your bouquet is stunning, your hair and makeup just the way you want them. The last detail you need to make everything perfect is the right pair of wedding earrings. They need to be beautiful and totally classic, so when you look at your wedding photos in the decades to come, you'll look timelessly lovely, not tragically trendy. Unlike everything else you'll wear at your wedding, the right pair of bridal earrings are something you can wear for the rest of your life. They are a meaningful reminder of your special day that you can enjoy forever. That's why classic diamond earrings are the best choice for your wedding earrings. Choosing lab grown diamond earrings means that you can afford the dream diamond earrings that you'll be proud to wear for decades to come (without emptying your bank account.) Here are the five best wedding earrings styles to make sure you sparkle in the spotlight on your special day and all the days to come.
Stud Earrings
The most popular wedding earrings are diamond stud earrings. (They are also a popular gift to the bride from her partner or one of the couple's parents on the wedding day.) Why are stud earrings so popular? They are the most timeless of earring styles. They've been in fashion for more than a century and a coveted heirloom handed down from generation to generation. Prince Harry incorporated Princess Diana's stud earrings in the ring he used to propose to Meghan Markle. Today, with the availability of lab grown diamonds, more brides are choosing one carat lab grown diamond stud earrings, which have a half-carat on each ear, or two carat lab grown diamond stud earrings, which have a full carat on each ear. These are the stud earrings of your dreams: perfect down the aisle but also wearable every day. At Brilliant Carbon, were also seeing demand for stunning three-carat lab grown diamond stud earrings, which are even more glam. You can choose the size that suits you perfectly. And don't stop at just one: layering stud earrings in different sizes gives these classic earrings a modern edge.
Halo Stud Earrings
Halo diamond stud earrings are just as wearable as classic diamond stud earrings but they have the extra detail of a circle of small diamonds surrounding the center stones. This extra detailing has two main effects. First, it makes the studs look more intricate, giving the design an almost vintage feel. Second, it increases the overall size of the earrings, increasing their visual impact. From a distance, the diamond carat weight looks larger. From close up, the details make the earrings look more delicate. The balance of these two factors depends on the color of the gold. Since white diamonds blend into white gold, the illusion of a larger size is more pronounced for white gold halo stud earrings. Since yellow or rose gold highlights the setting, the details are more visible for yellow gold and rose gold halo stud earrings. We recommend matching the color of your engagement ring, so the earrings remind you even more of your wedding. If you have a halo engagement ring, the resemblance will be even stronger. Choose lab grown diamond halo stud earrings in the same carat size as your engagement ring for each ear to make the perfect wedding day set.
Drop Earrings
If studs are a little too classic or if you don't gravitate to on-the-ear earrings, consider instead a pair of classic diamond drops. These are essentially stud earrings in a setting that drops the diamond below the lobe, so it's free to rotate a bit. Many people find these more comfortable to wear than studs, particularly in large carat sizes. We love lab grown diamond drop earrings because they are a bit more dramatic and less tailored than stud earrings. They also allow the diamonds to move when you do. That means they catch the light and sparkle more. These classic one-carat lab grown diamond drop earrings have a comfortable lever back and a beautiful side view thanks to a scalloped gallery. You can also find a style that's a bit more mimimalist, like these sleek bezel-set lab grown diamond drop earrings. For more subtle glamor, these delicate double drop earrings dance in the light, making them especially lovely for a bride.
Halo Drop Earrings
If your wedding is black tie and your gown is elaborate lace, the perfect complement is diamond halo drop earrings. They have lots of sparkle, with the center stone surrounded by an orbit of pave and the drop wires also covered in diamond pave. This makes them more formal and red carpet ready than drops in a plain gold setting. At the same time, they are still classic and keep the spotlight on you instead of distracting the eye. They'll be the earrings you always reach for when you want the occasion to feel special and a bit romantic, even if it's just pizza night. We love the way these intricate pave drop earrings feel like heirlooms that were passed down in your family. Only you will know that they are modern sustainably grown lab diamonds in a modern setting.
Delicate Hoop Earrings
If you aren't traditional at all but still want something timeless and lasting for your wedding earrings, you'll love a delicate hoop earring. Hoops are the only earring style that's been fashionable even longer than studs. Although large hoops go in and out of style, small hoops are completely classic. The symmetrical silhouette means they look good from every angle, which is especially good for short hair or putting your hair up. Add sparkling lab grown diamonds to elevate them a bit for the occasion. Add a dancing diamond drop to make them even more special. The Sirius Drop Huggies have a lab grown diamond drop from hoops in your favorite color of gold. The Orbit Drop Earrings have delicate pave with a small lab grown diamond drop. Either one will be your go-to everyday earring long after your cake has been eaten, even the topper in the freezer. And you'll probably still be wearing them when you're served a slice of the next generation's wedding cake too.