The Six Best Tenth Wedding Anniversary Gifts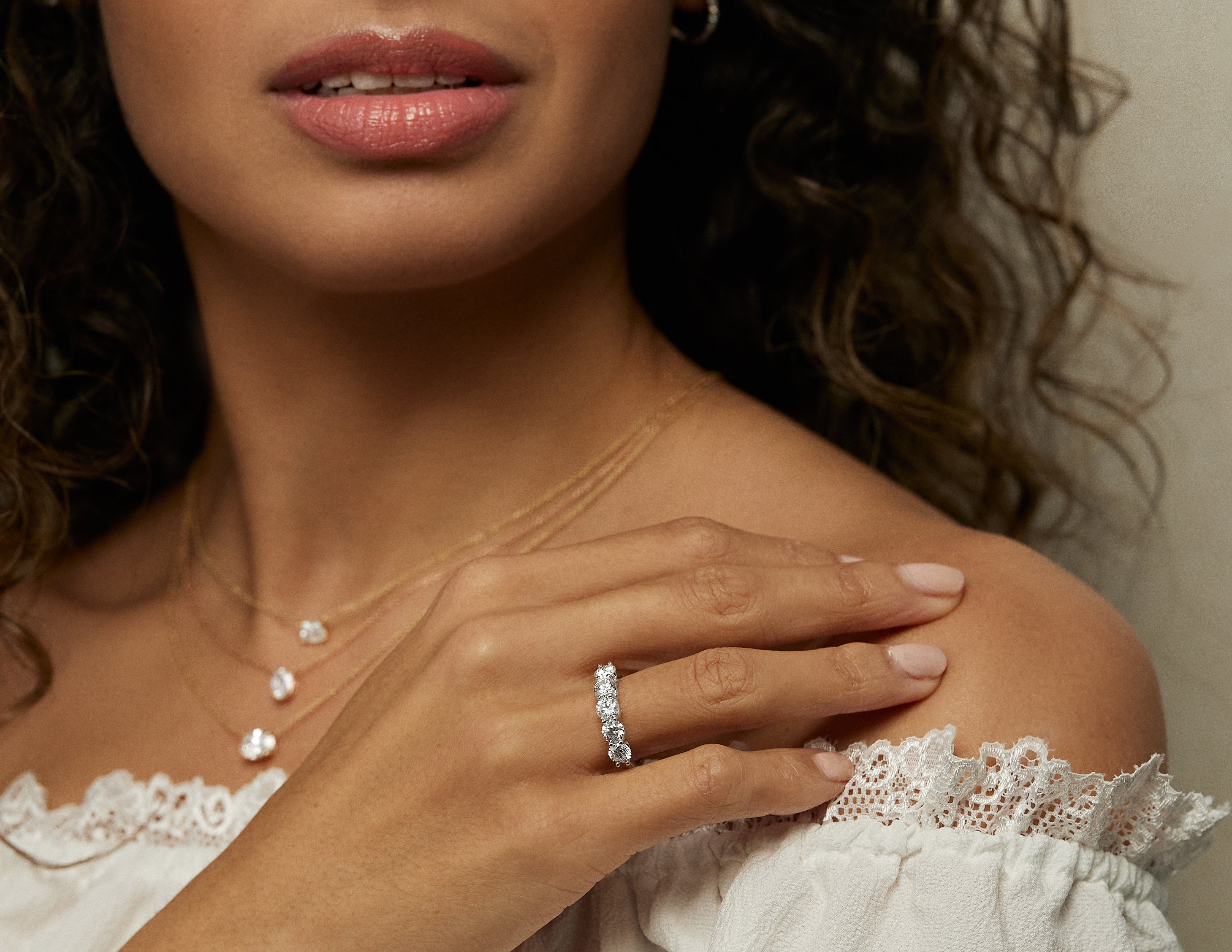 Pity the fifties housewife who according to the old anniversary gift list might have received aluminum as a tenth wedding anniversary gift. Today we celebrate ten brilliant years of wedded bliss with diamonds, the perfect symbol of enduring love. The symbol of forever, diamonds score a perfect ten on the Mohs Scale of hardness too.
Trust us, a memorable anniversary gift starts with diamonds, not cookware. And today you have a new option that wasn't available when you tied the knot ten years ago. Lab grown diamonds are much more affordable than mined diamonds. And at Brilliant Carbon they're sourced from a climate neutral producer with coveted independent SCS-007 certification.
What lab grown diamond jewelry makes the best tenth wedding anniversary gift? Here are the six best romantic gifts for tenth wedding anniversary that are sure to please fashionistas and minimalists alike.
An Engagement Ring Upgrade
Victoria Beckham receives a new engagement ring from David Beckham every year. Even if you're not in the Beckham's tax bracket, a new engagement ring is a popular tenth wedding anniversary gift for a lot of reasons. Many couples don't really have a budget for their dream ring when they marry.  But after ten years, you can get the ring that really symbolizes your love. Some jewelers even have upgrade programs for you to trade in your engagement ring for a larger carat size.
But even if you don't have an upgrade option, thanks to the availability of lab grown diamonds, you can now afford a truly spectacular ring. (Besides, call us sentimental but we'd rather hang on to that starter ring than trade it in. Hand it down to the next generation or make a pendant.)
So go ahead and select a two carat lab grown diamond engagement ring. (It probably won't cost much more than the one carat ring you bought ten years ago.) Want to create a custom engagement ring with an even larger center diamond? The Brilliant Carbon Concierge will help you find the diamond of your dreams and craft a custom ring just for you. Whether or not you propose  again or say your vows again a recommitment ceremony, the symbolism of the new engagement ring is clear: I love you more than ever and I'd marry you all over again.
A Grand Anniversary Band
Does she still love her engagement ring? You can still have that recommitment moment with a new diamond band ring. Often called anniversary bands, the tenth anniversary is the perfect time to add a diamond anniversary band to your engagement ring, stacking on top of your original wedding band. A slim band that's easy to stack, like the River of Light Band with lab-grown diamonds is the most versatile. You can also choose a more diamond intensive band for her right hand or index finger, like the Asteroid Band with 1.80 carats of brilliant lab grown diamonds.
A Perfect Ten Diamond Bracelet
We love symbolism, it's so romantic! That's why we can't resist the River of Light Bracelet. It's a modern, easy to wear alternative to the tennis bracelet, with a bolo clasp so it hugs your wrist and doesn't spin. But what really makes it perfect is the fact that there are ten diamonds! What a perfect tenth anniversary celebration! It will remind her of her tenth anniversary (and you) every time she wears it, which will probably be every day.
Classic Diamond Stud Earrings
If she doesn't have a beautiful pair or diamond stud earrings, you've got the perfect tenth wedding anniversary gift! Studs are a timeless wear-everywhere with everything earrings. Celebrities wear diamond studs to the Oscars but they look just as appropriate at the grocery store. And thanks to lab grown diamonds, you can afford the studs she's always wanted. Two-carat lab diamond stud earrings, with a one-carat stone for each ear are now within reach. Brilliant Carbon's best-selling two-carat lab-grown diamond studs are less than $3000. (Mined diamonds of the same size and quality would be more than $10,000!) To make it romantic, match the gold color of her engagement ring.
Diamond Solitaire Necklace
If she already has diamond studs and (of course) wears them constantly, consider a diamond solitaire necklace. The latest styles feature fancy-shape lab grown diamonds set north-south for a classic look or east-west for a more modern look. At Brilliant Carbon, our east-west emerald cut lab grown diamond necklace and east-west oval lab grown diamond necklace are particularly popular. It's because these necklaces are classic with a twist: the unexpected shape and sideways setting style catch the eye in a way that the classic round solitaire necklace can't.
Heart Necklace
You can never go wrong leading with your heart. A heart-shaped diamond necklace is a grand romantic gesture that will take her breath away. Our Brilliant Heart Necklace traces the outline in lab-grown diamonds, so it's beautiful inside and out. It's the perfect way to say your love is forever.
We hope you are inspired by our tenth wedding anniversary gift ideas from Brilliant Carbon.