The Six Best Wedding Necklaces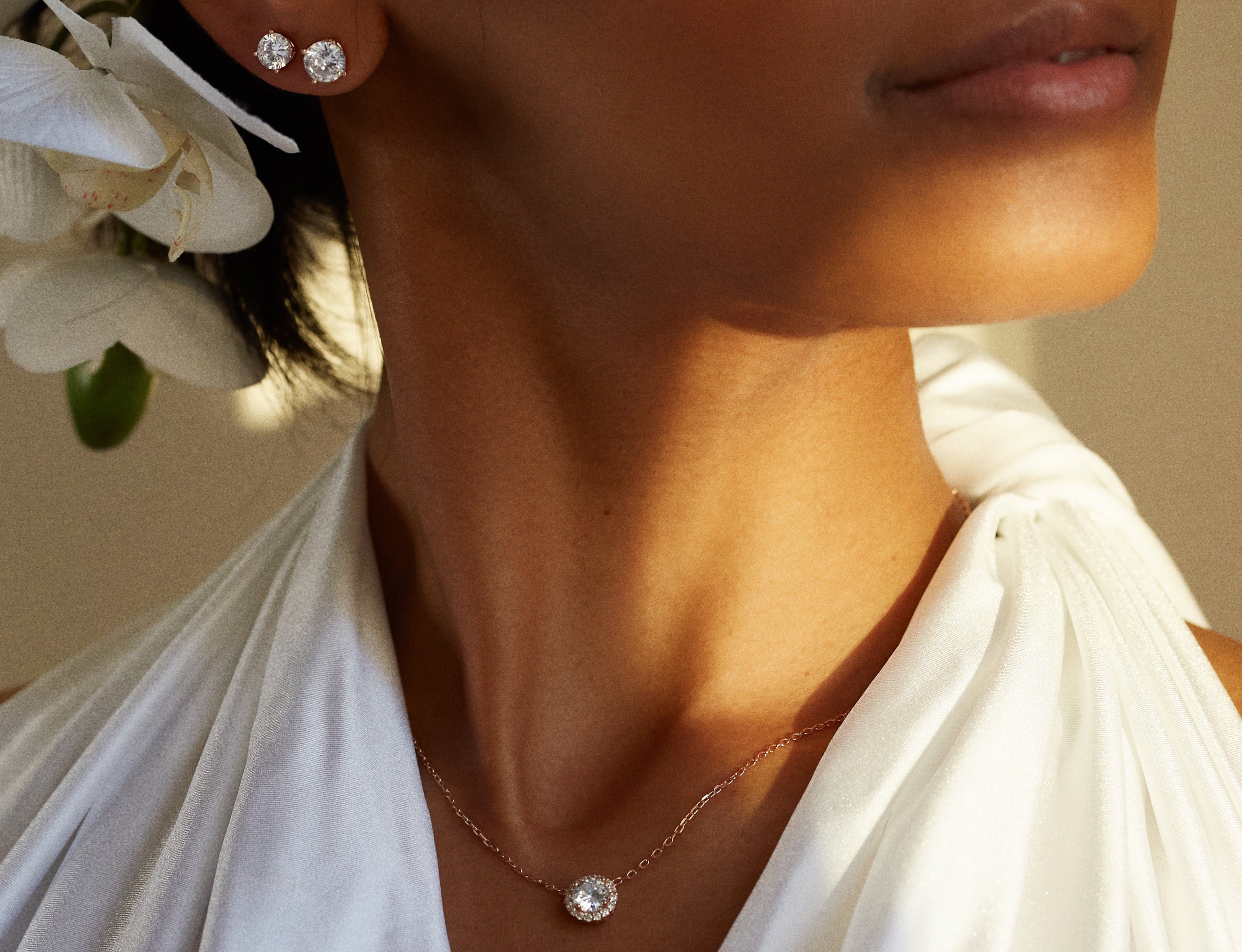 On your big day, the wedding gown isn't the only eye-catching style statement. You'll say yes not only to the dress but also the finishing touches that take your look from good to great. Walking down the aisle, your sparkling earrings and necklace capture the brilliance of your special day. Today, most brides choose classic simple styles for their wedding day jewelry. Unlike trendy and temporary costume jewelry, these time-tested styles will shine for decades to come in your memories and in photos. And best of all, you can continue to wear them forever, keeping the memories and emotions of your wedding close to you every day.
The best necklaces for your wedding day are diamond pendants. Delicate and simple they complement every neckline, from your gown to t-shirts and professional attire. They are the best necklaces for strapless wedding dresses too. Today most brides choose lab grown diamonds that are sourced sustainably and responsibly. Your wedding day is all about looking forward, so protecting the earth is the perfect way to express that you are looking forward to a brilliant future.
There are lab-grown diamond necklaces that suit your style too, from solitaires to pave designs with many small gems. Make sure you choose something you'll love wearing for years to come, not just on your big day.
Classic Solitaire Lab Grown Diamond Necklaces
The most popular wedding day necklace is a lab-grown diamond solitaire necklace set with a classic round brilliant diamond. The most popular necklace style since the 1950s, the classic solitaire is just as fashionable today. A classic solitaire set with a lab grown diamond looks exactly the same as a solitaire set with a mined diamond. But because it's more affordable, you can afford to choose a stunning large lab diamond to really sparkle as you are walking down the aisle. A one-carat lab diamond solitaire necklace is the perfect keepsake of your wedding day.

Fancy Shape Solitaire Lab Grown Diamond Necklaces
If you prefer your classics with a twist, consider a fancy shape diamond solitaire necklace for your wedding day. The elegant Sirius Emerald Cut Necklace has an emerald-cut lab grown diamond set horizontally. It's an unexpected detail that really catches your eye. The large flashing facets of an emerald cut give the necklace a geometric Art Deco look: no wonder Beyonce and Amal Clooney are both emerald cut fans. If you like oval diamonds, which are really popular right now for engagement rings, you'll love an oval lab created diamond necklace like the Sirius Oval Necklace, which has the oval set horizontally too. A one carat size lab diamond will highlight the uniqueness of your fancy diamond shape.
Halo Lab Created Diamond Necklaces
Like the delicate lace trim on your wedding gown, a halo diamond necklace has a ring of finely set small diamonds that surround the center stone. A lab grown diamond halo necklace is the perfect complement to a vintage style wedding dress, because just like lace, the details make it feel antique. It looks like a family heirloom that's been passed down for generations. With its beautiful craftsmanship and fine sustainably grown diamonds, the Mira Necklace will become an heirloom for the next generation.
Two-Stone Lab Grown Diamond Necklaces
Your wedding day is a story about two being joined into one. A lovely way to capture the meaning of this moment is with a two-stone lab diamond necklace. You can make it your own: one stone can symbolize your love and the other your best friend. One can represent today and the other tomorrow. Or one can symbolize you and the other your partner. No matter how you tell your story, the two-stone necklace set with brilliant lab-grown diamonds is a bright reminder of this day that also is a dramatic finishing touch to your dress.
Three-Stone Lab Created Diamond Necklaces
The symbolism of three-stone diamond jewelry is a celebration of your past, present and future. It's a beautiful statement of hope for a more brilliant future, while honoring the present moment and the bright moments of the past. It's a perfect representation of the journey of a couple that has a long history but who are looking forward to a long future together too. Every time you wear your three-stone necklace, you sparkle in the present moment, while honoring the past and looking forward to the future. A three-stone lab grown diamond necklace is the perfect companion to a three stone engagement ring.
Heart Lab Grown Diamond Necklaces
In the end, your wedding day is all about love, your love for each other and the love of all your friends and family that overflows during this day. So what better token to remember the emotions of this day than a Brilliant Heart Necklace. Wearing this sparkling heart necklace will forever remind you of how much you are loved and the people who share their lives with you both, lifting you up and surrounding you care and affection. Having that beautiful symbol of love set with lab grown diamonds expresses your love for the planet and care for the next generation too. It's a meaningful symbol that you'll treasure long after your wedding day.