Toi et Moi: Romantic Two-Stone Engagement Rings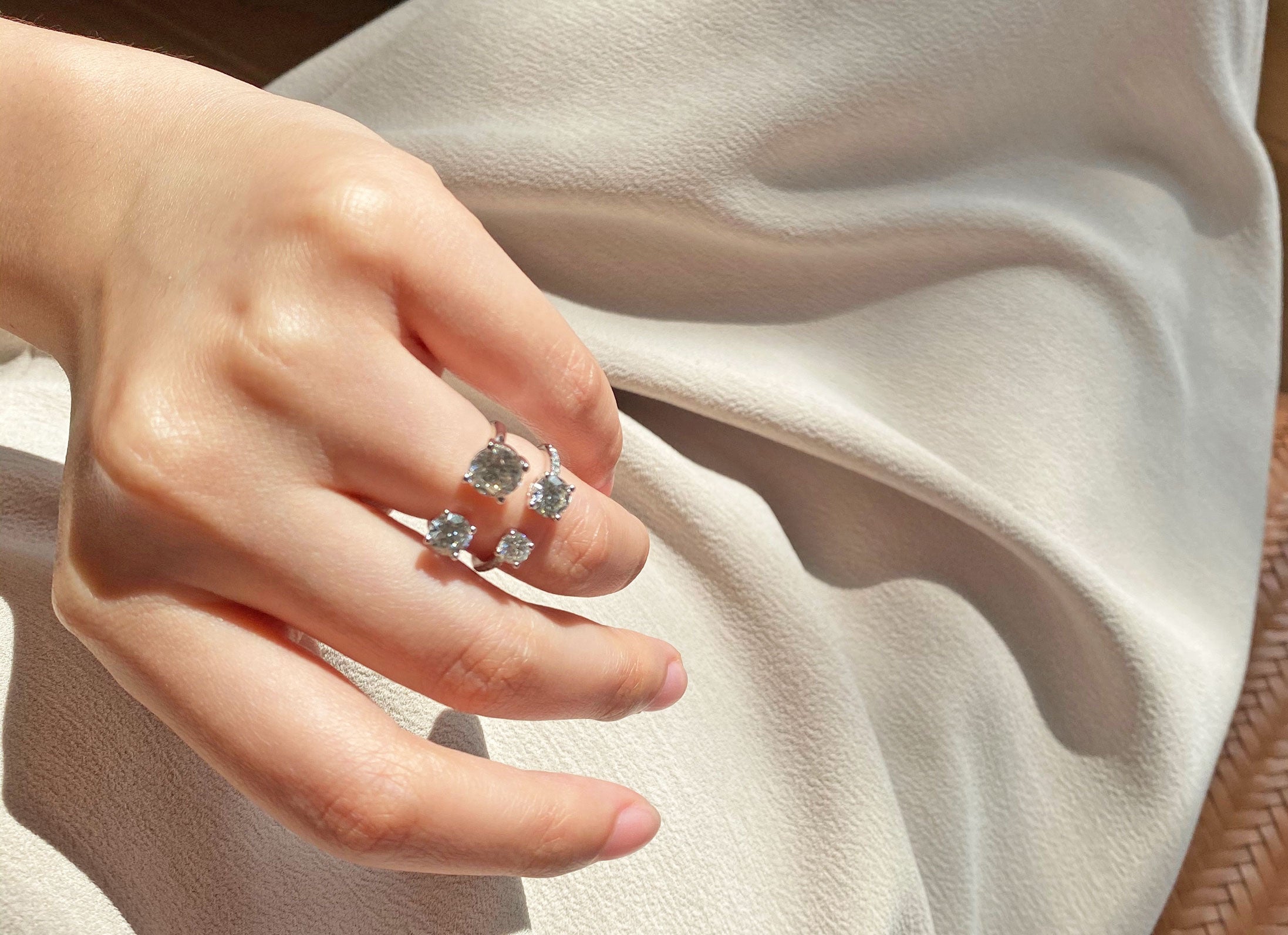 He was a dashing young senator with political aspirations. She was an elegant debutante with a degree in French literature and a flair for Paris fashion. The ring was French too: a two-stone emerald and diamond ring by Van Cleef & Arpels. When Jack Kennedy proposed to Jacqueline Bouvier with a "Toi et Moi" engagement ring, they sparked a trend that that burns bright more than 70 years later.

Toi et Moi Engagement Rings have two gems side by side rather than a single center gem: one for you and one for me. Toi et Moi, you and me in French, is the simplest possible expression of love. Having these words translated into gems is even more romantic.

Emerald was Jack Kennedy's birthstone, so perhaps the emerald stood for him and the diamond represented Jackie's brilliance (her birthstone was ruby.) Considered one of the best-dressed women in the world, Jackie's sophisticated taste in fashion and literature no doubt had an influence in Jack choosing such an unusual romantic ring style.

Because Jackie was a student of French history, she undoubtedly recognized a romantic reference: the most famous Toi et Moi ring was an engagement ring given by Napoleon Bonaparte to Joséphine de Beauharnais in 1796, his empress and paramour in a romance that made history.

Napoleon's love for Josephine was recorded for all time in his letters: "You who alone can move and rule my heart, you who know all too well the absolute empire you exercise over it!"


Josephine's Toi et Moi engagement ring had a pear-shaped sapphire and a pear-shaped diamond, both under a carat each. In 2013 the ring sold for a little bit less than $1 million at Osenat, a French auction house. It's proof that romance and design are more important than carat weight.

Traditional Toi et Moi rings have two gems the same size and shape in a variety of designs. But today there are more options including unusual combinations.

For example, Ariana Grande has a beautiful Toi et Moi Ring with a pearl and an oval shape diamond, an unusual mixture of gem varieties, shapes, and sizes. And Emily Ratajkowski has a double diamond Toi et Moi engagement ring featuring a pear shape diamond and a princess cut diamond on a bold yellow gold band. It's unexpected and very unusual.

Anyone researching engagement ring trends on Instagram will have noticed that more and more couples are choosing to pledge their love with two-stone diamond engagement rings.

That's no doubt because the design translates into a beautifully symbolic celebration of two souls coming together forever. Two-stone diamond engagement rings are the perfect tribute to a never-ending love story.

The only disadvantage to the Toi et Moi style is that two stone engagement rings usually cost twice as much as a solitaire, since you are buying two diamonds rather than one. That's why couples are choosing lab-grown diamonds for Toi et Moi Rings. The lower cost of the lab grown diamonds helps make the ring much more affordable: similar in price to a natural diamond solitaire.


We especially modern love designs that have two diamonds separated by space. This style has an innovative contemporary look. One of the most famous examples is Solange Knowles' beautiful wedding ring with two emerald cut diamonds separated by space. La La Land director Damien Chazelle proposed to Olivia Hamilton with a two-stone ring with negative space in the middle too.

Because diamonds represent strength and love, they can express independence as well as devotion. A symbol of two souls connected forever, they can also represent a mother and child or two inseparable best friends or siblings.

At Brilliant Carbon, we've created the perfect ring design for you and someone you love: our Binary Ring and Binary Nova Ring. Both have two beautiful lab grown diamonds separated by space but connected by an unbreakable bond. These meaningful rings are an everyday reminder that time and space can never truly separate two people who cherish one another.