Top Five Holiday Engagement Ring Trends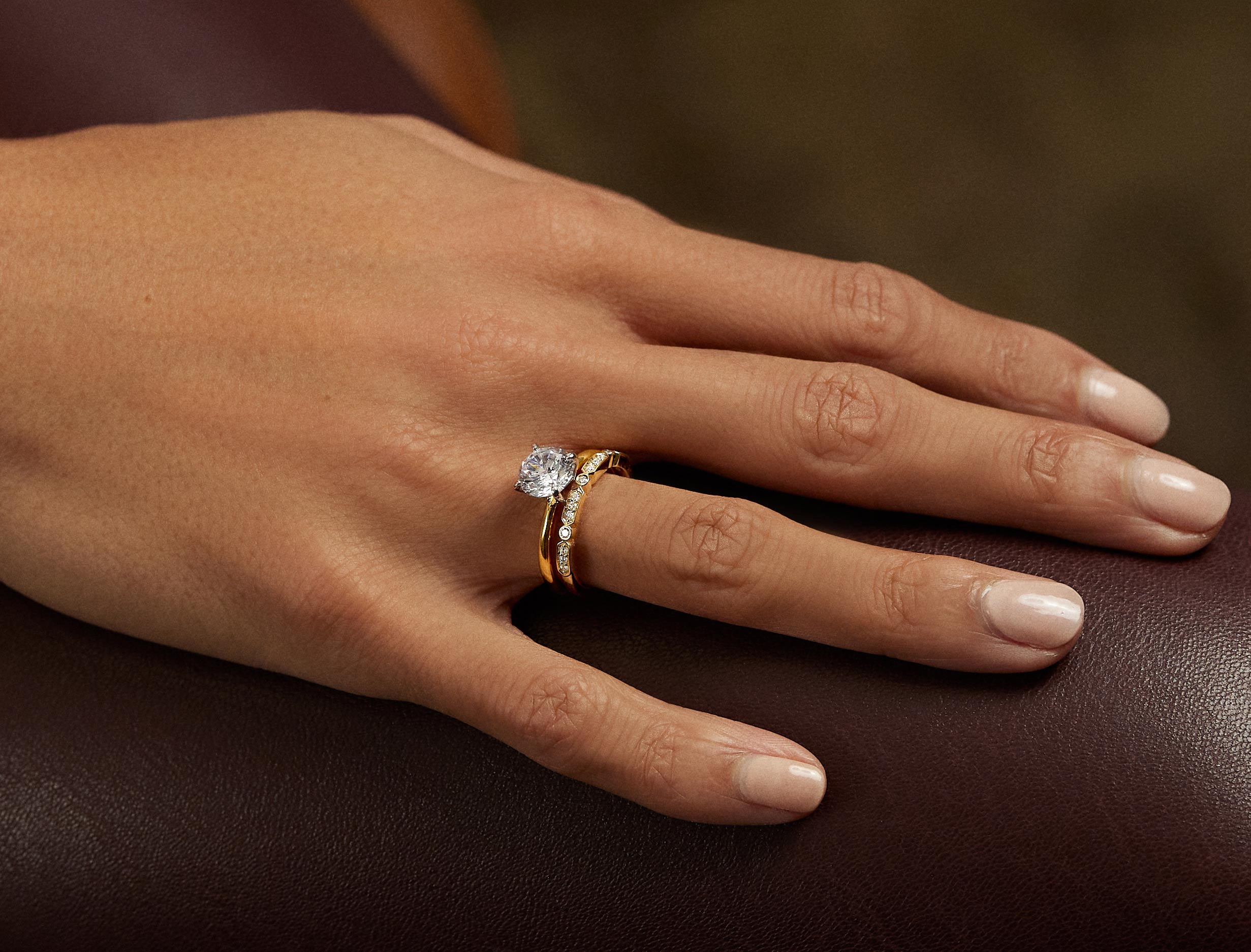 It's engagement season! The holidays are the perfect time to pop the question and pop the champagne, with family and friends together to join in your celebration. Seven out of the top ten days to propose are in December, according to WeddingWire, with Christmas Day and Christmas Eve, and New Year's Eve at the top of the list.
If you are thinking about a holiday proposal, it's time to find the perfect engagement ring that says "a thousand times yes!" What engagement rings are our customers choosing this holiday season? We're seeing a lot of simple settings with larger center stones that really have a "wow" factor. Here are the top five engagement ring trends to consider for your holiday proposal.
Put Sustainability First
According to a survey of engaged couples by BriteCo Insurance, 28.4% of engagement rings featured a lab-grown diamond in 2021, up from 18.7% in 2020. The trend for lab-grown diamonds has accelerated over the last year, as more and more consumers are considering sustainability as an important part of their purchase decision. The affordability of lab grown styles means that couples are choosing larger carat weights too. The average size of an engagement ring today is 1.5 carats in total, with one in four engagement rings over two carats total weight. The price difference  between mined diamond engagement rings and lab created diamond engagement rings is the most dramatic for larger sizes. A two-carat mined diamond solitaire engagement ring is about $13,000. A two-carat lab grown diamond engagement ring is half the cost! That means you can upgrade to a larger center lab grown diamond and still stay within your budget.
Play Solitaire
When you have a big beautiful lab grown diamond, a simple setting is all you need! Solitaire engagement rings are trending. These timeless minimalist settings highlight a single diamond, often lab grown, in a plain precious metal setting. They are especially good for busy people who do a lot with their hands, whether it's art, cooking and baking, gardening, weight lifting, sports, art, or home improvement. They are also good for people who work with their hands like health care professionals. Because a solitaire engagement ring is simple, look for refined details like a beautiful side profile. A slime rounded band profile will provide extra comfort.
Glow in Yellow Gold
Engagement rings are getting warmer. The glow of warm yellow gold is melting the icy white metal trend of the past decade. Five years ago, 61% of engagement rings were white gold. Today, that's reversed and yellow gold engagement rings are more popular than white. The warm glow of gold looks great on your finger and makes your diamonds look whiter in comparison. In fact, you can select a diamond that's near colorless instead of colorless: it will look bright and white in a yellow gold setting. If you like to mix your metals, pair a yellow gold engagement ring with an all-white metal and diamond wedding band: you'll have a stack that will complement all your jewelry today and tomorrow, no matter what the future will bring.
Fancy Some Pears and Ovals
Round brilliant is still the most popular diamond shape, with 41% of couples choosing a round engagement ring in 2021, according to The Knot. But fancy shapes are on the rise, especially oval engagement rings and pear shape engagement rings. An unusual diamond shape makes a simple setting subtly different. And a fancy shape lab-grown diamond reflects your personality too. Ovals are elegant, pear shapes are adventurous, princess cuts are social, and emerald cuts are sophisticated. Which fancy shape are you? Choose your favorite to make your engagement ring your own.
Say You and Me Forever
One of the surprise engagement ring trends of the year that shows no sign of slowing down is the two-stone engagement ring, romantically called the Toi et Moi engagement ring after the romantic engagement ring that Napoleon gave Josephine. We love the
Binary Ring
, an edgy take on the two stone trend with negative space. But when customers love the look but are not sure they would want to wear it forever, we have another option to suggest. What you might not realize is that you can get the trendy Toi et Moi look with two simple
solitaire engagement rings
stacked. This gives you more flexibility. You can wear the rings stacked or separately. We love having lots of ways to wear our jewelry, don't you? Versatility is everything. And if you already have a solitaire, a second engagement ring in another shape that you can stack with your original ring gives you the fresh new Toi et Moi look without having to alter your much-loved original ring.