Top Bridal Jewelry Trends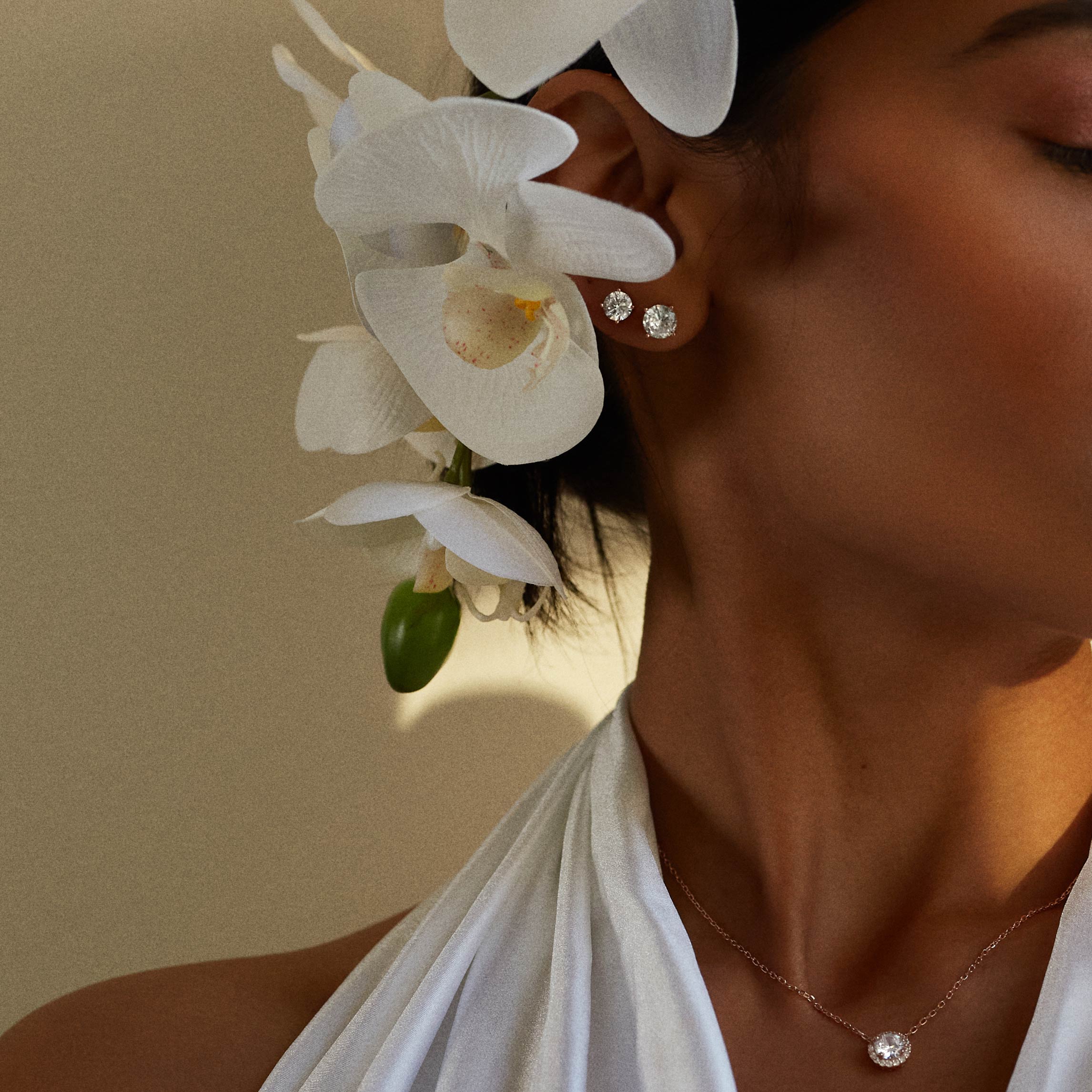 Bridal Fashion Week may be virtual this year but weddings are finally being rescheduled in real life. That means it's finally time to find the perfect jewelry designs to wear down the socially distanced aisle. This year's best bridal jewelry styles are delicate and classic. They are not only a beautiful part of your big day but they are also jewelry pieces you can wear again and again. We love the idea that your bridal earrings, necklace or bracelet can be a brilliant reminder of your wedding day you'll enjoy from this day forward.
Here are four bridal jewelry trends for 2021:
Stud Earrings
The classic wedding day gift for the bride, diamond stud earrings are a classic choice for wearing down the aisle because they light up your face. The simple lines won't compete with a veil or headpiece and they have a timeless look that won't instantly date your wedding photos. The latest version of stud earrings features beautiful lab grown diamonds. You can afford a much larger carat weight and beautiful quality because lab-grown diamond studs are about half the price of studs set with mined diamonds and are identically beautiful. Match the shape, size, and gold color of your engagement ring and you'll love your lab-grown diamond studs just as much.
Diamond Drop Earrings
If you prefer a drop earring to a stud earring, the classic wedding day choice is diamond drop earrings. This style lights up your face like a diamond stud but the gem sits below your ear lobe. The advantage? More sparkle! Because the diamond is free to move and catch the light, it will dance with brilliance as you move. To find the most beautiful and affordable versions, choose lab-grown diamond drops. Lever backs are the classic setting, secure but comfortable with an elongated silhouette. For an updated look, try a huggie lab-grown diamond drop earring with a smooth hoop silhouette.
Solitaire Necklaces
With many of this season's wedding dresses featuring a strapless silhouette or dramatically shaped neckline, the necklace of choice is a diamond solitaire necklace. The solitaire necklace doesn't distract from your neckline from far away but adds a delicate and flattering detail in closeups. Although a round brilliant diamond is the classic choice, we recommend a fancy shape like a pear shape drop, emerald cut or oval to add personality to this streamlined design. If you love vintage detailing, a delicate halo design adds subtle embellishment. If your engagement ring has a halo, it will also complement its style. Choose the gold color of your engagement ring too. Choosing a lab-grown diamond solitaire necklace makes the carat size you really want surprisingly affordable. Lab grown diamond solitaire necklaces that you can wear every day for the rest of your life start at less than $350.
Delicate Bracelets
If you don't plan to wear gloves, the finishing touch for your wedding day ensemble is a delicate diamond bracelet. This year, instead of a tennis bracelet, the trend is for a delicate diamond solitaire bolo bracelet. The adjustable clasp of a bolo bracelet style is key because it allows you to adjust the fit of your bracelet so the solitaire stays on top of your wrist rather than falling below. Imagine this delicate bracelet in the frame as you hold your bouquet. We recommend a bracelet with a halo set with beautiful lab-grown diamonds. You'll be able to wear it alone and layered as part of an arm party later: it works with jeans as well as a wedding dress.

And best of all, this beautiful wedding day jewelry will look just as good when you wear it on all your anniversaries to come. Isn't it great when the fashion you want to splurge on in the moment turns out to be a savvy investment instead?
Shop all of Brilliant Carbon's beautiful lab-grown jewelry and engagement rings.