What Wearing Each Diamond Shape Says About You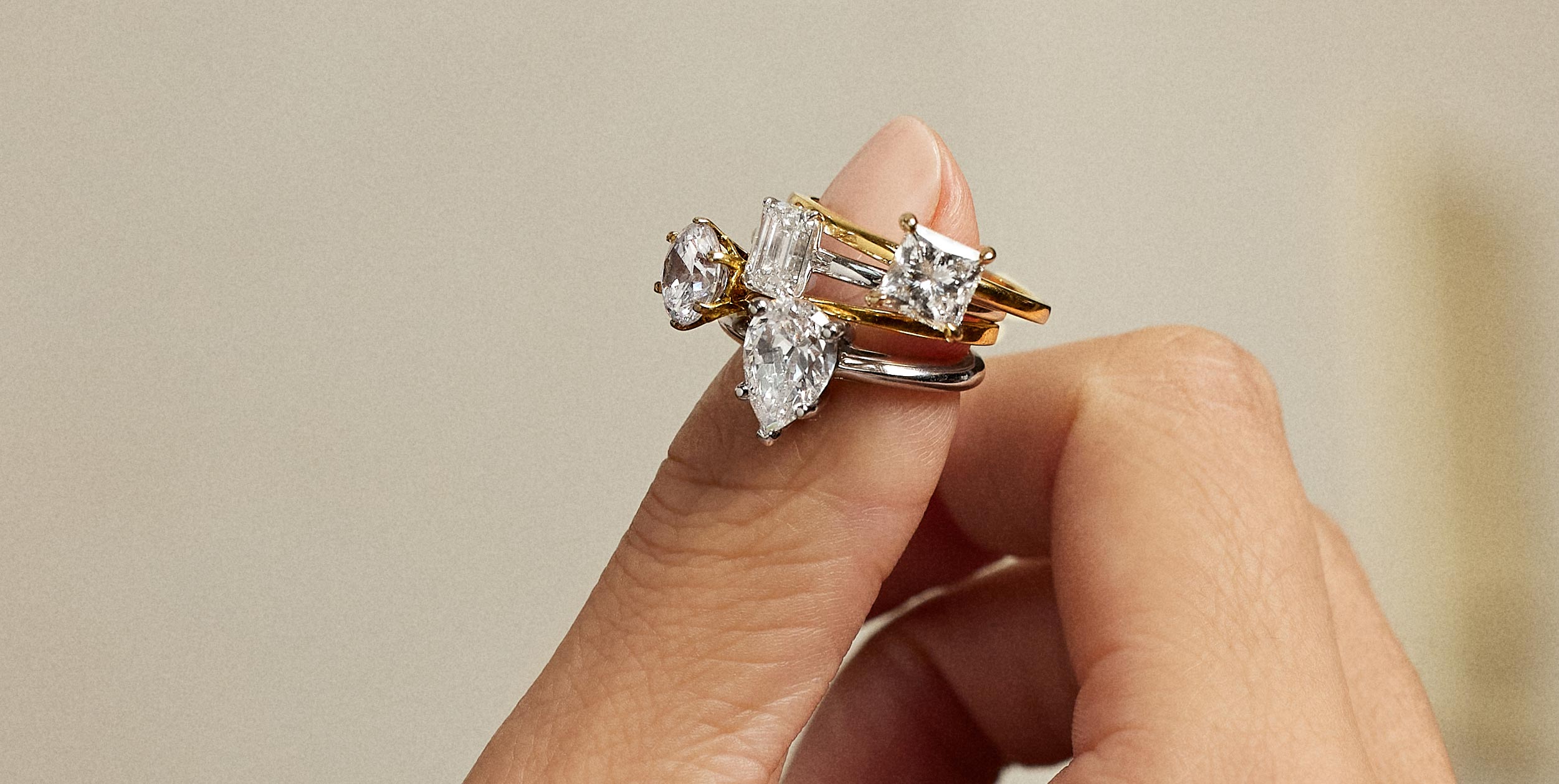 Princess or Pear? What's the first thing you choose about your diamond. It's the silhouette of its cut. Your diamond's shape is definitely one of the most unique things about it. Do you choose the classic round or break the mold and stand out from the crowd with a fancy shape lab created diamond? The shape that you are drawn to says a lot about who you are. You could even say they are like facets of your personality. Here's what the top five diamond shapes say about the women who wear them.
What Wearing Round Diamonds Says About You
The round diamond is the most popular cut because its symmetry means it has the most brilliance of all diamond cuts. If you like round diamonds best, your personality sparkles just as much. You are a people person: you know what's most important and keep your friends and family close. You love creating traditions and celebrating holidays and birthdays in style. Famous round diamond lovers include Amy Adams, Michele Obama, and Emily Blunt. If you love round brilliants, your warm and friendly smile lights up the room. You instantly put everyone at ease and your door is always open. Your timeless, classic style will never go out of fashion.
What Wearing Emerald Cut Diamonds Says About You
The emerald cut is elegant and sophisticated with its long rectangular facets reflecting like a hall of mirrors. If you love emerald cuts, you don't follow trends, you set them. You know who you are and where you're going. Your sense of organization and attention to detail is legendary. Confident and stylish, you're at home everywhere. Famous emerald cut diamond lovers include Beyonce, Amal Clooney and Angelina Jolie. If you love emerald cuts, you're probably the one your friends rely on you to know the best new restaurant, the latest band, amazing new little boutique, and which shoes look best with that dress. Like the emerald cut, you are glamorous and strong.
What Wearing Oval Diamonds Says About You
Oval shape diamonds are graceful and feminine, with long arcing curves and a subtle distinctiveness. If you love oval shaped diamonds, you are balanced and inspiring. You are disciplined but also light-hearted and creative. You're just as comfortable at a tailgate as at an elegant dinner. Oval shape diamonds reflect your poise and grace as you juggle the demands of your busy life full of love and laughter. Other hard-working and fun women who love ovals include Blake Lively, Hailey Baldwin and Serena Williams. Like the oval shape, you have it all.
What Wearing Pear Diamonds Says About You
Pear shape diamonds are asymmetrical and adventurous. If you love pear diamonds best, you're ready for anything and the life of every party. The pear shape reflects both sides of your vibrant and outgoing personality: your edgy energy and your softer compassion. You're also a devoted friend and a passionate partner. Other pear loving women who are always in the spotlight include Margot Robbie, Zoe Saldana, and Cardi B. The drama of this unusual asymmetrical shape expresses your love of the road less travelled. Your daring adventures are an inspiration to all your friends, who follow you anywhere you lead.
What Wearing Princess Diamonds Says About You
Modern and strong, the princess cut diamond makes a bold statement. If you love princess cut diamonds, you are confident and creative. You aren't afraid to square the circle and shine in the spotlight. First designed in the swinging 1960s, the princess cut is the most contemporary diamond shape, appealing to innovative, fun-loving and independent women. Famous princess diamond lovers include Hilary Duff, Kate Bosworth, and Emily Ratajkowski. The princess cut's ground-breaking style echoes your creativity and determination to succeed, even if you have to take risks to get what you want.