What's the Best Engagement Ring Type for You?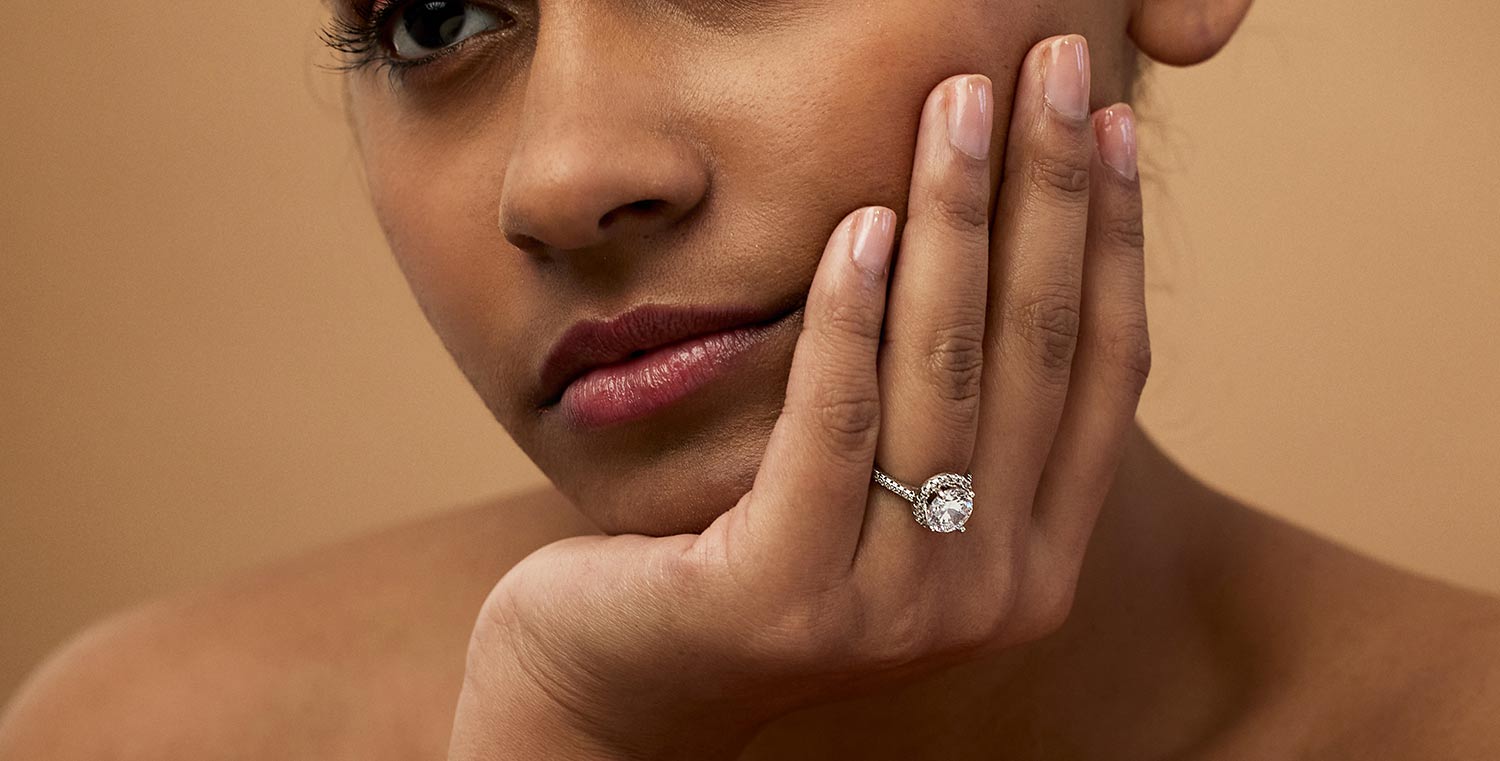 Finding the one person you want to spend the rest of your life with is a journey. Now that you've found the one, it's time to look for an engagement ring you'll also love for the rest of your life. Making the match between you and the ring that symbolizes your commitment starts with finding the type of engagement ring that suits you perfectly. There are seven classic designs to choose from but each can be customized infinitely with different diamond types, sizes and shapes to become the engagement ring of your dreams.
Of course, we recommend choosing lab grown diamonds for your engagement ring. Why? Because they generally cost half as much as mined diamonds but have the identical quality and characteristics. You can also choose lab grown diamonds from Brilliant Carbon that are created by a Sustainability Rated Producer so you can be proud that they are 100% climate neutral. Lab grown diamonds are available in the same engagement ring styles crafted to last for generations so you can design any ring style with these affordable and sustainably grown gems. Choosing one of seven basic engagement ring designs is the first step on your engagement ring journey. Ready to sparkle?
1. Solitaire Engagement Rings
The simplest style is often the best. For engagement rings, the essential style for minimalists and classics lovers alike is the solitaire. One reason that this style is becoming more popular is that big beautiful diamonds that can stand alone are now much more affordable and available than ever before thanks to lab grown diamonds. Many of our customers are now sizing up to two carat lab grown diamond engagement rings. In this engagement ring style, one stellar stone reigns on a plain metal band. The only drawback to the solitaire is that it's such an icon, it might seem a bit basic, like the emoji of engagement rings. Although this is the simplest engagement ring style, there's still a lot of options. The center stone can be any size and shape, from the traditional round brilliant to fancy shapes like princess cuts, oval shapes, emerald cuts, and pear shapes. The band can also be different widths, different profiles, from flat to rounded to pointed with a knife's edge. The band can also be different precious metals. White gold will complement a top color white diamond. Yellow gold adds a warmth that complements the skin and contrasts with the diamond and also makes a warmer toned diamond look whiter. A rose gold setting adds a unique blush of romance to your setting. Solitaire engagement rings have withstood the test of time and are more fashionable than ever. In fact, solitaires are the choice of 33.6% of couples, making them the most popular engagement ring styles of all.
2. Pave Engagement Rings
Pave engagement rings have the clean lines of a solitaire with the addition of small diamonds covering the band of the engagement ring. Pave settings are a celebrity favorite, from Adele to Simone Biles. The addition of diamonds on the band means the overall sparkle is greater for a pave design. The only drawback is that pave bands can require a bit more care. You'll have to clean behind each of those tiny gems and your ring may be more sensitive to stress. You may also find that the small prongs catch on knits. But a pave engagement ring is dazzling from every angle so it more than makes up for a little extra maintenance. To make your pave engagement ring even more special, try a fancy shape center gem.
3. Three-Stone Engagement Rings
There's a reason why three stone engagement rings are so popular (and it isn't just because Meghan Markle wears one every day.) It's unparalleled finger coverage. With two additional diamonds surrounding the center diamond, three stone engagement ring styles cover the entire top of the finger in brilliance. You'd have to size up to a four or five carat solitaire to get that finger-spanning sparkle. Three stone styles also look great from the sides, helping to step down the height of the center stone and giving you sparkle from the side view too. The only drawback to three stone styles is that some are difficult to stack with a wedding band or anniversary band because the setting often has a curved profile across the finger. Look for a style like the Centauri Three Stone Engagement Ring with a graceful side that stacks your band at an angle.
4. Halo Engagement Rings
While not as popular as they were ten years ago, halo engagement rings are still the second most popular style after solitaires. It's easy to see why. The halo of diamonds that orbits the center stone makes it look larger and brighter. It's so extra: sparkly, detailed and dramatic. You'll also love the way the detail of the halo gives your ring a subtle vintage feeling. The main drawback is that the halo sometimes makes it difficult to stack your engagement ring with a wedding band or anniversary band. At Brilliant Carbon, our halo styles have a raised cathedral setting, which makes them easy to stack with any straight wedding band.
5. Cluster Engagement Rings
If you love the look of a big sparkly engagement ring but not the price tag, you might consider a cluster engagement ring. This style uses a special illusion setting to combine seven smaller diamonds to look like one large solitaire. Choosing a lab grown diamond engagement ring makes this style even more affordable. Just look at the Illusion Solitaire Ring, which is $349. (That's not missing a zero!) The big look for a low price means that this style is also popular as a promise ring and stack ring.
6. Toi et Moi Engagement Rings
Toi et Moi engagement rings are named after a celebrity engagement ring of sorts: the two-stone ring that Napoleon gave Josephine in 1796, which was engraved "you and me" in French. Centuries later, Jack Kennedy gave Jacqueline Bouvier a two-stone engagement ring. The romantic symbolism of this design has more recent converts too: Ariana Grande, Emily Ratajkowski and Megan Fox all wear two-stone engagement rings. While antique two-stone engagement rings have two stones the same size and shape, often in different gems, modern designs more often feature two lab-grown diamonds and, often, negative space, like the Binary Ring.
7. Engagement Band Rings
For rebels and rule breakers, an engagement ring can be any kind of ring. Why not choose a luxurious large lab-grown diamond band ring? The Cygnus Band Ring has a full carat of lab grown diamonds sparkling across your finger. The River of Light Band has more than a carat of smaller lab grown diamonds that wrap three-quarters of the way around your finger. Either of these classic styles are brilliant worn alone or stacked with other rings.