Why We Love Pear Lab Grown Diamonds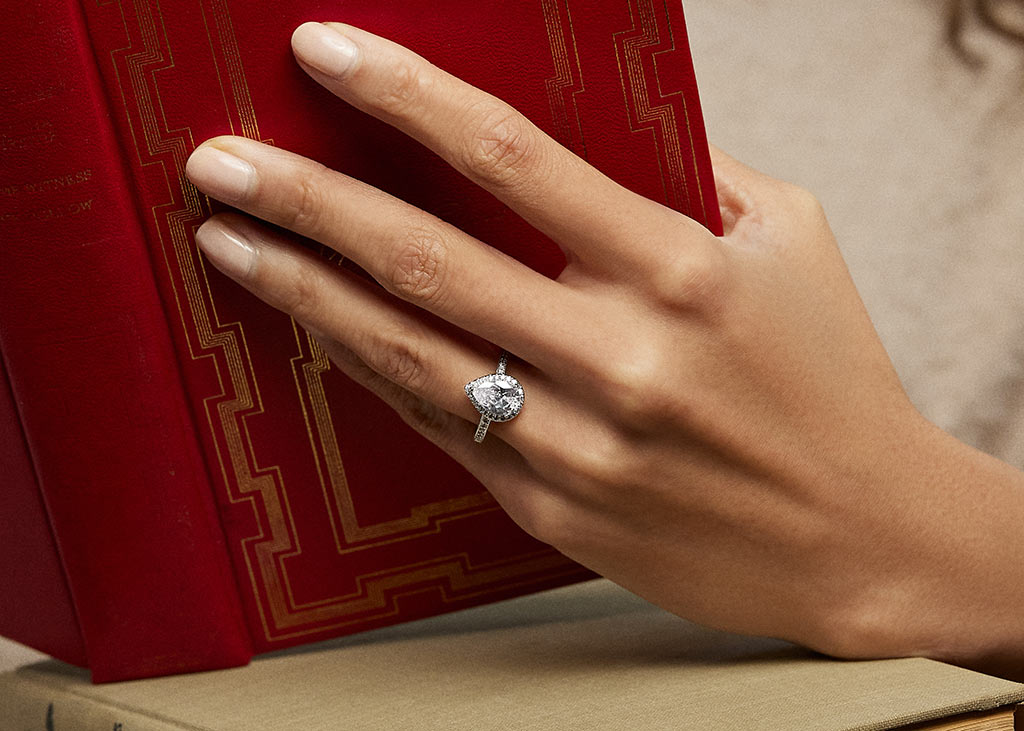 Is Adele engaged? When she recently won three 2022 BRIT Awards—best artist, album and song of the year—she was wearing what looked like an engagement ring on the fourth finger of her left hand. Adele declined to confirm that she was engaged to marry boyfriend Rich Paul. But one thing was not reserved at all: the huge pear shape diamond on her finger.
Like a sparkling drop of light, the pear shape combines the brilliance of a round and the point of a marquise. Some people call this shape a teardrop diamond. Ready for anything and the life of every party, pear shape diamonds are the perfect choice for vibrant and outgoing personalities. The drama of this unusual asymmetrical shape stands out in every crowd. The perfect choice for people who aren't afraid to go their own way, pear shape diamonds express both energy and compassion.

As much as we love all pear shape diamonds, we especially love lab grown diamond pear shapes. Pear shape lab grown diamonds, whether you call them a pear or a teardrop lab diamond, are so much more affordable than mined diamonds in top qualities. They are also more likely to be better cut so they will be more brilliant. Because pear shape lab diamonds cost so much less, you can trade up to better quality and more carats.

Elegantly elongated, pear shape lab grown diamonds catch the light beautifully. Pear shape diamonds drop brilliantly from earrings and necklaces, especially diamond solitaire necklaces, which really highlight the shape of teardrop lab grown diamonds to make this classic style feel fresh and modern.

Our Sirius Pear Necklace is a modern version of a lab diamond pear solitaire necklace, with no bail to distract from the pure shape: the chain attaches directly behind the stone. It's popular in all three colors of gold: white, yellow and rose.


Lately pear-shaped lab grown diamond engagement rings are particularly popular. That might be because Adele isn't the only star wearing pear shape engagement ring lately. Meghan Fox's engagement ring from Machine Gun Kelly has an edgy design with a pear shape diamond next to a pear shape emerald forming a heart (complete with thorns.) Other famous pear shape engagement rings include Margot Robbie, Victoria Beckham, Zoe Saldana, Paris Hilton and Cardi B.

Pear shape diamonds have a royal heritage too. The world's largest and most valuable colorless diamond is a pear shape: the 503-carat Cullinan I Diamond in the British Crown Jewels, which is known as the Great Star of Africa. It's set on the end of the Sovereign's Scepter with Cross. Queen Elizabeth often wears a brooch set with the Cullinan III, or the Lesser Star of Africa, a 94-carat pear-cut diamond cut from the same rough.

Perhaps even more famous is the 69.42-carat pear-shape Taylor-Burton diamond, which Elizabeth Taylor originally wore set into a ring but later redesigned into a necklace which stopped traffic when she wore it to the 1970 Academy Awards.
The elongated silhouette of a pear-shaped diamond engagement ring makes your fingers look long and elegant. Pear shape diamond rings can be worn two ways: with the point facing up or the point facing down. Either way, you'll enjoy the fact that pear shape diamonds look larger than almost any other diamond cut. Not only that: they cost less per carat than round brilliant cut diamonds. Looks bigger, costs less: that's a win-win.

Just look at the presence of the Pavo Engagement Ring, which is available with a center pear shape lab grown diamonds in sizes from 0.75 carats to 2.00 carats. Even the smaller sizes look dramatic thanks to the halo surrounding the center gem. The two-carat pear shape lab diamond is celebrity-worthy (and still surprisingly affordable.)


At Brilliant Carbon, our pear lab created diamonds are carefully crafted with an ideal length to width ratio and depth proportion to minimize dark areas and maximize brilliance across all the facets. We design our pear shapes with a balanced length to width ratio and a smoothly curved silhouette for extra beauty.

For a pear that's the perfect balance of elegantly long and pleasingly plump, look for a length to width ratio between 1.55 and 1.65. Well-crafted proportions will minimize dark areas and maximize brilliance evenly across all the facets. Look for a smooth and symmetrical outline, without any egg-like bulges that conceal extra weight. The most vulnerable part of a pear shape diamond is the point. This area can be protected by placing a V-prong on the point or choosing a bezel or halo setting that surrounds the stone.


Like all Brilliant Carbon lab-grown diamonds, our pear lab grown diamonds are grown by a lab that has been rated as climate neutral by SCS Global Services, the company that created the USDA Organic Certification. SCS Certified Sustainability Rated Diamonds are audited for origin traceability, ethical stewardship, verified climate neutrality, sustainable production practices, and sustainability investments, establishing unprecedented benchmarks of performance and transparency. By choosing Brilliant Carbon pear shape lab created diamonds, you are making a positive contribution to a more brilliant future. That means your Brilliant Carbon pear lab diamond is beautiful inside and out.