The Six Best Engagement Ring Styles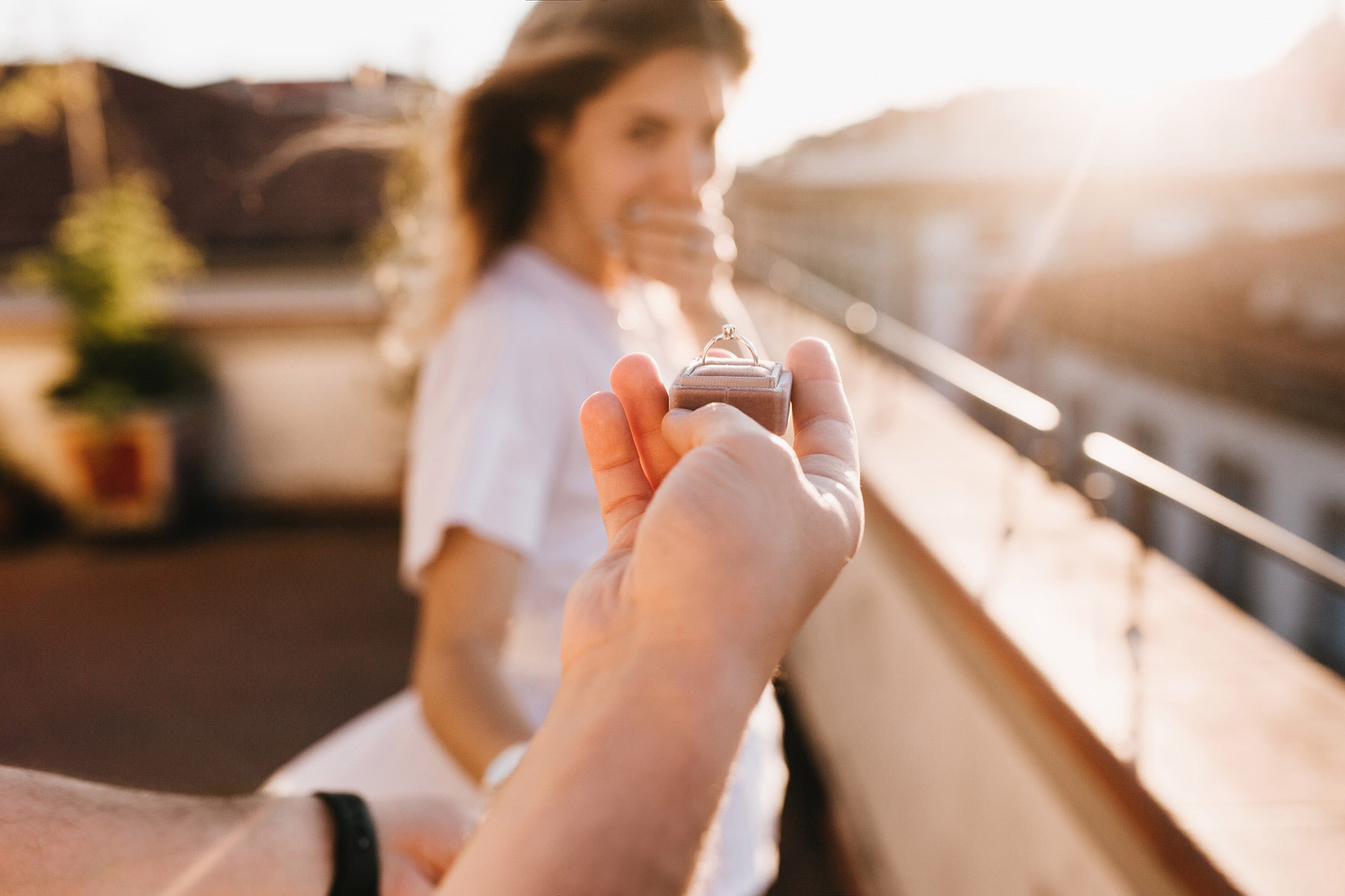 The best engagement ring styles are timeless but with a personal touch. That might be warm rose gold, a small detail, or a gem that you select together. If you care about the environment, your ring should reflect that too with a recycled or lab grown diamond.

The shape of your center stone adds a personal touch even to a simple style. Lab grown diamonds are cut and polished with the same craftsmanship as mined diamonds. Choose your favorite diamond shape to add your own personality to your favorite classic ring design.

Round diamonds represent the woman is classic, loyal, and warm. Oval shapes are elegant and creative. Cushion cuts are romantic and traditional. Princess cuts are modern and fun-loving. Emerald cuts are sophisticated and strong. Pear shapes are adventurous and vibrant. Marquise shapes are independent and bold. What diamond shape are you?

Like a beautiful vase holding a rose, the setting enhances the beauty of a diamond and the pleasure it gives. The right setting will also be a reflection of your style. And like good marriages, good engagement rings are built to last. We love well-made classic engagement ring styles because they'll look good for decades and even generations to come. Choosing an engagement ring style is important, here are the six best styles that will last forever and never go out of style.
Solitaire Engagement Rings
One singular sensation: solitaire engagement rings put the spotlight on the center stone. Simple and enduring, solitaire diamond rings are as easy to wear as they are easy on the eye. Solitaire settings are especially lovely with a large center stone. The minimalism of the setting doesn't compete with a big beautiful lab-grown diamond. Solitaires appeal to everyone but are especially good for women who work with their hands, avid gardeners, artists, and fans of streamlined midcentury design. There are many variations, from twists and textured bands, sleek bezels, or bold gypsy settings so there's sure to be a solitaire style that suits you perfectly. Solitaire settings are perfect to highlight a large fine-quality diamond. Choose a lab-grown diamond solitaire engagement ring so you can afford a higher carat weight and quality.
Diamond Band Engagement Rings
Diamond band engagement rings are solitaires with something extra: diamonds covering the ring. Sometimes called pave band engagement rings, this style has a classic silhouette with a glamorous upgrade. Maybe that's why this style is a celebrity favorite! Choose a thin and delicate band to accentuate the size of the center stone or a bold gold band to make a dramatic statement. Diamond bands are simple enough to appeal to the minimalist but also dramatic enough to appear on the red carpet. They are especially perfect for professional women who want a band that is tailored and sophisticated. They are also perfect for the jewelry connoisseur who loves to stack because they can be combined with additional eternity bands for a one-of-a-kind look. Brilliant Carbon's Altair Engagement Ring highlights a lab grown diamond with a delicate pave band.
Halo Engagement Rings
Halo engagement rings have a circle of small diamonds that surrounds the center gem like a halo. This circle of brilliance helps to illuminate the center gem and makes it look larger and brighter. Halo engagement ring styles can feature fancy shaped center stones like pear shaped diamonds, oval diamonds and emerald cut diamonds. Some halos aren't just small round diamonds. A sunburst style halo has fancy shaped diamonds framing the center stone. Halos are the perfect blend of vintage and modern for women who like details and embellishment. If you like the idea of a halo but want your engagement ring to stack easily with your wedding band, a halo wedding band like the Supernova Band will frame your solitaire like a halo, giving you the best of both worlds.
Three-Stone Engagement Rings
Ever since Meghan Markle said yes to a three stone engagement ring, this classic style has been on the upswing. This classic style adds brilliance to the solitaire with two side stones flanking the center stone. Three stone engagement rings celebrate the past, present and future of your love. The band can be plain or pave. You can have a fancy shape center diamond like an oval shaped diamond or a pear shaped diamond. Meghan's ring has a cushion cut in the center and round diamonds on the sides. Will you match the shape of your side diamonds to your center gem or choose classic round shaped side stones? You can customize the look to suit your individual style.
Twist Engagement Rings
This style is classic with a twist. Twist engagement rings have plain gold or pave diamond bands with two twisted strands that symbolize the joining of two lives. Lovely symbolism and stylish texture combine to make a popular engagement ring style that's a little different from traditional engagement rings but just as timeless and wearable. Twist engagement rings are ideal for someone who works on the computer all day because they look good from every angle.
Vintage Inspired Engagement Rings
For true romantics, there's nothing like vintage style engagement rings, which look as though they might have been passed down in your family but are newly crafted just for you. Vintage style engagement rings are for women who love embroidery, lace, ruffles, and feminine styles. Vintage details including double halos, intricate pave and hidden details make vintage inspired engagement rings feel special.
No matter what your engagement ring style, you can find the best engagement ring style for you in the Brilliant Carbon lab grown diamond engagement ring collection. Choosing an engagement ring style that includes lab diamonds makes a statement that you both love the planet too.