The Best Jewelry for Virgos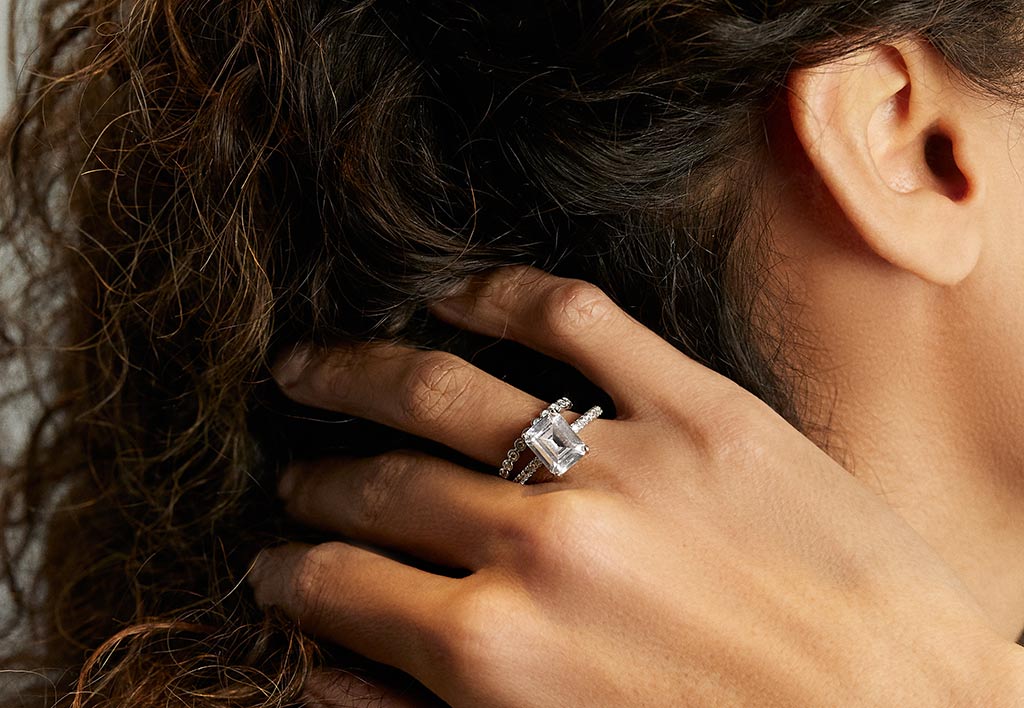 Meticulous and discerning. Analytical and logical. If you are born between August 23 and September 22, you are ruled by the star sign of Virgo, symbolized by the goddess of the harvest. People born under this earth sign are practical, organized and grounded. Virgos are both passionate and logical. They jump into life with both feet. As an earth sign, Virgos are inspired by the beauty of the natural world. Virgos like Beyoncé, Zendaya, Blake Lively, and Salma Hayek have earned a reputation as perfectionists. Virgos are also loyal, empathetic and inspiring friends who will encourage you to work hard and follow your dreams.
Virgo's jewelry style is classic and delicate. You have exceptionally high standards in jewelry, just like everything else. You notice the tiny details that most people overlook. You don't need bold statement pieces to express your refined sensibility. As a Virgo, you prefer quiet luxury: jewelry that's refined with exceptional quality that's versatile enough to wear every day. You don't follow fleeting trends and prefer a muted palette. Timeless diamond jewelry suits your practical nature and love of understated investment dressing. The precision of the meticulously polished facets is a perfect reflection of your love of symmetry.
Because Virgos have a deep connection to the Earth, you always prefer sustainable products. Lab grown diamond jewelry from a certified climate neutral producer like jewelry from Brilliant Carbon checks all the Virgo boxes. The best Virgo jewelry is an excellent value, classic style, kind to the earth and has exceptional certified quality. Timeless lab grown diamond jewelry has the kind of timeless enduring style and refined quality that Virgos appreciate. Here are six lab grown diamond jewelry styles for the savvy Virgo (and the discerning Virgo in all of us.)
Elegant Princess Cut Stud Earrings
Practical by nature, Virgos love jewelry that is versatile enough to be worn for any occasion or no occasion at all. Modern and streamlined jewelry styles appeal to your meticulous and organized side. Virgos really appreciate staple jewelry pieces that you can wear every day. Lab grown diamond stud earrings are the ultimate jewelry wardrobe essential. They work for every situation because they're simple, elegant and versatile. For the discerning Virgo, we recommend one carat total weight lab grown diamond studs. One half carat per ear strikes that perfect balance between impressively substantial yet still understated. Virgo always deserves top quality gems of course. Make sure the lab grown diamonds you choose are excellent cut, color, and clarity. Virgo wants earrings that are classic but modern too. For a geometric twist on the classic, princess cut lab grown diamond stud earrings are a geometric twist on the classsic. The square silhouette satisfies your Virgo love of precision. The ethical climate-neutral lab grown diamonds satisfy your desire to make conscientious choices too. Put them on every morning and you'll make your day and the future a little more brilliant.
The Square Solitaire Necklace
Geometric jewelry styles appeal to your Virgo meticulous and organized side. The timeless solitaire necklace appeals to your love of everyday wearable classics. A princess cut lab grown diamond solitaire necklace is a modern twist on the classic diamond pendant. The square silhouette makes it stand out in a subtle way while still remaining versatile enough to complement everything in your closet and wear all day every day. The subtle glamor is very Virgo.
Streamlined Drop Hoop Earrings
Virgo has exceptional style but is always subtle and never in your face. Simple drop lab grown diamond earrings are perfect for perfectionists like you because they are just as versatile as stud earrings with an extra dollop of glamor. Just think of how often you'll delightedly wear them and you can instantly appreciate the practicality. Every Virgo has an eye for quality and workmanship. With earrings this simple every detail needs to be refined to perfection. The smooth clean lines of hoop earrings to suspend the drop enhance the purity of the design. For Virgo, the clean lines visible from every angle are a reflection of your appreciation of thoughtful design. And it shows off the diamonds to full advantage. Virgo's discerning gaze will appreciate all the details done right.
The Sophisticated Icy Necklace
Embrace Virgo's desire for a neatly structured existence with the geometric precision of an emerald cut diamond. Long flashing facets reflect into each other for the famous "hall of mirrors" effect. With its elegant elongated shape and crisp linear facets, the emerald cut is all about symmetry and precision. When suspended simply from a chain, with no extraneous details, an emerald cut lab grown diamond necklace has a cool, understated beauty that any Virgo will appreciate. Its restrained glamor complements Virgo's refined, minimalist style. Slip it on for an instant touch of sleek sophistication, perfect for both day and night. The emerald cut also has a vintage Art Deco vibe that appeals to Virgo's appreciation of timeless luxury.
The Meaningful Band
Virgo rules the hands, so elegant rings are made for this sign. That's why a brilliant lab grown diamond band ring is a perfect match. Virgo jewelry style is all about classic designs. The Zen-like simplicity or a diamond band appeals to Virgo's minimalist sensibility. Its slim silhouette draws the eye to the clarity and sparkle of the gems. Virgo will admire the precision alignment of the diamonds encircling the finger. Their uniform size embodies Virgo's love of order. Diamond bands are also like a brilliant reminder of the important milestones of your life, captured forever on your finger. Virgo will also appreciate how a band ring's proportions flatter the hand. Understated yet still totally luxe: just how Virgo likes it.
A Lasting Legacy of Love
When Virgo finds the ideal partner, this pragmatic earth sign seeks a real and lasting commitment represented by an engagement ring that's worthy of the depth of your love. Channel Beyonce and choose an emerald cut engagement ring like the Europa Engagement Ring. Its sophisticated reflections have the geometric perfection you crave. The refined styling represents a love that's built to last. Its striking emerald cut center diamond makes a bold impression, proclaiming enduring romance. A pave band adds delicacy, promising you'll treat each other with kindness and compassion. The emerald cut itself is a hallmark of enduring luxury. For Virgo, this ring's blend of innovation and tradition is perfect. Its sustainable lab grown diamonds mean your timeless love will be kind to the planet too.

So there you have it, Virgo: diamond jewelry styles as perfect as the ones you would select yourself. Each one will give you the exquisite quality, timeless yet sleek design, and environmental sensitivity that your exacting standards require. Wear them every day and you'll effortlessly combine practicality and glamor, the Virgo version of having your cake and eating it too.