Six 2022 Engagement Ring Trends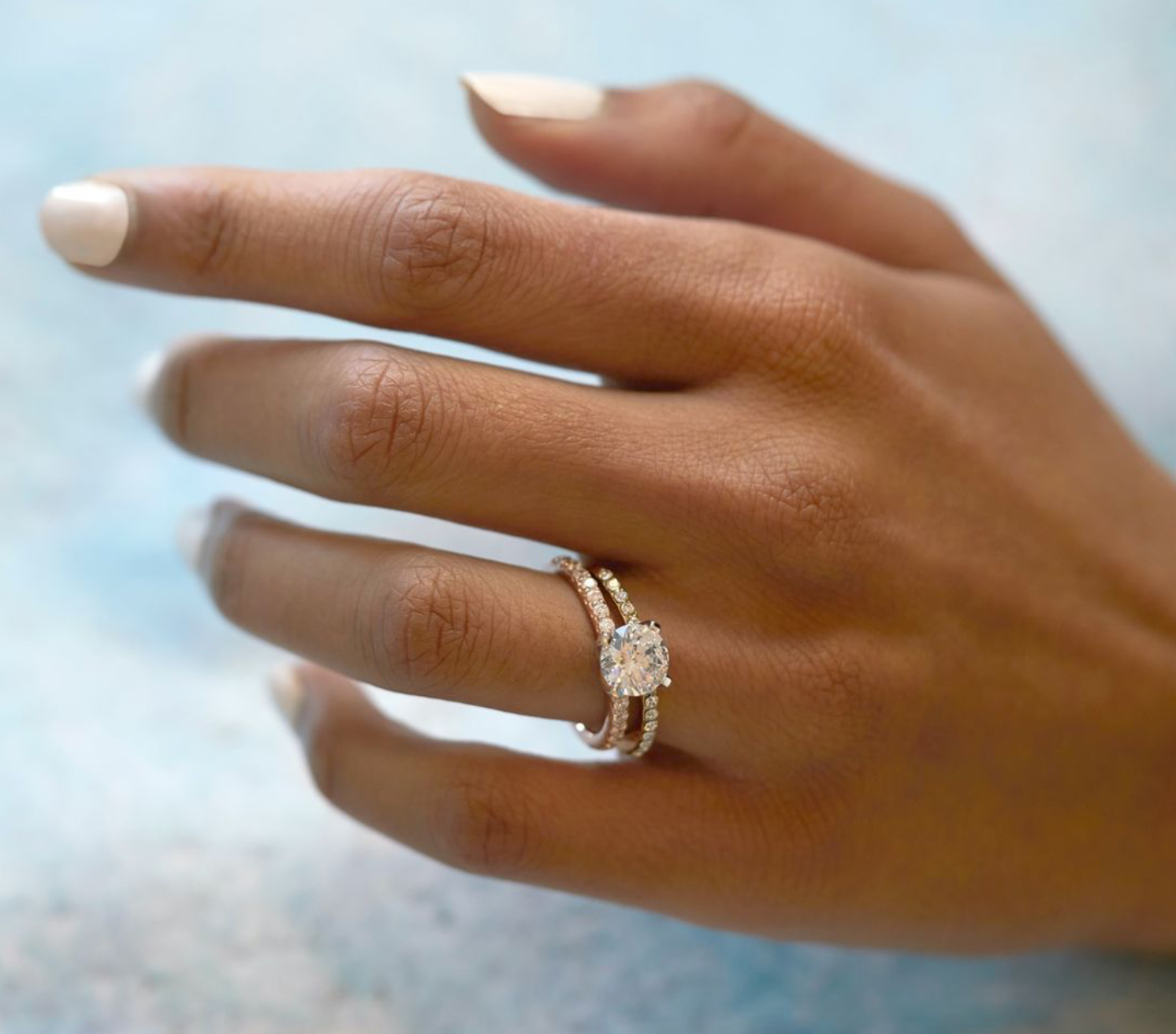 Although engagement rings are the very definition of timeless, today's brides are looking for rings with individual personality. That means that today's engagement rings have a lot more style than the all-white halo engagement rings that dominated the past two decades. Fancy shape diamonds, yellow and rose gold, and contemporary styling are more popular than ever. Many couples are also considering the environmental impact of their choices, leading to growing sales of lab-grown diamonds. As we look forward to a year of weddings, engagements and other happy occasions, here are the most important engagement ring trends that we're tracking as couples begin to research celebrating their commitment to each other this year.
Diamond Pave Bands
This year engagement rings are more streamlined, with simpler silhouettes becoming more popular. That doesn't mean that sparkle has gone out of fashion. The most popular engagement ring style today is a solitaire diamond ring with a pave band. With diamonds covering the band of the ring, all you see is brilliance all across your finger. The perfect combination of simple and luxurious, the pave band solitaire is a celebrity favorite, with many stars choosing engagement rings with large fancy shaped diamonds on pave bands.
Lab Grown Diamonds
Lab grown diamond engagement rings have surged in popularity in the last two years. In The Knot's annual engagement ring survey, only 34 percent of recently engaged people said it was important that an engagement ring have a natural stone, down from 42 percent in 2019. Overall, almost a quarter of couples said their engagement rings featured a lab-grown stone. Many couples choose a lab created diamond engagement ring for environmental reasons. Others prefer to trade up to a larger higher-quality diamond and spend less. The growth in sales of lab-grown diamond engagement rings has also affected style trends, with many couples choosing lab grown gems with a larger carat weight in a simple setting rather than a smaller mined diamond surrounded by a halo to make it look larger.
Yellow Gold
The future is looking warm: sunny yellow gold engagement rings are on the rise. White gold has long been the most popular choice for engagement rings but last year only 45 percent of the couples surveyed by The Knot chose white gold. Yellow gold contrasts beautifully with white diamonds and complements most skin tones. In addition to more yellow gold, mixing metals in your engagement ring and wedding band is a great way to add your individual style to a ring.
Classic Solitaires
The real-world version of the diamond ring emoji, there can't be anything more timeless and classic than the diamond solitaire engagement ring. One sparkling diamond, either lab-grown or mined, on a gold or platinum ring. This simple style has stood the test of time. It's also incredibly versatile, since the simple band lends itself to stacking. You can add an eternity ring, a tiara ring, a radiant crown ring, or a simple wide band or all of the above to add your own personal style, changing up the look of your ring. You'll never tire of its lasting beauty. It's also a great choice for anyone who works with her hands, like a doctor, artist or mother of small children. With everyone washing their hands and using hand sanitizer constantly these days, it's the most durable and easy to clean too. To make this ageless style your own, choose a fancy shape diamond that reflects your style like a sophisticated emerald cut or a vintage cushion cut.
Oval Diamonds
Although the most popular diamond shape is still the round brilliant, favored by 41 percent of couples, oval diamonds are growing in popularity. In The Knot's 2021 engagement ring survey, 19 percent of couples said they chose an oval diamond engagement ring. There are many reasons to love ovals. They are classic but a bit different, bright and lively with brilliant faceting. The elegantly elongated shape makes your fingers look longer. Oval diamond engagement rings also look larger than round brilliant engagement rings with the same carat weight thanks to a higher ratio of surface area to depth. It's not surprising that so many celebrities wear oval diamonds, including Blake Lively, Hailey Baldwin, Serena Williams, and Kourtney Kardashian.
Two-Stone Styles
While most of the trending styles as we begin 2022 are classic with a twist, there is one exception. Engagement rings with not one center stone but two are a dramatic new twist on romantic Toi et Moi Rings like the one Napoleon gave Josephine. The two gems represent you and your beloved. Ariana Grande has a beautiful Toi et Moi Ring with a pearl and an oval shape diamond, an unusual mixture of gem varieties, shapes, and sizes. And Emily Ratajkowski has an unusual and striking double diamond Toi et Moi engagement ring featuring a pear shape diamond and a princess cut diamond on a bold yellow gold band. Our Binary Ring sets off two round brilliant lab-grown diamonds with negative space, making a chic statement similar to Solange's engagement ring. No matter what gems or shapes you choose, a two-stone engagement ring will definitely make a statement.