Diamond Solitaire Necklaces: Fireworks You Can Wear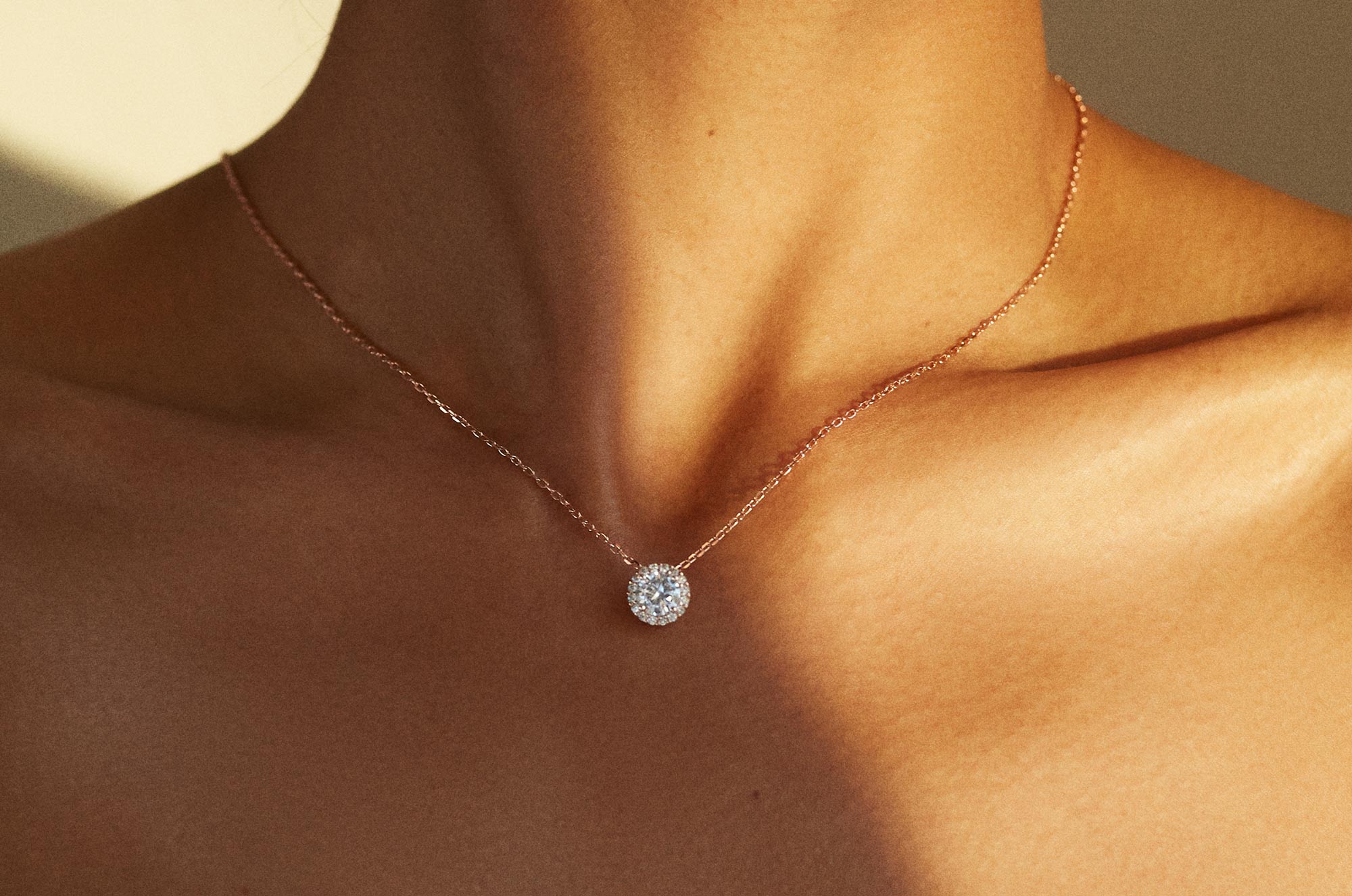 Rainbow sparkles. Flashes of light. If you could capture the brilliance of fireworks forever and wear it around your neck, you'd have a diamond solitaire necklace, the perfect pendant for summer celebrations. As we approach the Fourth of July at last, with pandemic restrictions easing, you might want to celebrate your independence with a diamond necklace.
There's never been a better time to find the diamond pendant of your dreams at a price you can afford. Why? Because lab-grown diamonds are now available. Diamonds grown in a lab are identical to mined diamonds in every other way but they cost much less.
How much less? Beautiful lab diamond necklaces with high-quality gems in finely crafted 14k gold start at $399. And a one carat lab diamond solitaire necklace is less than $2000. That's half what you'd expect to pay for natural diamond necklaces of the same quality.
To find the right lab diamond necklace for you, start with the setting. We recommend 14k gold for lasting quality in your favorite color of gold: yellow, white or rose. You want something simple that you can wear with everything but that also reflects your unique style. Here are eight great lab grown diamond solitaire necklace styles. One of them is sure to be your new signature.
Make it Minimal
Do you think that less is more? The minimalist in you will fall head over heels for a bezel set lab created diamond solitaire necklace like the Vega Solitaire Necklace. This streamlined necklace style has a sleek frame of metal around the gem with no prongs to distract your eye. And the chain is connected directly to the setting so the lab diamond floats on your neck.  It's simply perfect.
Make it Fashion
Fancy something a bit different?  How about a lab grown diamond solitaire necklace with a fancy shape? A simple solitaire necklace style stands out with a fancy shape center gem. You can match your fancy shape diamond studs or engagement ring or contrast shapes to add variety. Choose an oval for extra elegance, an emerald cut for Arty Deco flair, an adventurous pear shape for drama or a princess cut diamond for geometric precision.
Make It Romantic
If you love details and embellishment, you'll love a halo lab grown diamond necklace. The center lab diamond is surrounded by a delicate frame of pave that helps to illuminate it and enhance its sparkle. It's the small details that take this style to the next level. Choose a halo with a scalloped, lacy looking silhouette that has a vintage vibe like the Polaris Necklace. Or a smooth halo like the Mira Necklace.  And if it's drama you're looking for, the Andromeda necklace has not one but two halos, illuminating the center stone like a galaxy in the night.
Keep it Classic
If you're looking for a timeless lab created diamond pendant with classic good looks, you want a round brilliant center lab diamond in a classic gold mounting. The Sirius Necklace has a lovely setting with a trellis pattern that is beautiful from every angle. And the diamond itself is free to move on the loop of the bale so it can dance and catch the light. If you want a more unique design that's still classic, the Shooting Star Necklace has a looped setting that emphasizes the center lab diamond like the tail of a comet.
Give It a Twist
A classic style becomes unique when you add a twist. That's why we love fancy shapes diamonds set sideways: they have a new angle on style. These East-West designs are just a bit unexpected. The Sirius Oval Necklace has a refined elegance. The Sirius Emerald Cut Necklace has icy Art Deco geometry. Because they are set horizontally rather than vertically, they are a bit more tailored and streamlined. The East-West settings are a good choice for an artist or anyone else who sees the world from a different perspective.
Follow Your Own Star
We love a good starburst necklace. So does Kate Middleton, who's been wearing this style lately too. Star-inspired necklaces emphasize the brilliance of the center stone with a star-shaped halo with beams of brilliance. The Supernova Necklace draws you eye with a radiant frame for the center lab diamond solitaire. For more celestial inspiration, try our Eclipse Necklace with a moon embracing a lab diamond sun.
Multiply the Brilliance
Double the brilliance with a two-stone lab diamond necklace. You can carry a symbol of the ones you love with you always. The tradition of two diamonds started with a romantic ring given from Napoleon to Josephine. Today these "toi et moi" or you and me designs can symbolize you and your love, you and your sister, you and your child or your two children. It's up to you. No matter what the message is, you'll love the Binary Necklace or Vega Duo necklace, with two lab diamonds connected forever. The symbolism of three stones also makes a necklace meaningful. Celebrate your past, present and future with a three stone lab diamond necklace. These triple treats have three times the sparkle, multiplying the design possibilities too. The Centauri Necklace has the three diamonds in a brilliant horizontal line with two carats of brilliance. The Sirius Trilogy Necklace has the diamonds aligned vertically, growing in brightness with the final diamond a full carat in size, like a firework exploding in brilliance. It's a statement that the future will be brighter.